About Our Reports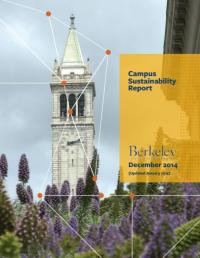 The Office of Sustainability publishes annual reports to mark our successes and to outline where we need to increase efforts. The campus provides transparency and diligent data accuracy while streamlining our reporting to focus on the most material and measurable aspects of our work.  The UC Berkeley 2015-2016 Sustainability Report is the eighth in the series. 
In addition to sustainability reports and assessments, the Office of Sustainability publishes planning reports.  These reports outline forward-thinking road maps for improving water conservation, reducing fossil fuel consumption, and reaching zero waste goals.
Campus Initiatives

   Climate

   Built Environment


  Energy


   Food


   Land Use


   Procurement 


   Transportation 


   Waste


   Water


   Academics & Learning


   Research


   Engagement


   Metrics
STARS Report
Interested in seeing UC Berkeley's responses to the Association for the Advancement of Sustainability in Higher Education's (AASHE) Sustainability Tracking, Assessment & Rating System (STARS) questionnaire? Read the report here.