Waste Goals

GOAL: Achieve Zero Waste (90% diversion of municipal solid waste) by 2020.
STATUS: On track
Campus Performance Overview
 54% of all waste generated by UC Berkeley is diverted from landfills through recycling, composting, donating or re-selling. The amount of municipal solid waste being sent to landfill has been dropping annually, while the population has grown.  Impressively, the landfill tonnage is down by more than a third since 1995.  While not part of the 2020 zero waste goal, the campus also diverts the majority of its construction and demolition waste away from landfills and has a robust electronics recycling and hazardous waste disposal program.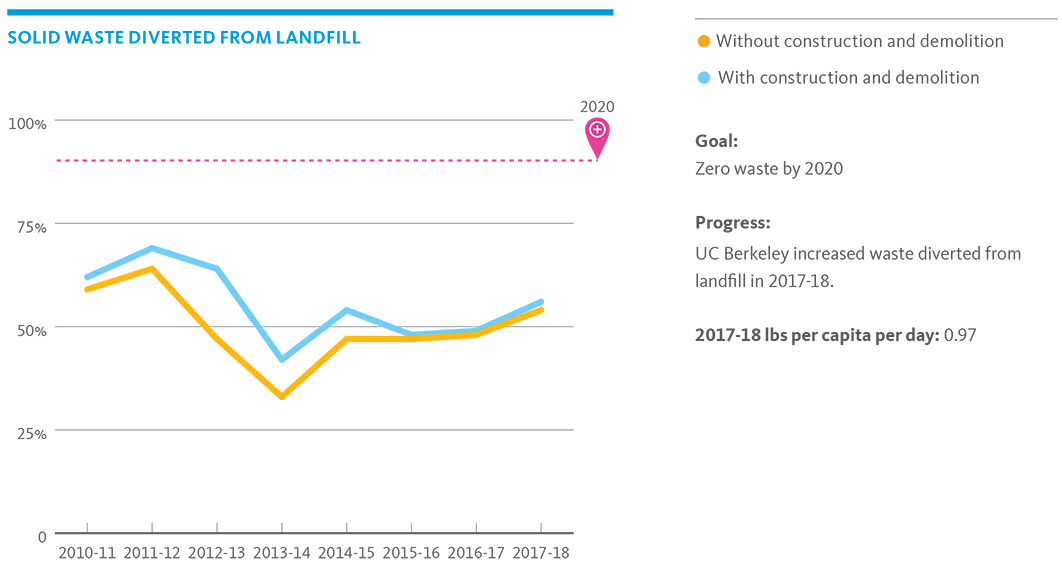 STARS Performance Overview
Waste Category
According to STARS, "This subcategory seeks to recognize institutions that are moving toward zero waste by reducing, reusing, recycling, and composting. These actions mitigate the need to extract virgin materials, such as trees and metals. It generally takes less energy and water to make a product with recycled material than with virgin resources. Reducing waste generation also reduces the flow of waste to incinerators and landfills which produce greenhouse gas emissions, can contaminate air and groundwater supplies, and tend to have disproportionate negative impacts on low-income communities. Waste reduction and diversion also save institutions costly landfill and hauling service fees. In addition, waste reduction campaigns can engage the entire campus community in contributing to a tangible sustainability goal."
Berkeley's STAR Performance
Total Points Available: 10.00
Waster Points Claimed: 7.02
Breakdown--
| | |
| --- | --- |
| | |
| Waste Minimization and Diversion | |
| Construction and Demolition Waste Diversion | |
| Hazardous Waste Management | |
UC Berkeley is working to transform its recycling and waste systems so that the campus sends zero waste to landfills by 2020.
The results of that ambitious project are already reflected in the campus' STARS Waste score, with UC Berkeley capturing 7 out of 10 available points in the field.
That places the campus well in the top quartile among all universities and colleges in the category.
By comparison, research and doctoral institutions as a whole captured less than half of available points in the Waste category.
Zero Waste Spotlight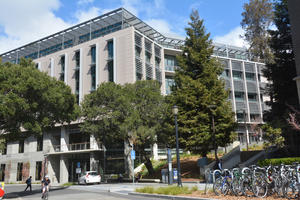 Chou Hall is officially the country's greenest academic building, having earned TRUE Zero Waste certification at the highest possible level along with a LEED Platinum certification for its energy efficient design and operation.
The TRUE Platinum Zero Waste certification came after more than a year of dedicated waste sorting, composting, and other efforts to divert over 90 percent of Chou's landfill waste. The official notice came from Green Business Certification Inc. (GBSI) on Dec. 20, following an on-site audit by the U.S. Green Building Council.