Transportation Goals
GOAL: By 2014, reduce fuel use by commuters and campus fleet to 25% below 1990 levels.
STATUS: Achieved
GOAL: By 2025, zero emission or hybrid vehicles will account for at least 50% of all new light duty vehicle acquisitions.
STATUS: In progress
GOAL: By 2025, reduce the percentage of employees and students commuting alone in vehicles by 10% relative to 2015.
STATUS: In progress
Campus Performance Overview
UC Berkeley offers a comprehensive package of programs to encourage moves to more sustainable forms of transportation – all with the goal of reducing traffic and parking demands. The program offers a suite of alternative commute benefits to UC Berkeley faculty, staff, and students. The program offers bus pass programs, transit subsidies, discounted carpool parking pricing, pre-tax purchases, regional ride-matching services, and a host of other benefits and incentives.  
Performance highlights
During their regular commute, faculty, staff, and students walk around 9.6 million miles per year and bike 10.1 million miles per year.
Campus fuel use – from fleet and commute –remains over 25% below 1990 levels. 
There are now over 5,500 people commuting by bicycle to campus on a typical school day. The campus transportation survey found that over 12% of all campus commuters ride a bike to campus – nearly 21% of faculty, 9% of staff, 27% of graduate students, and 7% of undergraduates commute by bike.  Since 2012, bicycle commuting has increased by about 1.4%.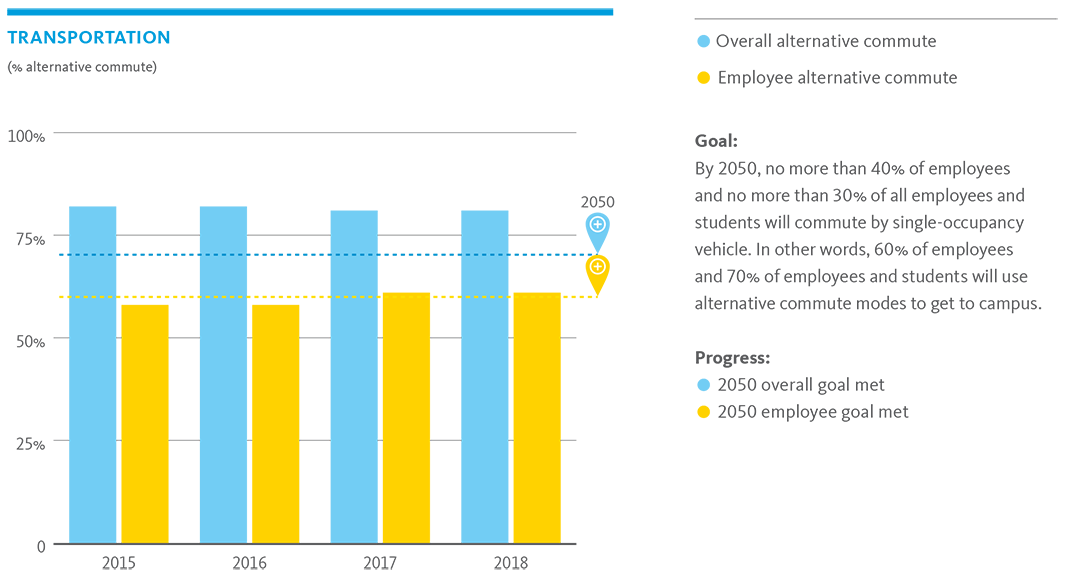 The Bay Area Bike Share has expanded to Berkeley and Oakland.
Miles flown on business air travel are over 100 million miles a year.
STARS Performance Overview
Transportation Category
According to STARS, "This subcategory seeks to recognize institutions that are moving toward sustainable transportation systems. Transportation is a major source of greenhouse gas emissions and other pollutants that contribute to health problems... At the same time, campuses can reap benefits from modeling sustainable transportation systems. Bicycling and walking provide human health benefits and mitigate the need for large areas of paved surface, which can help campuses to better manage storm water."
Berkeley's STARS Performance
Total Points Available: 7.00
Transportation Points Claimed: 5.41
Breakdown--
| | |
| --- | --- |
| | |
| | |
| | |
| Support for Sustainable Transportation | |
Built in one of the densest urban areas in the country, UC Berkeley prospers from a wealth of sustainable transportation options. As reflected in the STARS tool, 95% of students use bicycles, buses, and other sustainable options as their primary mode of transportation to campus.

Berkeley has a number of flex-fuel gasoline/E85 vehicles, which are not considered green vehicles by STARS standards. Additionally, the campus owns several vehicles that are partial zero-emission vehicles and electric carts that are used on campus that are not included in STARS standards.

Research and doctoral institutions as a whole won 55% of points in the Transportation category, compared to 77% of available points won by UC Berkeley.
Transportation Highlights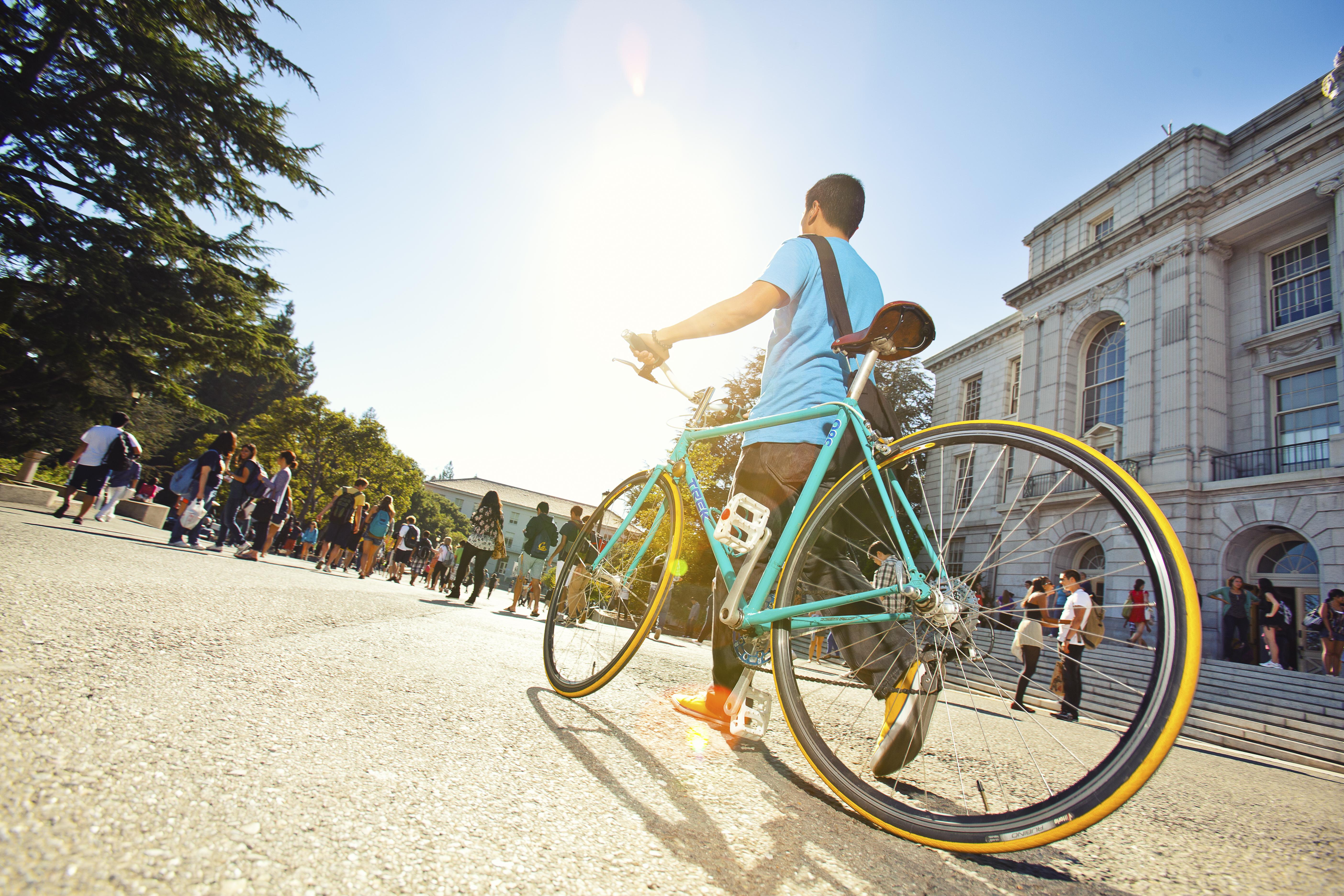 BerkeleyMoves is UC Berkeley's Official RideShare Matching and Trip Planning platform! 
Students, Staff, and Faculty can find:
Transit, Carpool, or Bike Planning
Rideshare & Carpool Partners - to get you to campus OR to get you back home!
Event Planning and Carpool Matching (for Spring, Winter & Summer holiday, Concerts, or Sports events) and contests for various events or programs.