Built Environment Goals

GOAL: Design future projects to minimize energy and water consumption and wastewater production; incorporate sustainable design principles into capital investment decisions; base capital investment decisions on lifecycle cost, including the cost of known future expenditures.
STATUS: On Track
GOAL: No new building or major renovation shall use onsite fossil fuel combustion for space or water heating (except those connected to central thermal system).
STATUS: In Progress
Campus Performance Overview
The campus currently has 20 U.S. Green Building Council Leadership in Energy and Environmental Design (LEED™) certified building projects, representing over 12% of total square footage.
The campus two Platinum, 11 Gold, 6 Silver and one Certified LEED™ building projects.
New building and major renovation projects outperform energy codes by at least 20% or meet energy intensity performance targets.
Though not mandated, the campus encourages innovation in specific projects around the use of low-flow plumbing fixtures. Irrigation standards now incorporate the use of weather sensitive irrigation systems. 
The campus Energy Use Policy outlines energy conservation schedules for heating, cooling, and ventilation; lighting; equipment, including computers; construction and renovation projects.
Building Sustainability @ Cal offers a student-supported certification program for smaller projects that fall below the threshold for LEEDTM certification.
STARS Performance Overview
Built Environment Category (termed Building Design and Construction by STARS)
According to STARS, "This credit recognizes institutions that have incorporated environmental features into their design and construction projects. Decisions made during the design phase, such as where to locate the building and how it is oriented, can yield significant energy savings and reduce impacts on the site. By designing and building for enhanced indoor environmental quality, institutions can ensure their buildings provide safe, healthy, and productive spaces for the campus community. While other credits also capture many of the impacts of green buildings (e.g., on campus energy consumption and water use), this credit recognizes institutions that have comprehensive green construction and renovation programs and that pursue third party certification for new campus buildings."
Berkeley's STARS Performance
Total Points Available: 3.00
Built Environment Points Claimed: 2.49
The campus achieved 56% of available points in the STARS Buildings category, compared to 34% of points captured by all research and doctoral institutions.

One hundred percent of UC Berkeley's buildings are operated according to protocols governing air quality, energy use, and water management.
Buildings Highlight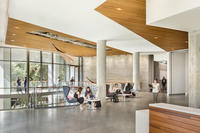 The campus' commitment to sustainable construction and operations is demonstrated by the Connie & Kevin Chou Hall, part of the Haas School of Business. The six-story classroom building, Chou Hall is the first academic building in the country to earn  TRUE Zero Waste certification at the highest possible level along with a LEED Platinum certification for its energy efficient design and operation. It is also on track to be WELL certified.