Climate Goals

GOAL: Achieve at least a 90% reduction in total emissions (Scopes 1, 2, and 3) by no later than calendar year 2045 relative to a 2019 baseline year. 
STATUS: In Progress
GOAL: Before 2025 set Scope 1 GHG reduction targets for calendar years 2030, 2035 and 2040. All percent-reduction targets will be set relative to a 2019 baseline year. 
In 2023 there was a major revision to the Climate Protection Policy section of the UC Sustainable Practices Policy. The revised policy limits the use of carbon offsets and focuses on direct emissions reductions. These new targets are reflected above and include goals to reduce greenhouse gas emissions (from all scopes) 90% from 2019 levels by 2045.  Said reduction aligns with, yet exceeds, State requirements to provide leadership. Researching these long-term targets requires setting campus scope 1 greenhouse gas emission reduction targets for 2030, 2035, and 2040 by January 1, 2025. These stepped targets will be informed by the decarbonization studies currently underway.
Campus Performance Overview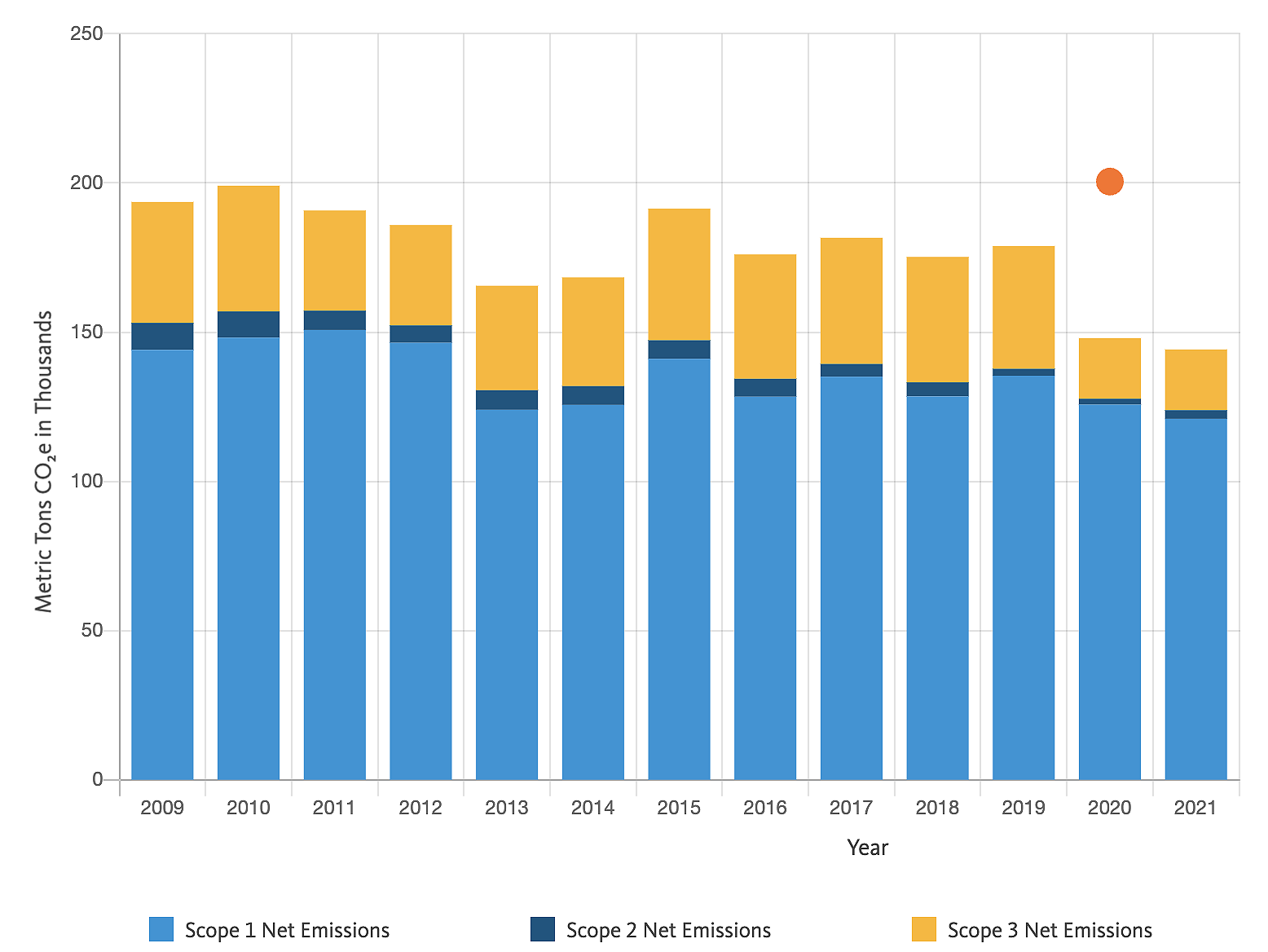 Climate Protection – Emissions
UC Berkeley has taken the first steps towards decarbonization by reducing emissions to below 1990 levelsfaster than required by California and UC guidelines. Berkeley's strategies have included:
Expanding the use of low and non-carbon energy supply for power and thermal needs including green power options from utilities and on-site solar photovoltaics.

Reducing energy use through building level energy efficiency projects and energy saving actions by facility occupants.

Curbing growth-related emissions through electrification, green building practices and improved space utilization.

Increasing the efficiency and using less carbon intensive fuels in the vehicle fleet and by commuters.

Reducing water use and waste sent to the landfill. 
Berkeley Clean Energy Campus 

UC Berkeley's Clean Energy Campus Initiative is leading decarbonization. The initiative will replace the existing, aged fossil fuel cogeneration plant and steam system to transform the Berkeley campus into an electrified and renewable energy microgrid. These updates will reduce campus building energy carbon emissions by 85 percent. This infrastructure renewal program will include a new electrified heating and cooling plant; distribution of hot/cold water to over 12 million square feet of space in approximately 100 campus buildings; distributed energy resources including solar photovoltaics, battery storage, geothermal heat exchange and fuel cells for efficiency and critical load backup; and upgrades to the campus electrical infrastructure to support a doubling of power needs. The campus's goal is to have significant portions of the new system operational by 2028 and be substantially complete by 2031.
Learn more about the BCEC
STARS Performance Overview
Air and Climate Category
According to STARS, "This subcategory seeks to recognize institutions that are measuring and reducing their greenhouse gas and air pollutant emissions. Global climate change is having myriad negative impacts throughout the world, including increased frequency and potency of extreme weather events, sea level rise, species extinction, water shortages, declining agricultural production, and spread of diseases. The impacts are particularly pronounced for low-income communities and countries. In addition, institutions that inventory and take steps to reduce their air pollutant emissions can positively impact the health of the campus community, as well as the health of their local communities and regions."
Berkeley's STARS Performance
Total Points Available: 11.00
Air & Climate Points Claimed: 6.59
In 2021, UC Berkeley achieved 60% of available points in the STARS Campus Engagement category. The average among all research universities is 51%

The campus  maintains strict guidelines on pollutant emissions from vehicles and reports a completeannual  inventory of emissions from stationary sources.
Climate Change Resilience Working Group
The CACS Resilience Working Group is providing a comprehensive review of ongoing, past, and future efforts to address impacts of climate change on campus. The working group is providing a gap analysis for the following climate hazards: fire, smoke, extreme heat, drought, storms, precipitation, and sea level rise.

The working group leverages a campus-created framework to center diversity, equity, inclusion, and justice in sustainability. These efforts will inform an update to the campus vulnerability assessment and resilience planning in the Climate Action Plan (CAP) in 2026.