Climate Goals

GOAL: By 2014, reduce greenhouse gas emissions to 1990 levels.
STATUS: Achieved
GOAL: Achieve climate neutrality from building and fleet use by 2025.
STATUS: In Progress
Campus Performance Overview
Goal: UC to be Carbon Neutral by 2025
In 2013 the UC system announced the Carbon Neutrality Initiative (CNI) and pledged to be carbon neutral by 2025 from scope 1 and 2 carbon emission sources.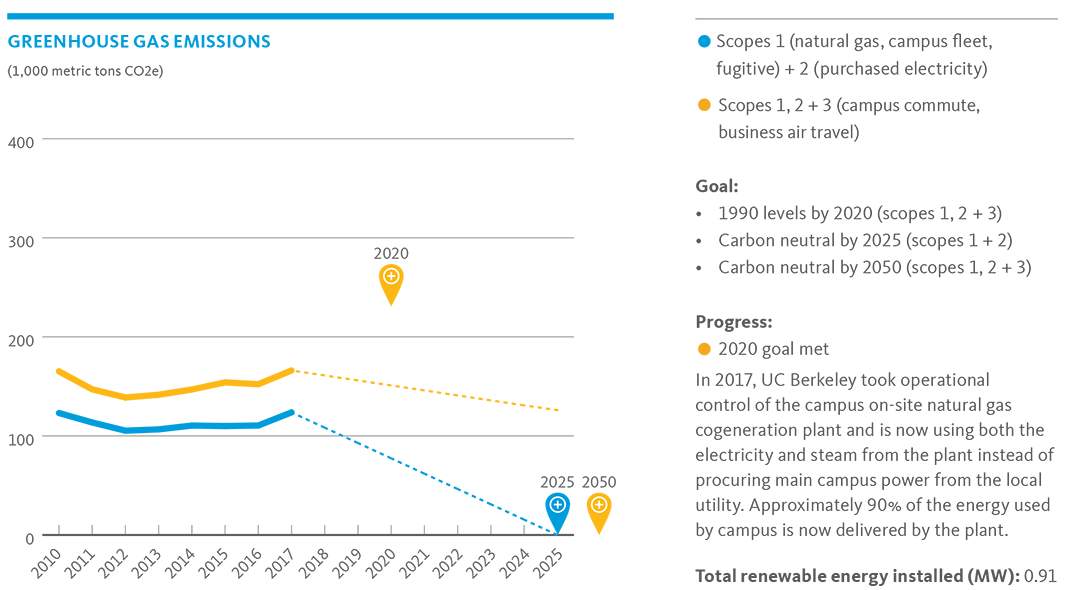 For Berkeley to get to to carbon neutrality, or zero-net carbon emissions from building and fleet energy use, the campus is aiming to reduce emissions by about 80%. This reduction represents 80% of Berkeley's carbon emissions. The remaining 20% of Berkeley's emissions outside of the 2025 goal are associated with the campus commute, business air travel, waste, and water. A neutrality date for these other scope 3 emissions is currently 2050.
UC Berkeley has taken the first steps toward neutrality by reducing emissions to 1990 levels, faster than required by California and UC guidelines.  In 2016 Berkeley's 2025 Carbon Neutrality Planning Framework was published providing a high-level course of action and strategies to meet the target. Learn more.
STARS Performance Overview
Air and Climate Category
According to STARS, "This subcategory seeks to recognize institutions that are measuring and reducing their greenhouse gas and air pollutant emissions. Global climate change is having myriad negative impacts throughout the world, including increased frequency and potency of extreme weather events, sea level rise, species extinction, water shortages, declining agricultural production, and spread of diseases. The impacts are particularly pronounced for low-income communities and countries. In addition, institutions that inventory and take steps to reduce their air pollutant emissions can positively impact the health of the campus community, as well as the health of their local communities and regions."
Berkeley's STARS Performance
Total Points Available: 11.00
Air & Climate Points Claimed: 6.59
In 2021, UC Berkeley outperformed research and doctoral institutions of its size in STARS by winning 60% of available points in the Air and Climate category, compared to 51% among all research and doctoral institutions.

The campus also has strict guidelines on pollutant emissions from vehicles and conducts a complete inventory of emissions from stationary sources.
Evaluating Campus Emissions
In addition to tracking absolute changes in emissions over time, the campus also analyzes emissions, energy use, and transportation scaled to campus population and square footage. This process illuminates how efforts have helped to curb emissions related to growth. For example, between 2008 and 2016 while the population has grown 8% and square footage has grown 3%:
Greenhouse gas emissions per square foot have decreased by 23% and emissions per capita has decreased by 27%.

Fuel use from the campus vehicle fleet and faculty, staff and student commutes per capita has decreased by 21%.