Welcome to the Chancellor's Advisory Committee on Sustainability

Established in 2003, the Chancellor's Advisory Committee on Sustainability (CACS) promotes environmental management and sustainable development on campus.  Membership is drawn from faculty, staff, students and alumni and meetings are open to everyone.
The Committee is charged with advising the Chancellor on matters pertaining to the environment and sustainability as it directly relates to the University of California, Berkeley. To fulfill this obligation, CACS draws strength from its diverse composition of faculty, staff, students and alumni.
The mission of the Committee is composed of three central goals:
To engage the campus in an ongoing dialogue about reaching environmental sustainability
To integrate environmental sustainability with existing campus programs in education, research, operations, and public service
To instill a culture of sustainable long-range planning and forward-thinking design
Special Topics
In addition to annual programs, each year CACS focuses on special topics.  Recent accomplishments include a focus on waste and water sustainability.
Getting to Zero Waste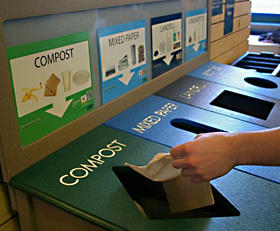 Recognizing that the campus will not meet the UC 75% waste diversion goal and is not on a trajectory to reach zero waste by 2020, the Chancellor's Advisory Committee on Sustainability (CACS) commissioned a student to research current waste disposal practices and identify the challenges and opportunities available to the campus to meet these targets. Click to see the executive summary of the research and CACS Zero Waste Presentation.
Advancing Water Sustainability at UC Berkeley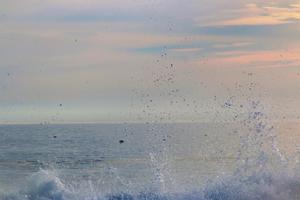 At 2011 Sustainability Summit the Chancellor announced the first water reduction goal for the campus - 10% below 2008 levels by 2020. Learn more about the Chancellor's Advisory Committee on Sustainability's work that led to the campus setting this reduction goal:
Final Campus Water Usage and Conservation Report
History
The move toward more sustainable practices and environmental stewardship at UC Berkeley has grown markedly since the turn of the century.  Berkeley's early efforts inspired campuses across the state to develop sustainability programs, influenced the UC Regents to make policy changes at the system-wide level.
In 2003, then Chancellor Berdahl created the Chancellor's Advisory Committee on Sustainability (CACS).  During the committee's first year, CACS hosted the first annual UC Berkeley Sustainability Summit where it secured funding to conduct a Campus Sustainability Assessment and established the Chancellor's Green Campus Fund. Green Fund Grants are awarded annually.
In 2008, CACS participated in establishing the Office of Sustainability on campus and the hiring of the first Director of Sustainability. CACS in collaboration with the new office released the 2008 Campus Sustainability Assessment.
Since its inception, CACS has lead numerous outreach and educational initiatives, hosted annual summits, authored reports on campus water usage and climate initiatives, published water sustainability plans, hired student interns when feasible, hosted an annual summit, and bestowed awards to individuals, groups, and projects that further sustainability at Berkeley.
Climate Consciousness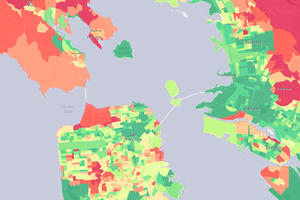 An interactive map demonstrates the carbon emissions in the Bay Area, neighborhood by neighborhood. What is your carbon footprint?
Graphic credit: UC Berkeley News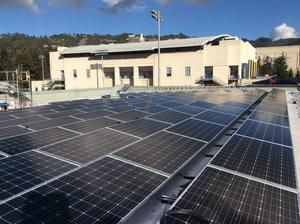 Solar is one strategy to take us closer to climate neutrality.
Riding your bike cuts carbon emissions.
Photo Credit: Bike East Bay