Carbon Solutions
Path to Zero Carbon by 2045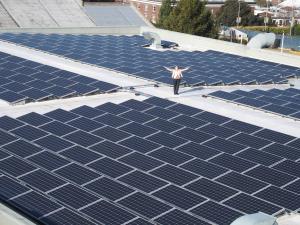 Berkeley is committed to surpassing the carbon reduction mandates set by California state regulations by achieving at least a 90% reduction in total emissions (scopes 1,2, and 3), relative to a 2019 baseline, by 2045. Berkeley's goals align with the 2023 update to the UC Sustainable Practices Policy, which has embraced more robust climate action targets. These revised goals emphasize direct emissions cuts and curtail reliance on carbon offsets. 
The Clean Energy Campus initiative is steering Berkeley towards decarbonization. By 2030, the university has a plan that could transition the university to an innovative, clean, and resilient energy system that progressively eliminates the need for fossil fuels. Phase one of the Clean Energy Campus, to be completed by 2028, is projected to yield an impressive 70% reduction in building energy carbon emissions. The completion of Phase two in 2030 will result in an outstanding 85% reduction in carbon emissions. 
The transformation to the Clean Energy Campus system will showcase state-of-the-art technologies and exemplify financial strategies such that other campuses and public power grids can replicate Bereley's efforts. The Clean Energy Campus project will offer a unique opportunity for students, faculty, staff and other researchers to actively contribute and expand their knowledge through engagement with the system, and the energy use data that it generates, throughout its operational lifespan. 
Berkeley is taking  additional steps  toward zero carbon and has already reduced emissions to 1990 levels faster than required by California and UC guidelines. In 2016 Berkeley published the 2025 Carbon Neutrality Planning Framework to provide strategies to meet the target including:
Expanding the use of low and non-carbon energy supply for power and thermal needs including purchasing green power options from utilities, utilizing on-site solar photovoltaics, and implementing other energy storage mechanisms such as large-scale batteries.

Reducing energy use through building-level energy efficiency projects and encouraging energy-saving actions by facility occupants.

Curbing growth-related emissions by  choosing electrification over natural gas combustion, engaging in green building practices, and improving space utilization.

Updating the vehicle fleet to use less carbon intensive fuel and to be more fuel efficient. 
Learn more about the campus's carbon reduction strategies. 
Learn more about UC's climate action 
Learn how systemwide research and climate leadership is paving the way to scalable climate change solutions at UC, in California, and throughout the world. Also see the performance section of this website to see Berkeley's focus on climate actions.
Your role in decarbonization
Climate action requires more than technical solutions: it is also important to transform our culture around how we use energy and resources. Whether you are a student, faculty, or staff member your actions have the potential to make a big difference in saving energy and carbon. Learn more