Making Smart Energy Choices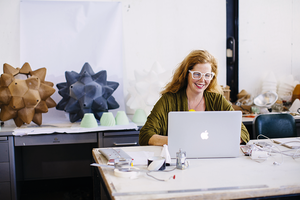 Rethinking energy is about conserving it, making smart choices about how and when we use and store it, and transitioning to renewable sources. It also means finding creative ways to finance the implementation of those renewable technologies as they become available. 
Berkeley Clean Energy Campus
The Berkeley Clean Energy Campus initiative (BCEC) represents UC Berkeley walking the talk by building a clean, green, electrified campus energy system that will demonstrate a decarbonized campus microgrid. A study, the Integrated Resource and Activation Plan (IRAP), envisions this transformation could be undertaken in two phases that would reduce overall campus carbon emissions 85% by 2030. This would take the campus below the carbon emissions of the State of California's environmental regulations - Cap & Trade - established to ameliorate the harmful effects of climate change.
Phase one of the project, could be completed as soon as 2028 pending funding. It would entail building a new centralized electrified plant used for heating and cooling the main campus. Electricity for the new thermal system and other campus electrical needs would be met through power from the utility and on-site installed resources. This plant in conjunction with an energy distribution system, electrical system upgrades, and on-campus renewable energy generation and storage will replace the campus's old natural gas powered cogeneration plant. 
Phase one would install a network of new hot and cold water pipes to move energy from the new electrified thermal plant to the most energy-intensive buildings on campus first. (This network will replace old steam pipes and add additional cooling to buildings.) Phase two of the overall Berkeley Clean Energy Campus initiative will connect the remainder of campus buildings to the microgrid via these pipes as soon as 2030.  
Berkeley Clean Energy Campus plans to meet new electrified plant and other campus power needs with clean electricity from the utility and on-site generated power and storage. The on-site resources will improve energy efficiency and provide critical power in outages. The Berkeley Clean Energy Campus is looking to state-of-the art methods such as solar photovoltaics, geothermal storage wells, green hydrogen-ready fuel cells and battery storage. The campus recognizes the need for reliable energy in the face of outages from high wind events, wildfires, and potentially from an earthquake. These on-site systems can allow for greater energy resiliency to ensure critical campus safety needs and to protect the most sensitive lab research. 
Currently about 71% of carbon emissions from campus buildings come from just the old natural gas cogeneration plant that is nearing the end of its lifecycle. To pro-actively remedy this, the Berkeley Clean Energy Campus will phase out the use of fossil fuels and drastically reduce greenhouse gas emissions, improve local air quality, provide energy resiliency, save the university money via its greater efficiency–which will lower campus operational costs over time. 
 Benefits from the IRAP study's phase one

To the campus's intellectual benefit, Berkeley Clean Energy Campus will function as a "living laboratory" by providing research data and research collaborations both on and beyond campus. Such collaborations could potentially serve as bridges to jobs for students after graduation and result in greater research investment at Cal.  
Benefits of the initiative will extend beyond Sather Gate as well. The project is also expected to bring construction and "green collar" jobs and apprenticeships to the region, which can boost the regional economy.  Further, because UC Berkeley's energy needs are comparable to those of a medium-sized city's, the project's infrastructural plans and its creative financing can provide a reproducible and scalable model should other entities choose to follow Berkeley's lead.
More Opportunities for Rethinking
By finding strategic ways to improve existing space use, including allowing for more hybrid and remote work options, Berkeley could find more strategic ways to use new building space and improve the move towards zero-net energy growth.

Berkeley's compact and urban setting affords collaboration among the campus, the city, and the region regarding issues of mutual concern. These include sharing vehicle electrification networks and community choice electricity procurement programs. 

Over the next decade, campus can replace up to 80% of our aging fleet vehicles with more efficient, electric, and alternative fuel models. This step would reduce the fleet's carbon emissions 35% to 50% and eliminate their diesel combustion. 

The campus is building much needed student housing. This investment in housing near the campus will reduce fuel expenditure generated from commutes. Walking, biking, and transit  to campus will be easier. 

The campus has integrated Clean Energy Campus planning into our new Long Range Development Plan and Master Plan.
Energy Policy Drives Change
The UC Policy on Sustainable Practices helps to direct and enable change:
The policy calls for all UC campuses to reduce energy-use intensity (energy per square foot per year) by 2 percent year over year.

By 2025, UC campuses are required to procure 100% carbon-free electricity.

No new UC buildings or major renovations (except in special defined circumstances) will use on-site fossil fuel combustion–such as natural gas–for space and water heating.
The campus's Energy Use Policy provides a local framework to support energy-efficient decisions. The policy outlines energy conservation practices for heating, cooling, ventilation, lighting, equipment, construction and renovation projects.
Learn more about Berkeley energy
See our Energy Goals and Performance.
Meeting carbon reduction goals is all about rethinking energy.  Find out more about our Carbon Reduction Performance  and our Zero Carbon strategies.
Visit the Energy Office Website.
Engage by upgrading awareness about your own energy use in your office, classrooms, lab, and/or residence halls.
Understand our real-time electricity use and solar production on the campus Energy Dashboards.
Rethinking Lighting
Strategically thinking about how we light spaces saves energy on campus and beyond 
Solar Power at Cal
UC Berkeley is now producing 1 MW of solar PV through recent installations at five locations on campus: the MLK Student Union, Eshleman Hall, the Recreational Sports Facility field house, the University Village carport solar system, and Jacobs Hall (shown below)  Read more about UC Berkeley's solar power here.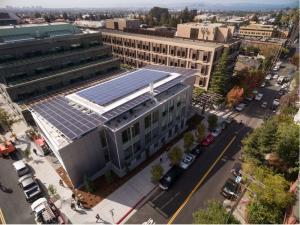 Solar Array at Jacobs Hall