Carbon Neutral Berkeley by 2025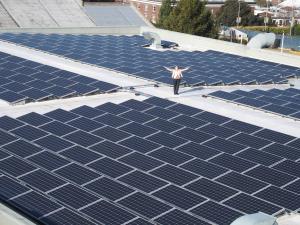 In 2013 the UC system announced the Carbon Neutrality Initiative (CNI) and pledged to be carbon neutral by 2025 from scope 1 (campus-generated energy, campus fleet) and scope 2 (purchased electricity) carbon emission sources. (More on scope definitions.)
For Berkeley to get to *carbon neutrality, or zero-net carbon emissions from building and fleet energy use, the campus is aiming to reduce emissions by about 150,000 tons. This reduction represents 80% of Berkeley's carbon emissions. The remaining 20% of Berkeley's emissions outside of the 2025 goal are associated with the campus commute, business air travel, waste, and water. A neutrality date for these other scope 3 emissions is currently 2050.
UC Berkeley has taken the first steps toward neutrality by reducing emissions to 1990 levels faster than required by California and UC guidelines. In 2016 Berkeley's 2025 Carbon Neutrality Planning Framework was published providing a high-level course of action and strategies to meet the target including:
Expanding the use of low and non-carbon energy supply for power and thermal needs including directed biogas, green power options from utilities, on-site solar photovoltaics and other natural gas alternatives.

Reducing energy use through building level energy efficiency projects and energy saving actions by facility occupants.

Curbing growth-related emissions through electrification, green building practices and improved space utilization.

Increasing the efficiency and using less carbon intensive fuel in the vehicle fleet.

Utilizing carbon offset mechanisms to get to neutrality in the near term.
The campus is also looking at electrification options for the main campus energy plant and delivery system-see the current planning. This major capital improvement has the opportunity to significantly reduce operational carbon emissions. Thinking beyond 2025 is also necessary, as carbon neutrality needs to be sustainable in the years following the target date. Expanded consideration of campus renewable energy options, emerging technologies, creative financing mechanisms, and more are part of the longer-term strategy.
*Note: Carbon neutrality is not the same as zero carbon operations. The campus is striving for carbon free energy use in our buildings by 2025; see the new Clean Energy Campus initiative here

Your role in carbon neutrality
Reaching zero emissions requires more than technical solutions, it is also important to transform our culture around how we use energy and resources. No matter if you are a student, faculty, or staff member your actions have the potential to make a big difference in saving energy and carbon.
Learn more about the CNI
Learn more about the systemwide UC Carbon Neutrality Initiative and how research is paving the way to scalable solutions to help UC, California, and the world bend the curve on climate change.

1. Turn off what you are not using 
Monitors and lights when you're away for more than 15 minutes; avoid screensavers, as they cause newer monitors to use more energy
Overhead lights when not needed, including in common areas
Individual printers and other equipment at night and on weekends
2. Buy energy efficient products 
Make sure your new computer, appliance, and electronics purchases are ENERGY STAR certified
Choose LED light bulbs 
3. Reduce energy use in electronics and equipment
Enable energy-saving features like sleep mode on your computer
Reduce the brightness and bump up the contrast of your monitor
If you are able, choose the stairs instead of an elevator
Living in the residence halls? Green your dorm routine!
Find out your own carbon footprint and actionable ways to reduce it with this carbon calculator. See what you can do on campus to engage.