See our Solar PV production
See Real-TimeEnergy Dashboards 

Dashboards show real-time energy use for campus buildings. Installed in 137 buildings, the dashboards provide visualizations of energy and water use. The dashboard tracks the effects of your electricity-saving efforts–like turning off the lights at night, using energy-saving features on your computer, and other similar actions–to show the cumulative impact of you and your peers in the building. The dashboard program is managed by the campus Energy Office.
Explore our Solar PV production
View our newest solar systems in action at the Recreational Sports Facility and at the University Village Apartments

Within eight years, Berkeley plans to switch to a new clean and resilient energy system that will phase out fossil fuels and demonstrate emerging technologies and creative financing. For decades, Berkeley has led the world in climate solution technology and policy research. Now, the campus will be powered by an energy system that sets the standard in sustainable, resilient infrastructure.
Berkeley's new clean energy system presents a unique opportunity for students, faculty, and other researchers to both contribute and advance their knowledge in renewable energy, project finance, and other fields through engagement in the system design and continued discovery during its operations. The intention of this living lab is to build mutually beneficial project partnerships between the energy operations enterprise and the research and teaching enterprise that advance Berkeley's mission. Learn more about the living lab and explore additional resources about the Clean Energy Campus project here

Office of Sustainability Director Kira Stoll in a field of solar panels atop the Recreation and Sports Facility on UC Berkeley campus
Data, Data, Data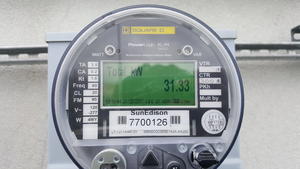 Power meters on campus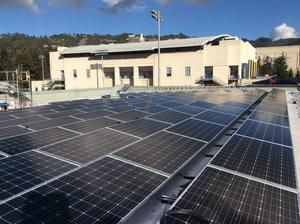 The campus Recreational Sports Facility goes solar