Donate to The Climate Action and Campus Solar Fund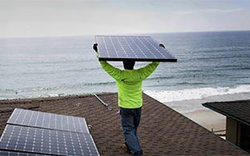 The Climate Action and Campus Solar Fund supports projects and student research that reduce UC Berkeley's carbon footprint and power the campus with the sun.
The Office of Sustainability has a goal to install 4 megawatts of on-site solar for the Berkeley campus. Berkeley met its first greenhouse gas emissions reduction target– bringing emissions back to levels they were 25 years ago. Now we are striving to achieve at least a 90% reduction in total emissions (Scopes 1, 2, and 3) by no later than calendar year 2045 relative to a 2019 baseline year. 
The Climate Action and Campus Solar Fund is already helping us with our next round of solar installations. Help us do more! Your donations will be used to support campus solar and carbon neutrality projects and to fund student undergraduate and graduate students' carbon-cutting creative initiatives and research projects. 
Unlike most "carbon offsets," donations to the Fund are tax-deductible!