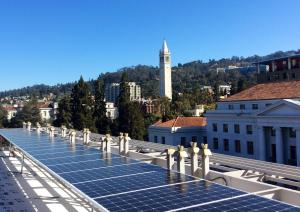 UC Berkeley is Now Generating 1MW of Power From the Sun                             
Solar PV systems at MLK Student Union, the new Eshleman, the Recreation Sports complex, and the University Village apartments are now operational. The Office of Sustainability and Energy worked in a collaborative, competitive procurement strategy with 19 other public agencies in the region, led by the Alameda County General Services division, Berkeley secured very favorable pricing for these three rooftop and one canopy/carport installations – 25-40% below market rate.  In aggregate these systems will bring cost savings in year one to the campus.  The solar will be installed by a purchase power agreement (PPA) - the vendor is covering the costs of installation and operating and maintaining the systems, and Berkeley will pay for the power they generate.  
Solar Locations on Campus:
The rooftop solar panels on MLK Student Union replace (and expand) an older less productive system. The solar array on new the Eshleman Hall add even more green power to the Lower Sproul complex.  Together these two systems produce

150,000 kWh solar electricity annually for the buildings.



Recreation Sports large field house roof offers space for an array that produces 

340,000 kWh of solar power, providing close to one-third of the buildings electricity needs.  See the realtime production.


The University Village carport solar system is built to produce 700,000 kWh of carbon-free solar electricity each year, providing 20% of the power needs of the village. See the realtime production.
Jacobs Hall rooftop solar arrays will produce about 120,000 kWh of clean power each year for the building.
These sites were selected because they meet the physical requirements for solar power and because the stakeholders, including student users of the facilities, showed interest in solar power. 
Regional Renewable Energy Procurement

Joining the Regional Renewable Energy Procurement (R-REP) initiative was a critical step in making the solar project a reality. By joining with other Bay Area public agencies also interested in obtaining solar power, UC Berkeley received expert technical evaluation, an extensive vendor review and selection process, collaborative legal document development, and below market pricing.
Student Support for Solar

Students have had a keen interest in making these solar projects a reality. The R-REP solar installations were supported by a grant from The Green Initiative Fund in 2013. This grant helped provide initial investment and campus support for UC Berkeley to enter the R-REP program, allowing the campus to pursue solar installations. Furthermore, the TGIF grant funds a student engagement component so that these installations align with UC Berkeley's focus on research and teaching. TGIF was founded with the intention of bringing more clean energy to UC Berkeley, so TGIF is fulfilling one of its major goals through this project.  

UC Berkeley's Commitment to Using Green Energy, and Less of It
The solar panel installations on campus are one of the ways UC Berkeley is achieving moresustainable energy use practices. Under the UC Carbon Neutrality Initiative, the University of California system will be carbon neutral from building energy and fleet vehicle use by the year 2025. 
Solar panel installations are part of a suite of projects that Cal is working on to make climate neutrality a reality. UC Berkeley is also investing in energy-efficient building retrofits and sustainable transportation practices, and using improved data collection methods to analyze and troubleshoot campus energy use.
Acknowledgements

There has been a tremendous effort behind the scenes to bring solar power to the UC Berkeley campus requiring extensive collaborative effort between many departments and groups across campus. These people have worked through the necessary logistics, asked and answered complex legal and operations questions, and engaged others in their units to help ensure everyone that needed to provide input had the opportunity to so.