Office Initiatives
UC Berkeley Sustainability and Carbon Solutions Community of Practice
The Office of Sustainability and campus partners have re-established the Sustainability and Carbon Solutions Community of Practice (CoP) for campus staff focused on environmental interests, peer to peer education, and action on campus environmental priorities. "Communities of Practice are groups of people who share a concern, a set of problems, or a passion about a topic, and who deepen their knowledge and expertise in this area by interacting on an ongoing basis" (Wenger, McDermontt, Snyder). 
Through this social, voluntary-based network in the CoP, people as a group create continuous learning experiences for members with a specific goal of engaging and educating the broad staff community. We envision this CoP will include monthly lunchtime gatherings, covering different topical areas, with a focus on a sustainable future in our campus work - both on-campus and in home work spaces. CoP members will set and complete a number of outreach activities each year to other staff in campus departments and other staff organizations.
If you are a staff member interested in joining, please fill out our Google interest form. The CoP plans to launch in Fall 2021.
For more information, email sustainability@berkeley.edu.
Faculty Sustainability Curriculum Workshop
The Office in partnership with faculty from across campus disciplines are offering annual workshops to incentivize other faculty and lecturers to integrate the concept of sustainability into courses. The goal of the program is improving student learning and literacy in sustainability and climate by adding and infusing physical, social and economic environmental topics into the curriculum. The workshop offers time to brainstorm ideas for including sustainability principles in curricula across campus – from art history to design to gender studies to business to environmental science. The workshop focuses on expanding the range and definitions of sustainability beyond traditional disciplines and explores current topical concepts like environmental justice. Teachers leave with creative, concrete ways to help students increase knowledge of sustainability concepts. 
The most recent workshop was offered on Thursday, December 10, 2020; see the workshop flyer.
This workshop has been held twice before, see a poster of the outcomes of the last workshop.
Student Team 
The Office of Sustainability student team is integral helping us reach the next level of campus sustainability. The team supports the Office's priorities and pilots and promotes new cutting edge initiatives.
Students will help the Office produce numerous sustainability plans (waste, water, transportation, and more) that will guide our direction for the next decade:
Piloting new zero waste efforts and organizing students in the Zero Waste Coalition.
Enhancing energy, green building, and climate initiatives to support carbon neutrality by 2025.
Powering-up community engagement and behavior change, including sustainability trainings and research into emerging global issues.      
UC Berkeley Leadership and Engagement in the UN Sustainable Development Goals, Globalization, and the Environment
This office initiative aims to increase UC Berkeley's global citizen leadership through participation as a member of the International Alliance of Research Universities (IARU). The International Alliance of Research Universities (IARU) is a network of eleven research-intensive universities from nine countries who share a similar global vision and commitment to educating future world leaders. To learn more about IARU, click here.
The office's current engagement with IARU: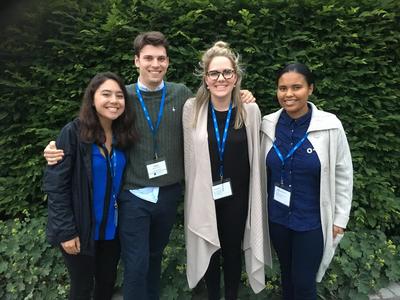 View and download the IARU's new green guide for universities, which addresses key areas of sustainability at universities, ranging from laboratory design to managerial and organizational aspects.
Carbon Neutrality Initiative
The UC President's Bonnie Reiss Carbon Neutrality Student Fellowship Program funds student-generated projects working towards the UC goal of zero-net greenhouse gas emissions by 2025. All 10 UC campuses plus the UC Office of the President, UC Agriculture and Natural Resources, and Lawrence Berkeley National Laboratory are participating in the program.
The program began in spring 2015(link is external) and is open to both undergraduate and graduate students.  For more information, including how to apply for funding, please see the UC Office of the President's website(link is external).
More Solar Powering Cal
The Office of Sustainability is launching another round of Solar PV installations on campus. We are working to add 3 MW more on site. Want to help? Think about donating to a supporting fund. 
Assessing our performance with STARS 
STARS takes a sustainability snapshot of colleges and universities around the world based on more than 90 diverse metrics such as renewable energy use, academic curriculum and campus involvement in environmental policymaking. For the first time, UC Berkeley in 2018 completed the self-reported STARS tool, or the Sustainability Tracking, Assessment and Rating System, and scored a Gold rating.