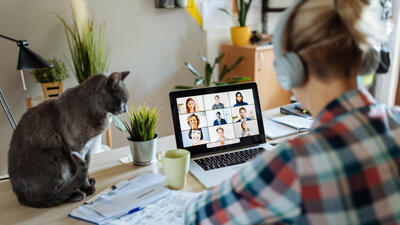 In this Sustainable Flexible Work Toolkit, find tips to save energy and money while working from anywhere. This toolkit details how to build a sustainable office, save resources, and reduce waste in a post-pandemic world. Stay up to date on flexible work information on the People & Culturewebsite.
Building a Sustainable Home Office for Your UC Work
Ergonomics & safety: Your comfort & health should be a top priority in your home and work office; taking regular breaks to stretch and look away from your screen can reduce stress and improve overall well-being.
Check out UC Berkeley's ergonomics resources & recommendations, along with approved ergonomic items.
Go digital: Instead of buying a printer, use online services supported by campus like Google Drive and Dropbox -- learn more about options.

When in the office, use the available networked printers.

Scanners or mobile apps can convert your files into a digital format instead of physical.

Utilize UC Berkeley's clean-out carts if you'll be throwing away large amounts of paper while working on campus. 

Campus shredding services are also available for confidential documents.

Use what you already have. Instead of shopping for new pens, pencils, and notebooks, look around your house and see what items you already have. 

When you purchase something new, try to combine your orders or shopping trips.

Search for sustainable products in BearBuy you will find options for office supplies, furniture and more from UC.

Consider visiting the ReUSE store in the basement of MLK or the ReUSE stations in Barrows Hall for secondhand office supplies.
Buy electronics & office furniture second-hand or refurbished. This can help reduce waste and save money. 
Purchase ENERGY STAR appliances whenever possible. Visit energystar.gov and browse through certified products and appliances that save you energy and money. Note: when purchasing UC computers and related equipment, sustainability requirements are included such as EPEAT and ENERGY STAR.
Saving electricity
Sustainable lighting: Lighting accounts for almost 20% of our home electricity usage - sustainable lighting choices that can save energy and money.

The Million LED Challenge is dedicated to providing energy-efficient lighting to all.  LED light bulbs can reduce carbon emissions and are durable for long-term use. UC students, staff, faculty, retirees, and alumni can purchase light bulbs at nearly half the price of online competitors via the secure Million Light Bulb Challenge website and have them shipped to your home.
"Reduce vampire energy." Up to 20% of your power bill can come from items that are turned off but still plugged into the wall. Unplug chargers and other electric appliances that are not in use. 

Consider investing in a smart power strip. They stop supplying power to a device when it isn't being used, keeping your energy bills to a minimum.  
Reducing waste
Composting services: If you live in Berkeley, you have access to city-wide composting services. Read more about food waste and organics collection.

If you do not live in the City of Berkeley, find local composting policies and locations at FindAComposter.com.

Alameda County waste reduction: For those located in Alameda County, StopWaste Alameda has a plethora of general and Alameda-specific waste reduction resources. See their at-home resources
Rebates to Save Energy, Water, and Money
Electricity rebates can decrease your household energy consumption as well as your bills. PG&E, as well as other service providers, offer a multitude of rebate programs. 

PG&E offers rebates on qualified energy-efficient products, as well as home improvements, that are easy to apply for after installation: see current appliances with rebates here and check out their SmartRate program. 

The PG&E Energy Savings Assistance Program provides financial reimbursement for energy-saving home improvements for qualifying customers. 

Discover ways to save energy at home, based on whether it's warm or cold weather, through PG&E here.

Join a community energy program, such as East Bay Community Energy (EBCE), non-profit energy providers that invest in communities and support renewable energy. See joint rate comparisons between PG&E and EBCE to find a clean energy plan to fits your budget.

Water rebates can save you water and money. Check out more at

calwater.com

and

socalwatersmart.com.
Do more to create a sustainable future of work!
Learn more about your own environmental footprint
Take the UCB Staff Sustainability Training
Created by the Office of Sustainability, this UC Berkeley Sustainability Staff Training is composed of ten comprehensive modules, designed to allow you to work and complete at your own pace. Upon successful completion of the 10 modules, UC Berkeley Staff can earn a Staff Sustainability Training Certification of Completion showing your gained knowledge in sustainability. To record your staff development achievement it is recommended that staff enroll through the UC Learning Center or access the website 
Suggestions?
Do you have more suggestions for working from home sustainably? Share using our feedback form 
When you are in the office: 
1. Turn off what you are not using 
Monitors and lights when you're away for more than 15 minutes

Overhead lights when not needed, including in common areas

Individual printers and other equipment at night and on weekends
2. Buy energy efficient products 
Make sure your new computer, appliance, and electronics purchases are ENERGY STAR

Choose LED light bulbs 
3. Reduce the energy used by your computer 
Enable the energy-saving features like sleep mode

Reduce the brightness and bump up the contrast of your monitor