UC Berkeley is Now Generating over 1.2 MW of Power From the Sun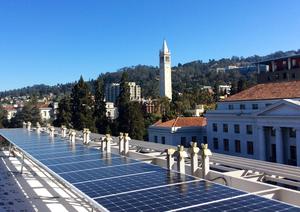 On-site. locally generated renewable energy is an integral part of Berkeley's decarbonization strategy.  The campus is focusing on solar PV installations at existing sites and with new construction on rooftops and in parking areas. Ramping this effort up, four more sites are in the works that aim to triple our power from the sun.
Solar PV systems are operating now at six campus locations. The Office of Sustainability worked in a collaborative, competitive procurement strategy with 19 other public agencies in the region to bring solar to four of these site: the MLK Student Union, Eshleman Hall, the Recreation Sports complex, and the University Village apartments. Through this effort Berkeley secured favorable pricing for these three rooftop and one canopy/carport installations – 25-40% below market rate.  Solar at these sites has been installed by a purchase power agreement (PPA) - the vendor covered the costs of installation and operating and maintaining the systems, and Berkeley is buying the clean power they generate.  Jabobs Hall and Chou Hall, two of our newest buildings included solar PV systems in the construction. 
Solar Locations on Campus: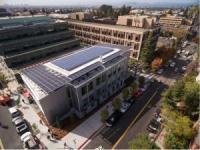 The rooftop solar panels on MLK Student Union replace (and expand) an older less productive system.
The solar array on new the Eshleman Hall add even more green power to the Lower Sproul complex.  Together these two systems produce 

150,000 kWh

 solar electricity annually for the buildings.
Recreation Sports large field house roof offers space for an array that produces 340,000kWh of solar power, providing close to one-third of the buildings electricity needs.  See the real-time production.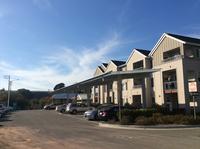 The University Village carport solar system is built to produce 

700,000 kWh

 of carbon-free solar electricity each year, providing 20% of the power needs of the village. See the real-time production. 
Jacobs Hall rooftop solar arrays will produce about 120,000 kWh of clean power each year for the building.
Chou Hall, UC Berkeley's newest, greenest building includes rooftop solar power producing about 90,000 kWh annually. 
Student Support for Solar
Students have had a keen interest in making these solar projects a reality. Planning for the solar installations have been supported by a grant from The Green Initiative Fund. TGIF is fulfilling one of its major goals of adding clean energy through this partnership.