Take Classes
For-Credit Classes
UC Berkeley's sustainability course offerings make up more than 61 percent of all campus courses, based on a provisional review of the course catalogue. On the undergraduate level, UC Berkeley offers over 900 sustainability-focused courses and 1,600 sustainability-inclusive courses. On the graduate level, UC Berkeley offers almost 600 graduate sustainability-focused courses and roughly 1,000 sustainability-inclusive courses. Sustainability course offerings come from 113 different departments, and classes don't come only from perhaps more predictable departments such as Environmental Science, Policy, and Management. Students can dive into the global history of ecologically conscious art, architecture, cinema, sustainable design, and urban planning (HISTART 105) or learn how environmental concerns have shaped the history of American landscape architecture since 1850 (AMERSTD C171). Through the American Cultures course requirement, every Berkeley undergraduate takes a course with material that is sustainability-supportive, preparing students with specific skills that are critical for addressing sustainability challenges (e.g., social and ethical responsibility).

UC Berkeley also offers a wide range of related degree programs, including almost 30 graduate degree programs, over 25 undergraduate programs, and almost 20 minors.  Students working towards these credentials find additional intellectual camaraderie in Berkeley's many research centers related to the environment and sustainability.
Extension Education
UC Berkeley Extension Education, or "UNEX" has an extensive range of sustainability programs and courses, which make up 10 percent of UC Berkeley Extension course offerings. Sustainability courses include sustainable design, energy for sustainability, and environmental monitoring. Extension Education classes can be taken to supplement regular course offerings, for self enrichment, or to earn a certificate.
More Information
See the Campus Initiative section of this site under Academics and Learning for more information on sustainability-related learning opportunities and educational goals at UC Berkeley.
Fiat Lux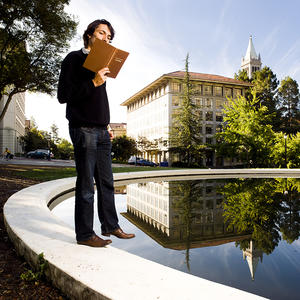 Student reading a book on the edge of the Hearst Mining reflection pool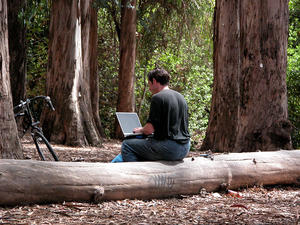 Studying in the quietude of a eucalyptus grove