Food Goals

GOAL: By 2030, increase sustainable food purchases by campus foodservice providers to at least 25%.
STATUS: Achieved
GOAL: Expand food recovery efforts in partnership with the campus Basic Needs program. 
STATUS: Achieved
GOAL: Ensure that 40% of the food in a vending machine meet UC Healthy Vending Guidelines for Healthy Spend by 2025
STATUS: In Progress
Campus Performance Overview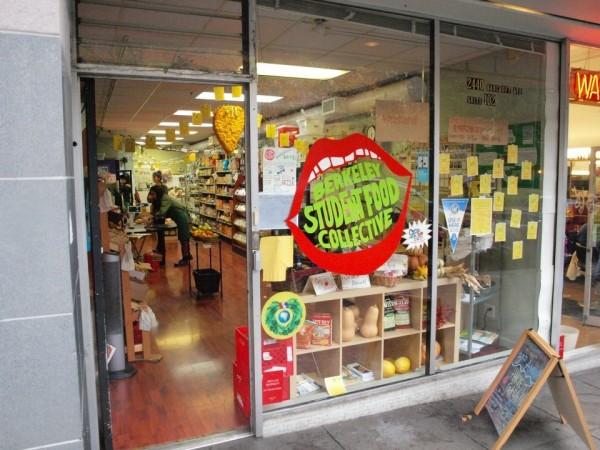 Foodservice impacts campus purchasing, waste, and engagement.  About 25% of the food purchased by dining halls, campus restaurants, and concessions is sustainable, and that percentage is veering upward.  To qualify as being "sustainable," foods served on campus must contain a UC-approved 3rd party certification including certified organic, fair trade, and humane (i.e. raised with humane practices).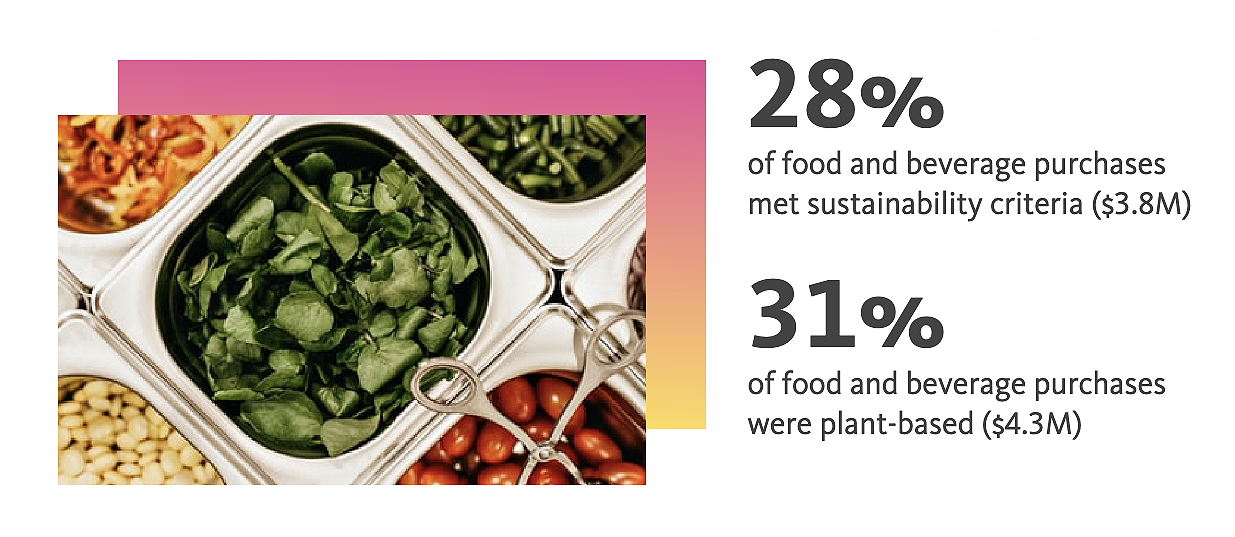 Healthy Campus
Food and Beverage Choice Policy establishes nutrition standards and the need for sustainable, fresh, whole foods to be accessible via all campus foodservice vendors and at all campus events. Rather than take consumer choices away, the policy instead strives to "make the healthy choice the easy choice" in campus cafes, markets, vending machines, and athletic concessions stands. About 50% of snack and beverage   vending machines on campus are required to be healthy choices and labeled as such. As of Fall of 2022, 93% of snack vendors and 100 % of beverage vendors were in compliance. To access a list of which food and beverage vendors are in compliance with this policy, search Eat Well Berkeley
The Berkeley Student Food Collective is a market run by Cal students. The store provides fresh, local, healthy, environmentally sustainable and ethically produced food at affordable prices to the Berkeley campus and greater community.
Food Recovery Program
Cal Dining in collaboration with the Basic Needs Center  is working to reduce, monitor, and redirect the amount of food waste at UC Berkeley. Pre-consumed food that is safe for later consumption is routed to a food pantry that aids in reducing food insecurity among students. Post-consumer food waste is composted. 
Food Choices and Carbon Impact
UC Berkeley is striving to reduce greenhouse gas emissions from food purchases by providing globally-inspired, culturally-acceptable, plant-forward menus including fruits and vegetables; whole grains; beans and other legumes; soy foods; nuts and seeds; plant oils; herbs and spices; and vegetarian/vegan alternatives to meat and dairy. 
Cal Dining provides its patrons  with access to educational and training materials to help support their food choices.To make your own sustainable choices, look out for carbon footprint labels on Cal Dining online menus. These labels of carbon impact were calculated from emissions data from the World Resources Institute. To learn more visit Cal Dining's Carbon Footprint guide
STARS Performance Overview
Food and Dining Category
According to STARS, "This subcategory seeks to recognize institutions that are supporting a sustainable food system. Modern industrial food production often has deleterious environmental and social impacts. Pesticides and fertilizers used in agriculture can contaminate ground and surface water and soil, which can in turn have potentially dangerous impacts on wildlife and human health. The production of animal-derived foods often subjects animals to inhumane treatment and animal products have a higher per-calorie environmental intensity than plant-based foods. Additionally, farm workers are often directly exposed to dangerous pesticides, subjected to harsh working conditions, and paid substandard wages... Dining services can also support sustainable food systems by preventing food waste..."
Berkeley's STARS Performance
Total Points Available: 8.00
Food and Dining Points Claimed: 3.79
UC Berkeley achieved 47% of available points in the STARS Campus Engagement category. The average among all research universities is <30%.

Cal Dining's  commitment to serving fresh, sustainably sourced food resulted in our stellar STARS performance in the Sustainable Dining category.

The campus reduces dining-related waste by  collecting and donating safe uneaten food to people in need. 
Food Highlights
The Berkeley Food Institute works to create a more just and sustainable California food system to enhance the health of people and the environment.