Food Goals

GOAL: By 2020, increase sustainable food purchases by campus foodservice providers to at least 20%.
STATUS: Achieved
GOAL: Certify at least one food service business as a green certified business.
STATUS: Achieved
Campus Performance Overview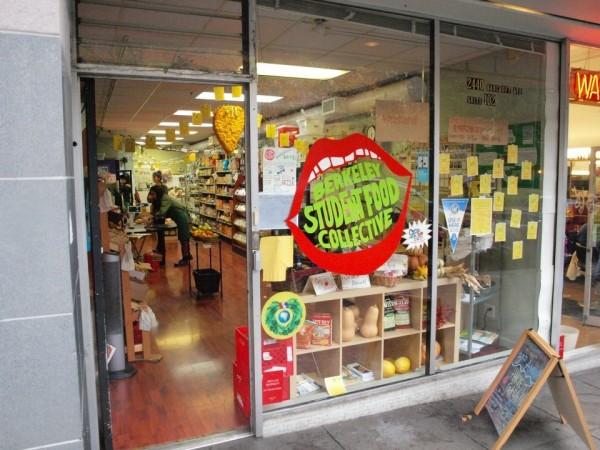 Food service impacts the campus greatly, given its purchasing, waste, and engagement components.  Vendors continue to increase the percentage of their purchases of sustainable food, reaching over 20%.  Criteria for determining sustainability of food include locally grown (within 250 miles of campus), organic, fair trade or humane .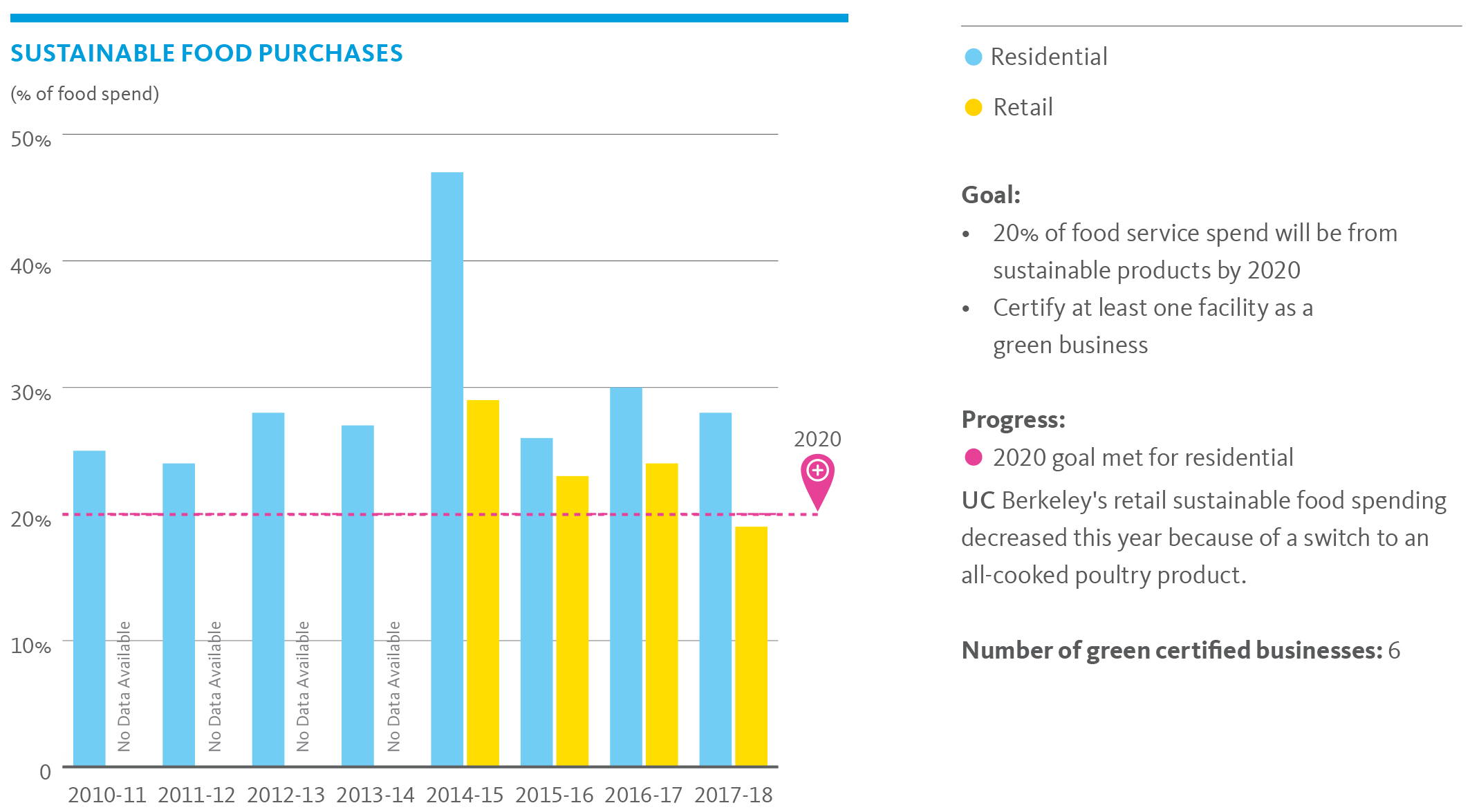 Led by the Berkeley Food Institute, the campus launched the UC Berkeley Foodscape Map, which offers extensive data on the structural factors affecting the UC Berkeley food system. Created through ongoing community dialogue and focused student research projects, the map reveals barriers in food-related learning and practice for marginalized community members and highlights opportunities to overcome these obstacles. In a companion policy document there are data-driven suggestions on how to transform the UC Berkeley food system to one where all members of our campus community experience just and nurturing food experiences.
Because UC Berkeley provides food for hundreds of meeting and events weekly, catering plays a significant role in the UC Berkeley food procurement landscape. Our campus has an opportunity to offer "sustainable and just" catering in alignment with UC Berkeley's Principles of Community. The Berkeley Food Institute has compiled detailed guidelines for departmental use based on the combined values of Diversity, Equity, and Inclusion; Environmental Sustainability; Food Recovery; Health and Nutrition; and Labor.
STARS Performance Overview
Food and Dining Category
According to STARS, "This subcategory seeks to recognize institutions that are supporting a sustainable food system. Modern industrial food production often has deleterious environmental and social impacts. Pesticides and fertilizers used in agriculture can contaminate ground and surface water and soil, which can in turn have potentially dangerous impacts on wildlife and human health. The production of animal-derived foods often subjects animals to inhumane treatment and animal products have a higher per-calorie environmental intensity than plant-based foods. Additionally, farm workers are often directly exposed to dangerous pesticides, subjected to harsh working conditions, and paid substandard wages...Dining services can also support sustainable food systems by preventing food waste..."
Berkeley's STARS Performance
Total Points Available: 8.00
Food and Dining Points Claimed: 4.15
UC Berkeley's commitment to serving fresh, sustainably sourced food shone through in its stellar STARS performance in the Sustainable Dining category.
The campus won 52 percent of available points in the category, compared to 28 percent won by all research and doctoral universities.
That total sent UC Berkeley well into the top quartile in that demanding category when compared to all participating institutions.
One STARS highlight was UC Berkeley's practice of using only animal products that have been certified both as humanely produced and sourced from local farms. That helped the campus report that only 15 percent of its expenditures on food and beverages were spent on conventional animal products that had not been certified.
The campus also works to reduce dining-related waste, in line with the overall campus goal of diverting all of its waste away from landfills by 2020. In practice, that means collecting and donating uneaten food to people in need.