Green House Gas Reduction Strategies
The emissions reduction mitigation strategy includes projects that fall into two general categories - infrastructure (mostly energy efficiency) and behavior (encourage individuals to save energy and fuel).  As the campus looks to carbon neutrality in 2025, more focus will be on acquiring cost-effective renewable energy. 
Energy Initiatives
The Energy Office tracks, monitors, and manages energy usage campus-wide to reduce energy costs; improve design, performance, and operation of buildings; and provide feedback on energy usage to building occupants. It continuously monitors the operations and maintenance of campus facilities and will be in contact with Building Managers regarding their facilities' operation and utility consumption.
During the last decade the campus has been focusing on energy efficiency projects through the Strategic Energy Plan (SEP) in an incentive based partnership with our local utility, PG&E. The SEP includes monitoring-based commissioning, new lighting, and HVAC system upgrades. The SEP energy efficiency projects have been supported by utility rebates and will save the campus millions in energy costs each year.  
In 2016 the campus added 1MW of on-site solar electricity.  This included four rooftop installations on the main campus and one carport installation at University village.  The campus also has one on-site solar thermal systems on a residence hall.  Read more.
Fuel Use Reduction Projects
Strategies also include programs focused on changing the way the campus community members commute, reducing air travel by using video and web conferencing, and creating less waste.
Berkeley is having particular success in reducing the fuel use from the campus fleet and from commuting.  The fleet has become smaller and greener over time, and the campus offers a comprehensive package of transportation options and financial incentives to support sustainable commutes. Over 80% of commuters now walk, bicycle, rideshare, or take public transit. 
Berkeley has invested in student housing in walking distance to campus and after leaving the residence halls many students choose to live near campus or a bus ride away.  Fuel use is down over 25% from the year 1990 much in part the result of these efforts.
Renewable Energy Credits and Offsets
CalCAP continues to explore what additional projects may be feasible while beginning to identify the types and availability of renewable energy credits (RECs) and carbon offsets in the event that reduction targets are not met through investment on-campus. CalCAP has developed Draft Guidelines for Renewable Energy Certificates & Carbon Offsets.
SEP Project Highlight

The Strategic Energy Plan (SEP) completed three different projects in VLSB building this past year, which reduced electricity use by 2.5 million kWh – or 10% of the total reductions achieved across campus in the last seven years .  How did they do it?  Tuning up the building, retrofitting lighting, reducing air exchange rates, and cleaning coils – seemingly complex tasks that are the bread and butter of the SEP. 
Bike to Work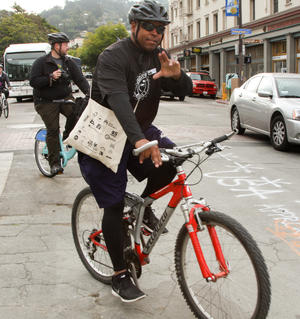 Bike to Work Day promotes
zero carbon transportation among UC employees