Greenhouse Gas Emissions Inventory Overview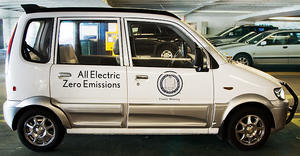 Greenhouse gas inventories reveal that 75% of our emissions are associated with campus building energy use. The majority of the remaining emissions come from campus related travel.
UC Berkeley reports on ten emissions sources and analyzes emissions in three different categories:
Scope 1 - Direct Emissions: natural gas, campus fleet, emissions from refrigerants
Scope 2 - Indirect Emissions: purchased electricity, purchased steam
Scope 3 - Optional Emissions: business air travel, student commute, faculty/staff commute, solid waste, water consumption
The campus reports its GHG inventory to both The Climate Registry and the California Air Resources Board (CARB). Third party verification of the inventory is completed as part of the reporting process.
2016 Berkeley GHG Emissions Inventory
Emissions Sources

1990
Metric Tons
CO2e

2008
Metric Tons
CO2e

2017
Metric Tons
CO2e

2018
Metric Tons CO2e

Plant Natural Gas

60,457

66,125

121,806

123,888

Electricity

40,296

62,384

4,264

4,720

Air Travel

19,980

21,865

22,800

22,926

Faculty & Staff Commute

23,142

18,027

12,036

11,818

Nautral Gas

8,148

12,453

10,905

11,363

Student Commute

4,100

3,824

6,449

6,245

Water

783

864

434

299

Campus Fleet

1,968

1,701

1,726

1,769

Solid Waste

996

981

571

740
Fugitive-Refrigerants


237

66

237

779

De Minimis

281

281

281

281
TOTAL EMISSIONS 
160,389
188,572
181,639
184,952
Emissions Profile
2016 EMISSIONS PROFILE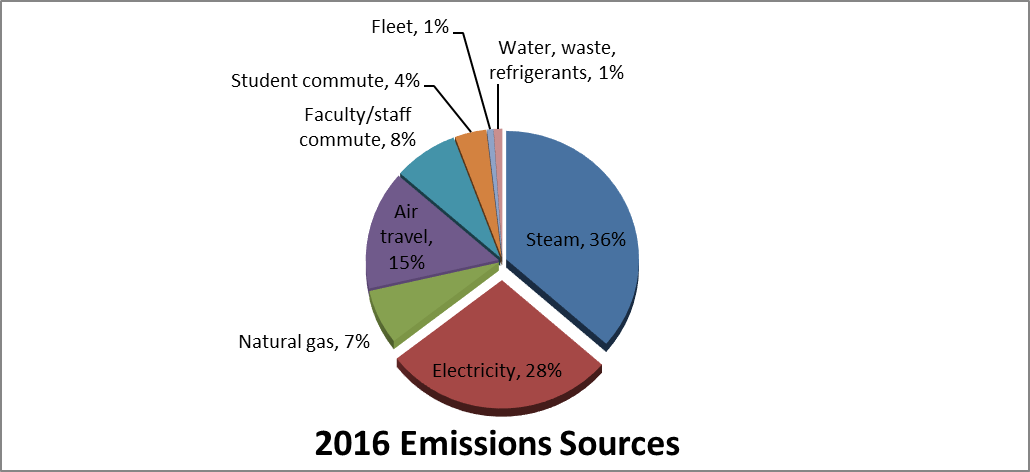 Normalized Energy and Climate Data
The campus analyzes emissions, energy use, and transportation scaled to campus population and square footage over time to monitor normalized progress and for comparison purposes.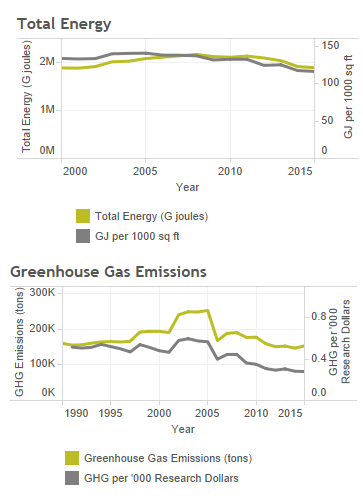 2016 EMISSIONS PER CAPITA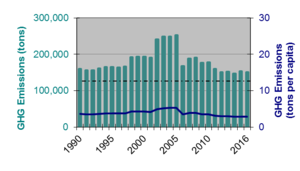 Carbon Footprint Lifecycle Analysis
UC Berkeley recognizes that the reported emissions inventory does not fully reflect the complete carbon footprint of campus activities. A lifecycle analysis includes greenhouse gas emissions from all stages of a product/service lifecycle, including mining, manufacturing, and transportation. UC Berkeley's Renewable and Appropriate Energy Laboratory has provided some lifecycle analysis of campus emissions as have students in reports like this an award winning student research project.
Zero emissions!
Cal employees participate in
Bike to Work Day,
reducing greenhouse gas emissions
and building healthy habits
Reduce, Reuse, Recycle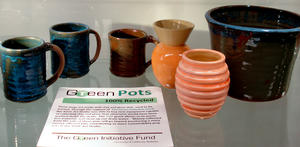 Did you know that waste materials
contribute to GHG emissions?
Berkeley students use recycled materials
in ceramics projects.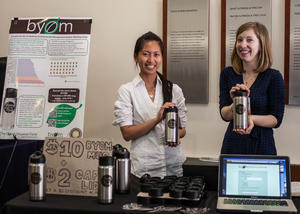 UC Berkeley staff promote reusable alternatives to
disposable cups and bottles at a CACS Summit
Research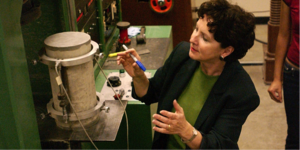 Professor Claudia Ostertag,
Civil and Environmental Engineering,
creates new concrete composites to reduce GHG emissions