About CACS Sustainability Awards
To formally recognize contributions of those helping the campus to meet its sustainability goals, the Chancellor's Advisory Committee on Sustainability (CACS) annually provides awards to faculty, staff, and students in recognition of their hard work making UC Berkeley a more sustainable place to work, live, and play.  In 2018 we offered one additional award for a "friend of campus sustainability"  to recognize an individual or group with close affiliation to UC Berkeley offering a program or effort that supports our sustainability initiatives.
2021 Sustainability Awards
CACS Senior Award
The Chancellor's Advisory Committee on Sustainability recognized 6 graduating seniors on their leadership in the environmental community throughout their time at UC Berkeley.  A virtual ceremony took place on 4/23/21 via Zoom.
 Read more about these forward-looking changemakers. 
2020 Sustainability Awards
In 2020 six outstanding graduating seniors received  Sustainability Awards.  Read more about these forward-looking changemakers. 
2019 Awardees
To view photos from the 2019 CACS Sustainability Summit, click here.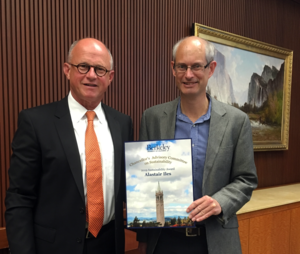 Alastair Iles, Professor in the Department of Environmental Science, Policy and Management

Professor Iles co-founded and directs the Berkeley Food Institute, which is a central hub for food-related work and research on campus. His leadership has supported numerous campus initiatives, including the development of a Food Systems Minor, providing a community garden guide, and mapping campus food systems. 
His current research and teaching is all about long-term sustainability transitions – he is one of the few academics in the qualitative social sciences working with this exact framing of this topic.
While a strong advocate for environmental sustainability and public service, Professor Iles is also an advocate for faculty, staff and students with disabilities. Dr. Iles is deaf, and on top of everything else he has accomplished – he has taught generations of Berkeley students to learn from and communicate with someone who is differently abled than they are. 
Diane Mayo, Project Manager in Capital Projects.
Diane is a champion of sustainability and green building on this campus. Diane was one of Berkeley's first LEED certified professionals, and helped to launch and institutionalize LEED building practices here. 
As a Capital Projects-Project Manager, Diane has played a leadership role in a number of Berkeley's greenest building projects. One significant contribution was her work with student leaders helping to champion the sustainability features of the Lower Sproul Redevelopment. And, this last year, Diane managed Berkeley's newest student housing project, David Blackwell, that just received a LEED Gold rating.
Diane also engages the student community in green building practices. Over the last three years she has supervised a team of students in a program called Building Sustainability at Cal, and with these students, she has delved into the implementation of a green building checklists for smaller projects that do not fit into the LEED program.
Scott Silva, Undergraduate Student. 
Over the last four years, Scott has been an advocate, leader, and changemaker on zero waste. In his position with the Student Environmental Resource Center (SERC), as the Lead Zero Waste Research Center Associate, Scott has been instrumental in the development of Berkeley's plastic research facility, a collaborative project that working towards closing the loop on campus plastic waste. 
In addition to zero waste leadership, Scott has dedicated himself to enhancing and bringing together the environmental community and advancing sustainability efforts through a variety of other positions including serving on the Environmental Coalition Executive Committee, as the Co-chief of Staff for the 2017-2018 ECO ASUC Senator, and as the President of CHAOS.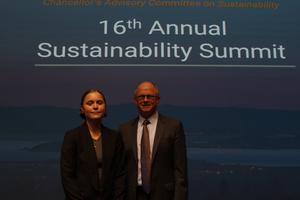 Hannah Haugenes, Undergraduate Student. 
In Hannah's role as Garden Coordinator for Cal Dining, Hannah has been instrumental in creating a sustainable framework for the Clark Kerr Garden, and starting and maintaining a new garden at Browns California Café. Part of her effort at Brown's has been to work with Campus Grounds to eliminate synthetic fertilizers in the area and convert part of the lawn to an organic garden bed, recruiting over 40 volunteers to help with the transformation.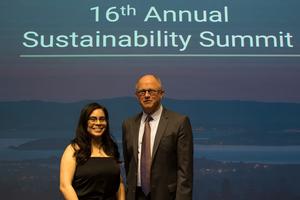 Andrea Luna, Undergraduate Student.
When Andrea transferred to UC Berkeley in 2017, she was determined to find a place where she could have impact in the environmental community. And she did - through workshops and events Andrea has educated hundreds in the campus community on environmental justice issues, including an event on the intersection of prison abolition and environmental justice. She has supported the most vulnerable, underrepresented, and marginalized communities, shedding a light on the importance of incorporating diversity, equity, and inclusion in sustainability.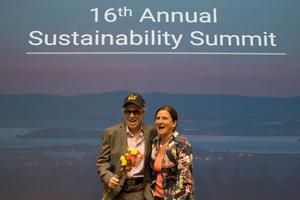 Heidi Sachs, a groundskeeper in Facilities Services.
Heidi demonstrates daily a commitment to zero waste and environmental sustainability on campus, championing the success of new programs like our Big Belly Solar waste and recycling bins and actively seeking novel ways to reuse and repurpose odds and ends thrown out and discarded around campus. 
Heidi radiates a contagious positive energy, cheers us on and reminds us about the importance of the work that we all do. When recently asked about why she is so personally dedicated to sustainability and zero waste Heidi replied, "because nature is life." 
Past Award Winners
Viewing past Sustainability Award winners' projects can help you determine if your project is a good fit for an award.  View past awards here.
Team Efforts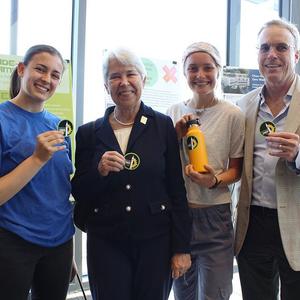 UC supports sustainability from the student level to the top levels of administration.