About CACS Sustainability Awards
To formally recognize contributions of those helping the campus to meet its sustainability goals, the Chancellor's Advisory Committee on Sustainability (CACS) annually provides awards to faculty, staff, and students in recognition of their hard work making UC Berkeley a more sustainable place to work, live, and play.  In 2018 we offered one additional award for a "friend of campus sustainability"  to recognize an individual or group with close affiliation to UC Berkeley offering a program or effort that supports our sustainability initiatives.
2019 Sustainability Awards
The 2019 Award Cycle is now open.  Deadline for award nomination submittals is 5pm on Monday, April 8, 2019 – email completed submittals to sustainability@berkeley.edu.  Please send any questions to the same email address. Awardees will be announced as part of the annual CACS Sustainability Summit celebration in April. Download the nomination form with instructions.
2018 Awardees
Kate O'Neill, Associate Professor in the Department of Environmental Science, Policy and Management.
As any of her students know, Professor Kate O'Neill does as much listening as she does talking about global environmental politics, the economy of electronic wastes and food waste, and the connections between waste and climate change. This year, she took that generosity into the residence halls as a faculty member living among undergraduates. While at Unit 2, she led student and faculty dinners, as well as collaborated with the Global Environment Theme House and Unity House. Students received a rare opportunity this year to learn about this work as they shared intellectual and living space with one of the world's top thinkers on the subject of sustainability.
Amanina Shofry, Undergraduate Student.
Amanina has "been critical to the sustainability movement on this campus." If one student alone can make a difference, Amanina is that student. She led the Environmental Council student club. She organized Climate Justice Week events two years running, and launched an online Environmental Justice resource. Through her work on and off campus, Amanina has shown she's ready to take on the long, hard work of protecting our future and for making sustainability more accessible and inclusive.
Sharon Daraphonhdeth, Staff Member.
The Student Environmental Resource Center is a hub for nearly all things green with Berkeley students on campus, and at the center's core is Sharon, SERC's director. She has been tireless in helping students launch creative initiatives and build a strong sustainability culture. Sharon has fundraised for student causes, launched SERC's strategic visioning process, and expanded the student zero waste research center's reach and climate justice programming. Sharon also has what must be one of the busiest calendars on campus, reflecting the friendly, inclusive sustainability community she is helping to build.
Berkeley Energy and Resources Collaborative Summit Student Team
Summit Leader Zineb Bouzoubaa, and the summit planning team: Jesús Guzmán, Michelle Levinson, Christian Miller and Cynthia Fernandez Preda.
BERC, as they are known, has boosted countless student careers over a decade by offering skills training, competitions and Happy Hours. The student club's signature event is its annual Energy Summit, and this year's drew hundreds of people to two days' worth of lively debate on topics such as the national security implications of renewable energy needs and clean energy financing. Through all their work, the Summit Team, along with the larger BERC community, have helped make our campus a nexus for clean energy research and innovation. 
Chou Hall Zero Waste Initiative Team
Student leads Jessica Heiges and Ryan Peterson and staff leads Lin King from Cal Zero Waste and Danner Doud-Martin with Haas School of Business.
This team of staff and students are working to ensure Chou Hall becomes the first academic building in the U.S. to be zero waste certified. With no trash bins in sight, the team is promoting a "pack it in, pack it out" culture. They are educating and supporting people to phase out single-use, disposable materials in favor of reusable food and water containers and other supplies. The team is also working closely with event planners and caterers to showcase fabulous events that are 100% trash-free. And, the team's efforts are working! A recent waste audit shows that 94% of the materials leaving the building can be recycled or composted. Chou Hall and the team's creative approach to behavior change is fast becoming a model of zero waste practices for the Berkeley campus. 
Berkeley Climate Action Coalition, a community partner and friend of campus sustainability.
The Berkeley Climate Action Coalition is truly a product of the Berkeley action community. Its members include businesses, nonprofits, faith-based groups and UC Berkeley. The coalition was formed in 2012 and is sponsored by the Ecology Center and the City of Berkeley's Office of Energy & Sustainable Development. The coalition is now helping to implement the City's ambitious, forty-year Climate Action Plan. It has taken on big issues such as treatment of waste, water, and Community Choice Aggregation. The climate challenges facing Berkeley are daunting, but the Berkeley coalition is answering the call through focused, community-based action. Addressing the critical and time sensitive issues of climate change takes a village, and we are proud to have community partners like this.
Past Award Winners
Viewing past Sustainability Award winners' projects can help you determine if your project is a good fit for an award.  View past awards here.
Team Efforts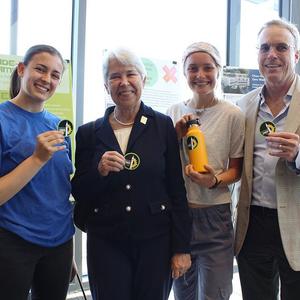 UC supports sustainability from the student level to the top levels of administration.