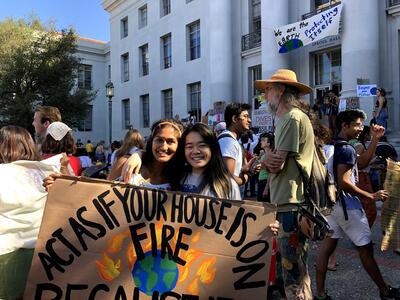 From developing the country's most comprehensive single-use plastic policy ban roadmap, to institutionalizing environmental justice in campus departments, to spearheading the first-ever college dining hall menu carbon tracking system and so much more, these UC Berkeley seniors have certainly left their mark on campus, paving the way for generations of students to follow. Not only are their accomplishments remarkable, but their outstanding leadership, mentorship, and commitment to their peers has kept the environmental community dynamic and strong, even throughout an entirely virtual year.
This year, six graduating seniors have been selected as recipients of the 2021 CACS Sustainability Award, a prestigious honor given by the Chancellor's Advisory Committee on Sustainability (CACS). Among the awardees are Sarah Bancroft, Leonela Leon, Sabina Mahavni, Alejandra Marquez, Julia Sherman, and Sarah Xu. 
These changemakers lead UC Berkeley in sustainability initiatives that range from diverting campus waste from the landfills, harnessing community organizing skills to host major environmental justice conferences and events, and prioritizing wellness and access to healthy, sustainable food in Cal's dining halls. Their legacies have shaped the UC Berkeley sustainability landscape for the better, and the effects of their work will be felt for years to come. You can read their stories below.
Sarah Bancroft
B.S. Society and Environment, Minor in Public Policy '21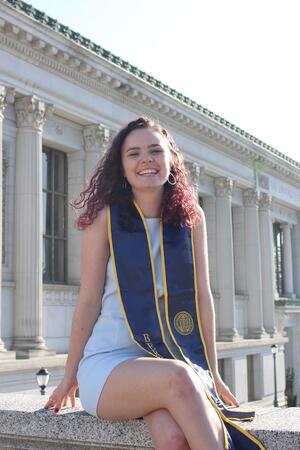 Since her freshman year at UC Berkeley, Sarah Bancroft has been a purposeful and welcoming leader and organizer for Cal's environmental community. She has dedicated her time in college to improve students' wellbeing, institutionalize environmental justice, and lead the University towards a more sustainable future. 
Bancroft has spearheaded multiple campaigns to progress equity and sustainability on campus. Over the course of two years, she organized with Fossil Free Cal to successfully lobby the UC Board of Regents to divest endowments from the fossil fuel industry. In the fall of 2019, she funneled her energy into engaging students and community members as a core organizer for the UC Berkeley climate strike which saw thousands of attendees advocating for climate action. 
A society and environment major, Bancroft served as the 2020-2021 Associated Students for the University of California (ASUC) Senator representing the environmental community on the pillars of environmental justice, care, and community. She used her platform within the ASUC to uplift marginalized voices and better the campus community. Although leading the environmental community during a challenging year online, her office successfully advocated for the College of Natural Resources to have a Pass/No Pass option for major requirements, launched an environmental community mentorship program to connect new students with more experienced members, and worked closely with UC employee unions to do solidarity work and collaborate for a UC Green New Deal. 
Bancroft prioritizes mental health, self-care, and healing in all of the work she does. Her peers view her as a "tireless advocate for the environmental community" and "a force to be reckoned with." She has bettered the campus community through her conscious efforts to integrate wellness, justice, and care into sustainability. 
After she graduates, Bancroft plans to work in food systems to be reconnected with the land and food. 
Leonela Leon
B.S. Society and Environment, Minors in Journalism and Public Policy '21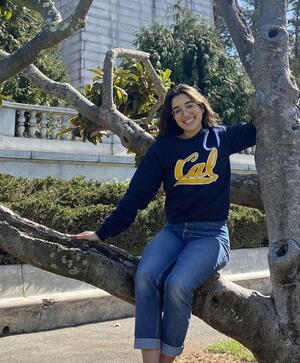 After learning about UC Berkeley's pouring rights contract with PepsiCo in August of 2019, Leonela Leon was inspired to join ASUC Senator Bancroft's Department of Unsustainable Partnerships to reimagine the University's food system and challenge the status quo. 
What started as a platform to garner public support for the termination of PepsiCo's contract transformed into a multifaceted campaign that successfully pressured the University Partnership Program to shorten the contract to two additional years, as opposed to five or ten years. Through her role as Co-Lead in the Department of Unsustainable Partnerships, Leon oversaw multiple committees including external communications, research, and environmental justice –– all of which were instrumental in uplifting community needs and advocating for food sovereignty. 
When the COVID-19 pandemic hit, Leon searched for community and a BIPOC healing space, and she found exactly that in the Students of Color Environmental Collective (SCEC). As an organizer for SCEC, Leon pushed for environmental justice in many facets of the Berkeley community. She co-hosted a professional environmental careers event to lower the barrier of entry for BIPOC students to professional development and networking as well as co-facilitated a panel for the 2021 SCEC Conference to promote healing and BIPOC environmental narratives. Leon's contributions to promote equity and justice in the environmental movement is immeasurable and her impact is both long-lasting and wide-reaching.
Leon has fostered inclusive environmental spaces and leads by example, ensuring that her peers feel comfortable, safe, and valued in the work they do. A society and environment major, Leon says she hopes to continue her work in environmental justice after graduation. 
"I plan to take lessons I've learned from SCEC about the importance of environmental equity, rest, and community with me into the environmental field after graduation by centering justice in everything I do." 
Sabina Mahavni
B.S. Environmental Economics and Policy, Minor in Global Poverty and Practice '21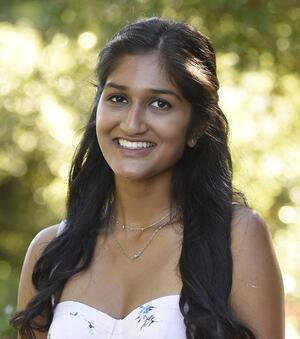 In her short 3 years at Cal, Sabina has consistently prioritized student welfare in regards to sustainability and zero waste on campus. Sabina started at the Student Environmental Resource Center (SERC) as part of the Solar Spring Break program, SERC's partnership with Grid Alternatives. After this formative experience, Sabina then became an official SERC staff member as a Green Team Associate, spearheading zero waste efforts in the MLK Student Union building, forming partnerships with vendors and leading education initiatives around zero waste. In this role, Sabina formed critical relationships with La Cocina vendors, balancing the needs of local small business owners while prioritizing UC Berkeley zero waste goals. 
For the past year, Sabina has continued implementing zero waste initiatives on a larger, campus-wide scale, leading along with the Zero Waste Coalition, efforts to implement the Elimination of Single Use Plastic by 2030 policy. Sabina leads the university working group on enforcing this policy, engaging with various campus departments including Cal Zero Waste, Cal Athletics, Purchasing and Supply Chain, and many others. In this role, Sabina personally connects with campus departments and supports them in their transition away from single-use plastic. Sabina also manages a team of researchers focused on a variety of different sectors in relation to the policy, including but not limited to: facilities, retail, labs, reporting & enforcement, food service, packaging, e-waste, and environmental justice and accessibility. 
Sabina is a natural leader and has led SERC's Zero Waste Membership team for the past 4 semesters, providing mentorship and programming for students who are new in the environmental community at Cal. Sabina has made significant impacts for the environmental campus community and her impact on zero waste at UC Berkeley will be felt for years to come.
Alejandra Marquez
B.S. Society and Environment, Minor in Data Science '21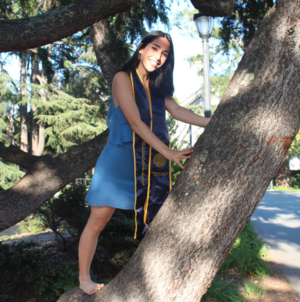 Although many students recognize her as their Zumba instructor through Rec Sports, Alejandra Marquez is a true advocate for better addressing basic needs on campus, increasing education about food literacy to first year students in the dining halls, and improving conversations about environmental justice in environmental spaces. Marquez channels her love for food and dance into working to ensure that all students have access to healthy and sustainable dining options, and has made a significant impact during her time at UC Berkeley.
Marquez led several campaigns as the Food Literacy Coordinator for Housing and Dining Sustainability Advocates. One of her most impactful projects has been implementing the plant-forward menu challenge across all 4 dining halls, in which chefs are encouraged to use plant-based ingredients to cook delicious meals. Her educational strategies for working with staff and students to promote the benefits of plant-based meals have been inclusive and transformative. 
For two summers, Marquez led the sustainable food reporting for Cal Dining, leading a team of students to review and categorize thousands of products purchased by Cal Dining. She led the efforts to add carbon emissions labels to the Cal Dining menus by adding carbon metrics to each ingredient in the menu management system, ensuring the project was data-driven and accurate.
Not only was this project one of the first of its kind on a college campus, but her research will also support other campuses in the Menus of Change University Research Collaborative and beyond. During her four years on campus, Marquez expanded her reach and experience to other departments and organizations, including the Berkeley Food Institute, Berkeley Student Food Collective, Alternative Meats Lab, SERC, and ASUC and is graduating as one of the most accomplished students in the sustainable food space.
Julia Sherman 
B.S. Genetics and Plant Biology, Minor in Energy & Resources '21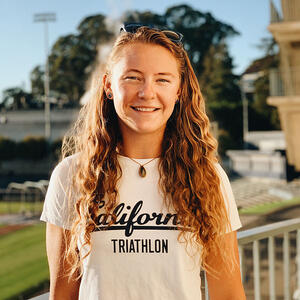 After moving into her Unit 2 dorm room as a Cal freshman, Julia Sherman noticed a sign on a bathroom stall about an internship opportunity for making the residence halls less wasteful. In a short matter of time, she had joined the Residential Sustainability Program and spearheaded the campaign to remove paper towels in the Foothill Suites, an initiative that was eventually approved and implemented. 
This was the first of an impressively extensive list of sustainability-focused projects Sherman would lead throughout her four years at UC Berkeley –– from her dedicated work in the Residential Sustainability Program, to Housing and Dining Sustainability Advocates, to the Office of Sustainability, to the Zero Waste Coalition, Sherman has become a prominent environmental leader on campus. When not working to make the campus a more sustainable place, Sherman serves as the President of Cal Triathlon and is an avid swimmer, biker, and runner.
During her sophomore and junior years, as the Waste Reduction Coordinator for Housing and Dining Sustainability Advocates, Sherman revamped the zero waste competition though providing regular training for the dining hall staff, organizing a total overhaul of signage in residential halls, applying for a TGIF grant, designing new signage and working with the custodial staff to make sure the initiative worked within their operations. Sherman's work has significantly increased campus landfill diversion rates, while her non-hierarchical leadership style centers her environmental initiatives in justice and inclusivity.
As the Chair of the Zero Waste Coalition and the Zero Waste Fellow for the Office of Sustainability, Sherman has transformed how the campus community thinks of zero waste. She has also taken the lead on the UC Berkeley Cooperative Reuse program this year, which is expected to recycle more than 10,000 pounds of furniture and over 400 mattresses. Her fierce advocacy for intersectional zero waste efforts and education, along with her deep commitment to amplifying diverse voices makes Julia an amazing leader in the Cal environmental community. 
Sarah Xu
B.S. Environmental Economics and Policy, Minors in Asian American Studies and Global Poverty and Practice '21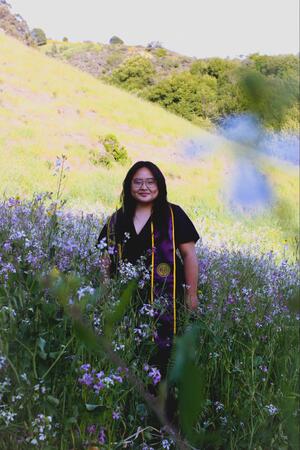 Sarah Xu is a committed community leader for students, environmental student organizations, and campus departments at UC Berkeley. She has dedicated her undergraduate career in connecting and strengthening environmental spaces on campus, first as an RA at the Global Environment Theme House (GETH). In this role, Sarah developed and planned educational trips and activities for newly admitted students, forming a tightly-knit community of 26 people on her floor. Not only did Sarah serve as a mentor, but she also created a safe environment for her residents to feel integrated and connected. 
Sarah serves as a lighthouse for many in the eco-community, and is a dedicated community liaison between and within environmental organizations. Since 2019, Sarah has led Eco Leaders meetings, a communal space for leaders in environmentally-focused student organizations at Cal to come together and share resources, points of collaboration, and engage in discussions about pressing and critical sustainability-related issues. Sarah has gone above and beyond in this role, strengthening the overall cohesion among environmental student organizations.
Truly the glue that holds the environmental community together, Sarah started her role as Community Engagement Associate at the Student Environmental Resource Center (SERC), where she continuously expands the breadth and reach of SERC to all corners of campus. A committed member of the Students of Color Environmental Collective (SCEC), Sarah was pivotal in securing SCEC's two TGIF grants, and integral to organizing the first environmental justice conference for and by students of color. Sarah also led a team of SCEC organizers for this year's virtual SCECon 2021: Our World, Our Time, Our Voices. Her commitment to environmental justice and equity extends beyond SCEC, as Sarah re-surfaced the Berkeley Environmental Economics and Policy Students organization.
Beyond her official job titles and responsibilities, Sarah truly cares about the wellbeing of students at Berkeley. Under the backdrop of the COVID-19 pandemic and its subsequent campus closures in March 2020, Sarah compiled (and continues to share) resources and community-building virtual events to ensure a sense of community during such a volatile and uncertain time. Sarah's leadership and advocacy has strengthened the environmental community at Cal for years to come.
Congratulations to all of the graduating seniors who were nominated for the CACS 2021 Sustainability Award:
Madi Alcalay

Star Beltman

Sarah Bui

Sion Calabretta

Kelly Chou

Tess Gauthier

Katarina Gibson

Catherine Hsu

Jed Lee

Annika Levaggi

Selena Melgoza

Erika Ruiz

Claire Stockwell

Mikayla Tran

Blair Zhang