The 2022 CACS Sustainability Awardees. photos by: Andy Myers
To formally recognize contributions of those helping the campus to meet its sustainability goals, the Chancellor's Advisory Committee on Sustainability (CACS) annually provides awards to faculty, staff, and students in recognition of their hard work making UC Berkeley a more sustainable place to work, live, and learn.  The 2022 Sustainability Awardees were recognized this year at the annual summit hosted by CACS. This year we honored a faculty team, three students and a staff member. Read more about the contributions and innovations of these community members.  
The Faculty Sustainability Curriculum Workshop Team
The awardees are UC Berkeley faculty and instructors that have voluntarily stepped up to motivate and inspire their colleagues to include and infuse sustainability into the graduate and undergraduate curriculum. It is because of their passion to educate our students and the value they place on bringing sustainability - environmental, economic and social - in the classroom that this group is now organizing the campus' fourth annual curriculum workshop. The workshops focus on incentivizing and supporting other teachers to integrate the concept of sustainability into their courses, with the goal of improving student literacy in sustainability and climate change solutions. Over 50 instructors have participated so far from a range of disciplines including non-traditional sustainability fields. The broad campus impact is apparent, results from just one workshop included 11 courses transformed with sustainability concepts, 2 new classes developed, with a combined student impact of nearly 1,000 students!
Awardees: 
Ugo Nwokeji, Associate Professor in the department of African American Studies, 

Celine Pallud, Associate Professor in the Department of Environmental Science, Policy and Management

Kate O'Neill, Professor in the Department of Environmental Science, Policy and Management

Jennifer Mangold, Director of the Fung Fellowship for Tech Innovation, Interim Director of Experiential Learning in the Fung Institute for Engineering Leadership, and Senior Advisor of the Edge in Tech Initiative

Giuliana Perco, Lecturer in theItalian Studies Language Program.
Photo of Kate O'Neill and Ugo Nwokeji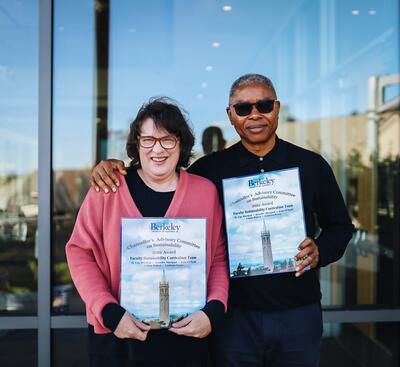 Student Awards
Gabrielle Christina Ledesma Ambayec
Undergraduate senior student majoring in Molecular Environmental Biology
As Environmental Justice Associate at the Student Environmental Resource Center (SERC), since 2019, Gabby Christina has reached hundreds of student and community members and fostered critical dialogue on sustainability and environmental justice. In her role as EJ Associate, Gabby Christina has organized workshops on disability and climate resilience, a panel on displacement caused by climate change, and been an integral  co-organizer of a four-part Environmental Justice training for student organizations. Gabby Christina's work has reached beyond campus to advance environmental justice across UC.  As a UC Undergraduate Fellow she co-developed an EJ principles/best practices framework for the UC system wide Climate Change Working Group - this framework will now inform how updates to the UC Sustainable Practices policy are reviewed and implemented.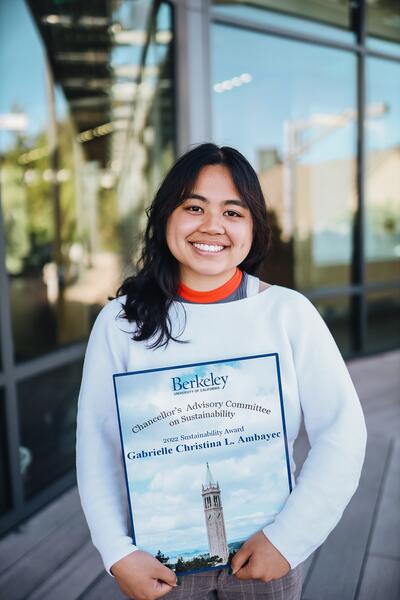 Moe Sumino
3rd year undergraduate student studying environmental science, policy, and management
During her time at UC Berkeley, Moe has placed food sovereignty, land-based healing and environmental justice at the forefront of her learning and community contributions. Moe helped establish a consensus based coalition of 8 student groups called the Berkeley Student Farms, and was instrumental in raising over $200,000 through grants and partnerships to advance their work. This funding is paying for student positions to provide agricultural experiences in the community as well as increasing awareness and solutions to systemic problems of our food availability. Inspired to bring lessons learned through grassroots farming organizations in Nicaragua and Japan, Moe co-created the DeCal, Agroecology in Action: Land Liberation and Food Sovereignty which she currently teaches and has 100 students this semester!
Justin Hogenauer
Undergraduate senior studying society and environment and business administration
Throughout his undergraduate years, Justin has been committed and passionate about the environment and public service. Justin has served in roles and organizations such as Solar Spring Break, the Residence Hall Association, and was the recipient of the 2019-2020 Public Service Center Peter E. Haas Leaders Award. As one of the inaugural student facilitators of the Chancellor's Advisory Committee on Sustainability Work Group on Diversity, Equity, and Inclusion  Justin has helped lay the foundation for long-term inclusive campus sustainability planning. In addition to organizing dynamic and welcoming meetings, Justin helped to secure a TGIF grant to offer compensation for student's participation too. Similarly, as a NavCal mentor and Peer Advisory at CNR, Justin continues to support the next generation of students navigating environmental learning through an interdisciplinary sustainability lens and helping to ensure future advisors can do the same.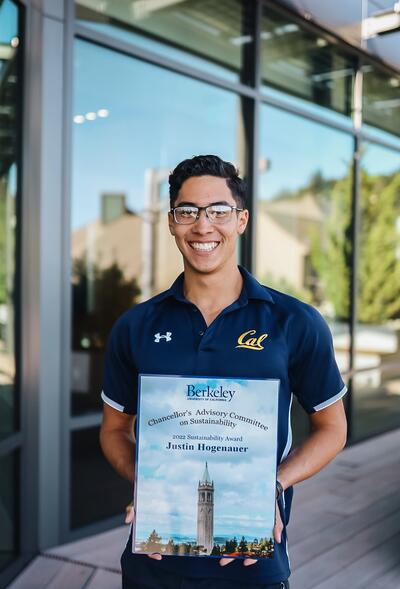 2022 Staff Award
Samantha "Sam" Lubow
Sustainability Coordinator for Housing and Dining
Sam is UC Berkeley's champion of residential environmental living and is known around UC and beyond for her innovative programs and expertise in sustainable, waste-reducing, plant-forward dining services. Each year Sam mentors a number of students in the beloved Housing & Dining Sustainability Advocates (HADSA) program - empowering the student teams year after year to educate and engage residents in energy-saving campaigns, sustainable food experiences from managing gardens to special menu planning, and donation drives to promote re-use. Her focus on people is evidenced in many ways - from leading workshops for the student teams on inclusivity and professional development for women, BIPOC, and LGBTQ community members, to securing emergency funding to keep student workers employed during shelter-in-place. Sam's smart focus on continuous innovation in addition to her compassionate charisma is a model to us all.