2020 Award Winners
In 2020 six outstanding graduating seniors received  Sustainability Awards.  Read more about these forward-looking changemakers.
2019 Award Winners
To view photos from the 2019 CACS Sustainability Summit, click here. 
Alastair Iles, Professor in the Department of Environmental Science, Policy and Management
Professor Iles co-founded and directs the Berkeley Food Institute, which is a central hub for food-related work and research on campus. His leadership has supported numerous campus initiatives, including the development of a Food Systems Minor, providing a community garden guide, and mapping campus food systems. 
His current research and teaching is all about long-term sustainability transitions – he is one of the few academics in the qualitative social sciences working with this exact framing of this topic.
While a strong advocate for environmental sustainability and public service, Professor Iles is also an advocate for faculty, staff and students with disabilities. Dr. Iles is deaf, and on top of everything else he has accomplished – he has taught generations of Berkeley students to learn from and communicate with someone who is differently abled than they are. 
Diane Mayo, Project Manager in Capital Projects.
Diane is a champion of sustainability and green building on this campus. Diane was one of Berkeley's first LEED certified professionals, and helped to launch and institutionalize LEED building practices here. 
As a Capital Projects-Project Manager, Diane has played a leadership role in a number of Berkeley's greenest building projects. One significant contribution was her work with student leaders helping to champion the sustainability features of the Lower Sproul Redevelopment. And, this last year, Diane managed Berkeley's newest student housing project, David Blackwell, that just received a LEED Gold rating.
Diane also engages the student community in green building practices. Over the last three years she has supervised a team of students in a program called Building Sustainability at Cal, and with these students, she has delved into the implementation of a green building checklists for smaller projects that do not fit into the LEED program.
Scott Silva, Undergraduate Student. 
Over the last four years, Scott has been an advocate, leader, and changemaker on zero waste. In his position with the Student Environmental Resource Center (SERC), as the Lead Zero Waste Research Center Associate, Scott has been instrumental in the development of Berkeley's plastic research facility, a collaborative project that working towards closing the loop on campus plastic waste. 
In addition to zero waste leadership, Scott has dedicated himself to enhancing and bringing together the environmental community and advancing sustainability efforts through a variety of other positions including serving on the Environmental Coalition Executive Committee, as the Co-chief of Staff for the 2017-2018 ECO ASUC Senator, and as the President of CHAOS.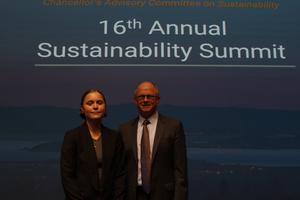 Hannah Haugenes, Undergraduate Student. 
In Hannah's role as Garden Coordinator for Cal Dining, Hannah has been instrumental in creating a sustainable framework for the Clark Kerr Garden, and starting and maintaining a new garden at Browns California Café. Part of her effort at Brown's has been to work with Campus Grounds to eliminate synthetic fertilizers in the area and convert part of the lawn to an organic garden bed, recruiting over 40 volunteers to help with the transformation.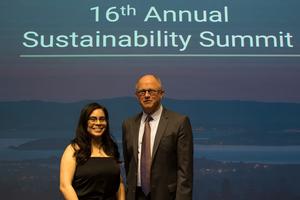 Andrea Luna, Undergraduate Student.
When Andrea transferred to UC Berkeley in 2017, she was determined to find a place where she could have impact in the environmental community. And she did - through workshops and events Andrea has educated hundreds in the campus community on environmental justice issues, including an event on the intersection of prison abolition and environmental justice. She has supported the most vulnerable, underrepresented, and marginalized communities, shedding a light on the importance of incorporating diversity, equity, and inclusion in sustainability.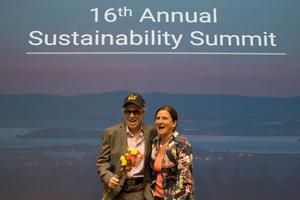 Heidi Sachs, a groundskeeper in Facilities Services.
Heidi demonstrates daily a commitment to zero waste and environmental sustainability on campus, championing the success of new programs like our Big Belly Solar waste and recycling bins and actively seeking novel ways to reuse and repurpose odds and ends thrown out and discarded around campus. 
Heidi radiates a contagious positive energy, cheers us on and reminds us about the importance of the work that we all do. When recently asked about why she is so personally dedicated to sustainability and zero waste Heidi replied, "because nature is life." 
2018 Award Winners
Kate O'Neill, Associate Professor in the Department of Environmental Science, Policy and Management.
As any of her students know, Professor Kate O'Neill does as much listening as she does talking about global environmental politics, the economy of electronic wastes and food waste, and the connections between waste and climate change. This year, she took that generosity into the residence halls as a faculty member living among undergraduates. While at Unit 2, she led student and faculty dinners, as well as collaborated with the Global Environment Theme House and Unity House. Students received a rare opportunity this year to learn about this work as they shared intellectual and living space with one of the world's top thinkers on the subject of sustainability.
Amanina Shofry, Undergraduate Student.
Amanina has "been critical to the sustainability movement on this campus." If one student alone can make a difference, Amanina is that student. She led the Environmental Council student club. She organized Climate Justice Week events two years running, and launched an online Environmental Justice resource. Through her work on and off campus, Amanina has shown she's ready to take on the long, hard work of protecting our future and for making sustainability more accessible and inclusive.
Sharon Daraphonhdeth, Staff Member.
The Student Environmental Resource Center is a hub for nearly all things green with Berkeley students on campus, and at the center's core is Sharon, SERC's director. She has been tireless in helping students launch creative initiatives and build a strong sustainability culture. Sharon has fundraised for student causes, launched SERC's strategic visioning process, and expanded the student zero waste research center's reach and climate justice programming. Sharon also has what must be one of the busiest calendars on campus, reflecting the friendly, inclusive sustainability community she is helping to build.
Berkeley Energy and Resources Collaborative Summit Student Team 
Summit Leader Zineb Bouzoubaa, and the summit planning team: Jesús Guzmán, Michelle Levinson, Christian Miller and Cynthia Fernandez Preda.
BERC, as they are known, has boosted countless student careers over a decade by offering skills training, competitions and Happy Hours. The student club's signature event is its annual Energy Summit, and this year's drew hundreds of people to two days' worth of lively debate on topics such as the national security implications of renewable energy needs and clean energy financing. Through all their work, the Summit Team, along with the larger BERC community, have helped make our campus a nexus for clean energy research and innovation. 
Chou Hall Zero Waste Initiative Team
Student leads Jessica Heiges and Ryan Peterson and staff leads Lin King from Cal Zero Waste and Danner Doud-Martin with Haas School of Business.
This team of staff and students are working to ensure Chou Hall becomes the first academic building in the U.S. to be zero waste certified. With no trash bins in sight, the team is promoting a "pack it in, pack it out" culture. They are educating and supporting people to phase out single-use, disposable materials in favor of reusable food and water containers and other supplies. The team is also working closely with event planners and caterers to showcase fabulous events that are 100% trash-free. And, the team's efforts are working! A recent waste audit shows that 94% of the materials leaving the building can be recycled or composted. Chou Hall and the team's creative approach to behavior change is fast becoming a model of zero waste practices for the Berkeley campus. 
Berkeley Climate Action Coalition, a community partner and friend of campus sustainability.
The Berkeley Climate Action Coalition is truly a product of the Berkeley action community. Its members include businesses, nonprofits, faith-based groups and UC Berkeley. The coalition was formed in 2012 and is sponsored by the Ecology Center and the City of Berkeley's Office of Energy & Sustainable Development. The coalition is now helping to implement the City's ambitious, forty-year Climate Action Plan. It has taken on big issues such as treatment of waste, water, and Community Choice Aggregation. The climate challenges facing Berkeley are daunting, but the Berkeley coalition is answering the call through focused, community-based action. Addressing the critical and time sensitive issues of climate change takes a village, and we are proud to have community partners like this.
2017 Award Winners
The Lower Sproul Redevelopment project   
Financed in large part by the student fee initiative of 2010, the Lower Sproul Redevelopment project improved student life facilities at the new Eshleman Hall, the renovated Martin Luther King Jr. Student Union and Cesar Chavez center, and the adjacent plaza and campus interface with the City. Lower Sproul has been designed with innovative and comprehensive sustainability features going beyond the campus-wide requirement for major construction projects and has achieved LEED gold for new construction and renovations.  The green features include:
High performance building exteriors 
Permeable pavers so that stormwater is filtered and released gradually back to the watershed.
A rain garden and a cistern to store captured rainwater 
Rooftop solar PV
Waste reduction efforts throughout the construction process that diverted 8M lbs (or 94%).
The project was highly interactive and involved multiple stakeholder groups. Collaboration was central to the design process – through a series of eco-charettes with stakeholders, meetings between the architects and student groups during the programming phase, and campus-wide surveys concerning the food service portion of the project.
(Team members:  Diane Mayo, Bahar Navab, Donna Jo Pepito, Yordanos DeJen, Jay Chavez, Mary Mobley, Martha Ramirez,  Luq Frank, Suzi Halpin, Sharay Pinero, Geoff Bingaman, Emily Marthinsen, Christine Shaff)

Seamus Wilmot is a pragmatic and forward-thinking leader and advocate for sustainable transportation. During his eight years as the Director of Parking and Transportation, Seamus has kept environmental and social equity values a priority in decision making and in the programs that have evolved and launched.  Highlights of the initiatives that Seamus has supported and helped to thrive include:
 Deeply discounted unlimited ride pass for local transit and subsidies to ride BART for faculty, staff and students. Over 22,000 students and over 800 faculty/staff used their subsidized AC Transit passes in October 2016.
A campus shuttle program that had an average monthly Bear Transit ridership exceeding 53,000 boardings by October 2016 -- a 12% year-over-year ridership increase. This year a new shuttle bus contract will operate on 20% biodiesel.
Carpooling incentives offering deeply discounted carpool parking permits and free reserved carpool parking spaces.
Supporting carsharing services on, or just adjacent to campus including City CarShare and Zipcar.
Providing numerous secure and covered bicycle parking facilities and installing six electronic bike lockers available to commuters, as well as visitors.
Continuous funding of new and improved bicycle parking. The campus now provides over 4,000 short-term bike parking spaces and nearly all buildings have some bike parking within 50' of entrances.

The 2013-2014 Global Environmental Theme House (GETH) students, advisors, staff, and faculty  dedicate their time to create this unique and deeply impactful program for first year students. Students in GETH, also known as GETHies, are given a platform to share sustainability interests and are encouraged to create their own positive footprint within the University. As part of their program – which "provides a small community experience within the larger University, and attracts students who are committed to protecting the environment" -- the 2013-2014 cohort distinguished themselves early by receiving a TGIF grant in 2013 to label recycling bins. GETHies from the class of 2013 continued to be among our most visible student sustainability leaders. The expansion of recycling bins in Clark Kerr is only one example of a project that has left a deep and lasting impact -- recycling and compost have now been implemented within all residence halls, spearheaded by the same group of students.
GETH students have also gone on to lead various student organizations, campaigns, and projects. Examples of accomplishments of these GETH student leaders include: 
installing bulk bins at various Cal Dining operations to promote waste reduction efforts
conducting air pollution research at the Oxford Tract
installing solar panels at a fraternity, making it the third fraternity in the state of California to install solar panels
membership or leadership position in the Berkeley Student Food Collective, Students of Color Environmental Collective, California Student Sustainability Coalition, Student Environmental Resource Center, Berkeley Water Group, and Cal Environmental Team.
(Members:  Alexandra Lalor, Grace Lihn, Lucy Tate, Elsie Andreyev, Uyen Chau, Zheyuan Xu, Grant Wang, Siddharth Iyer, Brooke Gemmell, Anna Jenkins, Bret Frangipane, Jordan French, Leah Ruth, Madelief Schelvis, Russell Huang, Eric Witte, Samantha Adams, Eva Malis, Daniel Caveney, Leo Steinmetz, Ximena Cuervo, Monica Sheffer, Sisi Xu. Staff:  Dean J. Keith "The Dean" Gilless, Professor Mary Firestone, Kristin Delo, Professor Genaro Padilla, Maria Padilla)

Riley Mangubat has been a part of RSSP for 4 years, and has implemented many initiatives and ideas for the department, in addition to stabilizing and expanding the Residential Sustainability Program. Working alongside other organizations, RSP has educated students and advocated for sustainability in the residence halls under Riley's leadership as supervisor. He is being recognized today for his respectable work ethic, charismatic personality, and admirable vision for the RSP as well as the whole of UC Berkeley.
2016 Award Winners

Sunil Chacko (Purchasing/ Commodity Coordinator at Cal Dining) -- Sunil is a dedicated staff member of Cal Dining who is eager to improve their sourcing practices. He always looks for and prioritizes products that are humanely raised, organic, local, and socially responsible. He is also eager to bring in healthier products and ingredients for our guests and students.  He maintains close relationships with all the suppliers and often will be flexible enough with our smaller suppliers to allow their businesses to grow.
Sunil was critical to the success of Browns. Browns reopened this summer with the goal of an all local, plant-forward menu. Upon opening, he worked with the menu design team at Browns to source ingredients as local as possible.  He is the behind-the-scenes muscle that makes an ambitious goal like Browns possible.   Sunil always asks new suppliers to provide sustainability information and criteria. He looks out for everything from packaging to animal welfare and actively promotes better practices from our suppliers. His work has certainly made this campus's food better for our students, faculty, staff, and visitors. 
Susanne Wiesman (Grounds Operations, Clark Kerr Campus) -- Susanne has been critical to improving the Clark Kerr Campus Garden.  The garden was revamped this summer when Cal Dining hired the first team of students to regularly maintain the garden. The food at the garden is harvested regularly and used by the chefs in the CKC dining hall. To provide the dining hall with ingredients in volume, the garden mainly focuses on growing herbs and lettuces, along with some fruits and now, California pink pepper. 
Susanne works closely with a team of students and coaches them on how to make the garden successful and bountiful. Because the students can only dedicate a couple of hours a week at the garden, she regularly maintains the garden ensuring it is getting watered properly and is free of weeds and pests.  Susanne has held several workshops with the students to teach them techniques to improve their yields, like installing drip irrigation or how to add nitrogen back into the soil by growing legumes in the orchard's soil. 
ASUC Sustainability Team (STeam) -- Established in Fall 2005, STeam is an ASUC-sponsored organization at UC Berkeley aimed at making the campus more sustainable.  They accomplish this through the creation of and participation in project groups – with an aim of "Making UC Berkeley Greener – One Project at a Time."
There are many examples of STeam projects that well-known and impactful.  In Spring 2007 STeam launched The Local, UC Berkeley's first-ever student-run, nonprofit, cooperative produce stand that sells only locally grown, pesticide free, fresh fruits and vegetables. They're especially affordable since the stand is run completely by volunteers.  Their current list of project groups includes: STeam Energy Group, One-Side Clean (OSC), Students Toward Zero Plastic (STOP),  Berkeley FLOW, and Fossil Free Cal.  Congratulations to STeam for over 10 years of success! 
(Team members:  Jean Ji, Elena Leander, Serena Tam, Dennis Uyat, Ryan Lynch, Kielan Rathjen, Kevin Wang, Hayley Davis, Tyler Jacobson, Sydney Higa, Natalia Mushegian)
Solar Powering Cal team ("It Takes a Village to Harness the Power of the Sun") -- Thanks to the efforts of the team over three years, four solar PV arrays are now operational, and helping the campus achieve sustainable energy use and carbon neutrality.  The rooftop solar panels on MLK Student Union replace (and expand) an older less productive system. The solar array on new the Eshleman Hall will add even more green power to the Lower Sproul complex.  Together these two systems will produce 150,000 kWh solar electricity for the buildings.  Recreation Sports large field house roof offers space for an array that will produce 340,000 kWh of solar power, providing close to one-third of the buildings electricity needs.  The University Village carport solar system will produce 700,000 kWh of carbon-free solar electricity each year, providing 20% of the power needs of the village.
Each team member has played a critical role in the projects.  The Office of Sustainability and Energy worked in a collaborative, competitive procurement strategy with 19 other public agencies in the region, led by the Alameda County General Services division, helping the campus to secure very favorable pricing – 25-40% below market rate.  The solar installations were supported early on by a grant from the student Green Initiative Fund in 2013. This grant helped provide initial investment and campus support for UC Berkeley to enter the R-REP program, allowing the campus to pursue solar installations.
(Team members: Lindsey Agnew, Jim Wert, Jonathan Winters, Marianne Metallo, Gilbert Escobar, Katherine Walsh, Kira Stoll, Michael Neuwald, David Robinson, Jerry Jimenez)
2015 Award 

Winners

Student Environmental Resource Center-The Student Environmental Resource Center cultivates a collaborative space to strengthen the collective effectiveness of the sustainability community, and provides resources for students to actualize their visions of a more equitable, socially just, and resilient future. SERC's vision is "Sustainability education for every UC Berkeley student". Since 2012, SERC has provided over 35 paid internships; offered ten DeCals; hosted, co-sponsored, and attended over 100 sustainability focused workshops, trainings, career events, summits, and film screenings; provided sponsorship for UC Berkeley students to attend at national and regional events; publishes the SERC blog and Words of the Watershed Journal; coordinates the Environmental Coalition (ECO) and has coordinated UC Berkeley's Annual Earth week. SERC also provides advising and support for the 40 environmental and sustainability registered student organizations and is the home of The Green Initiative Fund, UC Berkeley's campus green fund program, which also includes the Zero Waste Research Center and Nature Village. SERC strives to grow and enhance relationships with campus sustainability leadership and has also helped institutionalize sustainability within the Division of Student Affairs. 

Megan Maurino- Megan Maurino has helped build a community around water advocacy and conservation at UC Berkeley. She has been a student leader in helping the campus reach its sustainability goal of reducing potable water use to 10% below 2008 levels by 2020. Maurino has helped gather campus departments and student organizations to strategize conservation efforts for the drought; is the current Director of the current Berkeley Water Group Idea Lab, and has facilitated the DeCal "Thirst: Global Discourses on Water and Human Rights", where she taught over 40 students in the course of a year. During the past two years as a Water Conservation Intern for Facilities Services, she has played a leadership role in creating infrastructural and system wide adaptations to water-scarcity. Maurino is the current Project Leader, of the TGIF funded project, "Low Water Irrigation", where she helped modernize irrigation controllers and helped install 5 weather stations on campus that manipulate irrigation cycles according to climate parameters. Maurino's work has localized water savings and  provided the campus with water efficient technology that will be sustained long after her time at UC Berkeley.

Supply Chain Management-The Supply Chain Management group at UC Berkeley has been working for several years to provide more tools to the campus to make better decisions about green purchasing.  Their efforts have ranged from researching new products to highlighting green products for buyers to focusing on waste reduction efforts. Where applicable, Supply Chain Management leverages the University's purchasing power to target environmentally preferable products and services for volume-discounted pricing to make them cost-competitive with conventional products and services. This approach helps to encourage preferential purchases of such products including Energy Star equipment, recycled content products, and other third-party certified green items, along with providing some guidance to suppliers on minimizing packaging waste and developing take-back programs.
2014 Award 

Winners

Residential Sustainability Program – Their mission is to provide resources and introduce on-campus residents to the importance of cultivating sustainable lifestyles. Created approximately seven years ago to assist residential managers in developing sustainable environments within the residence halls, RSP uses paid and volunteer students to educate students on how to contribute to the creation of a sustainable environment on campus.  They also collaborate with various campus and departmental partners – for example, working with Cal Dining to experiment with a "Meatless Mondays" concept to raise awareness about factory farming and to promote a meatless diet for residents.  They are among the first to introduce new students to our sustainability programs and take that responsibility seriously.

UC Berkeley Public Affairs – As a group, Public Affairs has been a long time champion of sustainability. In fact, before there was a campus composting program, they had their own worm composting for food waste. However, in the past year, their commitment to increase the volume and quality of campus sustainability communications has been evident.  They have written numerous stories – including extensive coverage of the 10thanniversary of CACS – about operations and sustainability research being done on campus. They regularly include stories in the Berkeleyan, have sustainability and zero waste tags in the NewsCenter, and host the Berkeley Blog, which includes regular entries in the Energy & Environment category. 

Eli Perszyk – Eli is a model sustainability champion in his role as Facilities Manager for the College of Environmental Design and has proven to also be a mentor and educator for the student environmental leaders at UC Berkeley. If you search Eli's name on the campus website, the results show exactly how involved he is in the full range of campus activities. He's been a part of at least three Green Initiative Fund projects; he's worked on hydration stations, energy competitions, and water meters; he works with student groups and advises classes; and he brought composting to Wurster Hall and piloted new indoor waste bins. Eli's efforts -- which go far above and beyond his job description -- have promoted a culture of sustainability within Wurster Hall.
2013 Award Winners
Arpad Horvath, UC Berkeley Professor in the Engineering and Project Management Program and in the Energy, Civil Infrastructure and Climate Program in the Department of Civil and Environmental Engineering – Not only is Professor Horvath's research advancing the understanding of climate impacts and engineering and teaching students about cutting edge methods, he has also been a contributor to campus sustainability efforts for the last ten years. Arpad was a founding faculty member on CACS and the Cal Climate Action Partnership (CalCAP). He continues to be a faculty leader in campus sustainability, engaging his students in campus efforts and providing expertise as the campus set its next greenhouse gas emissions target.
Kira Stoll, Sustainability Manager – Kira has been a sustainability champion her entire career at Berkeley, first as the campus Transportation Planner and now in the Office of Sustainability. Kira has been an active member of CACS since the beginning and Co-Chaired the committee in 2011. She is both a big-picture thinker and detail-oriented, contributing to campus-wide initiatives while also producing results and accomplishments day-to-day. Some successes this award is recognizing her for include co-authoring Berkeley's first bicycle plan and zero waste plan, managing Berkeley's annual greenhouse gas inventory, producing the monthly Bright Green News, and mentoring countless students.
Monica Harnoto, UC Berkeley B.S. Environmental Sciences – Monica is never merely content with the status quo and constantly inspires and motivates colleagues to think of new and innovative ways to improve sustainability in Cal Dining. One of Monica's most notable projects has been Chews to Reuse -- a reusable to-go container program in dining halls. Before Monica created this program, the residential dining halls provided patrons with compostable to-go containers made from sugarcane plant fibers. Starting out as a pilot, the program has now been expanded to all dining commons, in large part due to Monica's strategic implementation ensuring the program was simple for students to use.
Nature Village, a multidisciplinary and multicultural group of University Village residents, students, staff, and campus sustainability groups that work together to promote sustainable living practices at the University Village – In its inaugural year Nature Village launched three programs including the Green Family Program –with 50 families participating in pilots for energy and water saving tools like low flow shower heads and racks for air drying clothes. In the long term, Nature Village seeks to create a replicable model for institutionalizing sustainability in student family residential units, particularly for the UC system and more broadly for universities in the U.S.
2012 Award Winners
Cal Dining: Cal Dining is a sustainability leader and is being recognized this year for their newest achievement including receiving Marine Stewardship Council certification for their seafood purchases, establishing a new Sustainability Team, and hitting the 25 percent mark for their purchases of local, organic, or fair trade food. Team members include Charles Davies, Shawn LePean, Jenna Kingkade, Patrice Thomas and Lucky Vasquez
The Campbell Hall Team: A diverse team of campus students and staff came together with the shared goal of developing a process to divert from the landfill as much material as possible prior to demolishing Campbell Hall. In the end 17 tons of waste was diverted from landfills. Team members include Kimberly Lam, Lin King, Tasha Dowdakin, Jim Wert, Claire Porter, Allen Palmer.
Domenico Caramagno: Domenico has gone above and beyond the call of duty as building manager in Sutardja Dai Hall. He worked with Building Sustainability at Cal to quantify waste, energy, and water saving opportunities, and has installed a composting system that diverts two cubic yards of building waste per week from the landfill. Domenico is also involved in research on energy efficiency and demand response in the building.
Morwenna Rowe: Morwenna has been the Berkeley team lead for the Green Campus interns since her sophomore year. As part of her work with Green Campus, she co-facilitated multiple semesters of their 2-unit Energy Conservation and Efficiency DeCal. She also led many initiatives such as the McCone Hall lighting retrofit, the "Shut the Sash" fume hood competition, and a vending machine miser project.
Sruti Bharat: Sruti was a member of the Residential Sustainability Education Coordinator Program as a freshman and went on to work on the Building Sustainability at Cal project as an intern in Stanley Hall and then took over the next year and a half as intern coordinator. She also worked to help make CITRIS a Green Department.
2011

 Award Winners

Christopher Harvey The Director of Capital Projects for Residential Student Services Program's commitment to sustainable, forward-thinking planning has contributed significantly to UC Berkeley's leadership in the green building area and preceded the system-wide policy on Sustainable Practices now in effect. Residence Hall Units 1 & 2 infill project was the first building project on the Berkeley campus to be formally designed and constructed to LEED Silver standards.

Kimberly Lam currently holds two campus positions directly involved in reducing energy use and waste. With Green Campus, Kim currently leads a "laundry project" - that educates students to use cold water washing cycles to save energy, and co-teaches The Energy DeCal class where students learn about the impacts of our energy consumption and alternative energy technologies. Kim is also a student manager of ReUSE, where she expands the free material exchange program by adding additional stations on campus.

Rose Whitson-- As the student ASUC Sustainability Team Director, she has spearheaded educational and interactive events, provided guidance to sustainability student groups on ways to get started and expand, and she has been particularly involved in raising awareness about the environmental impacts of waste. Rose has been a leading voice in the "End the Sale of Bottled Water" initiative this Spring, and has organized public screenings of educational films to raise awareness about the environmental hazards surrounding bottled water and single-use plastics.

The Berkeley Student Food Collective With over 50 active members, the Collective provides fresh, healthy, sustainable, and ethically produced food at an affordable price to Berkeley students and the community. Opening last fall in a storefront on Bancroft, the collective offers fresh fruits and vegetables (most grown within 150 miles), stocks organic and bulk foods, and offers "real food" options close to campus. An additional goal is to educate people about the positive impacts they can make by choosing sustainable food. The Collective does this through a DeCal class and sustainability events.
2010 Award Winners 
Irene Seliverstov has proven her commitment to and passion for the environment and is a dedicated and enthusiastic leader. Her work is varied, including leading Building Sustainability at Cal for a year, piloting a paper towel composting program, and working with our water provider and campus plumbers to install hundreds of faucet aerators to reduce water usage. She is also working with custodial staff and building inhabitants to create a positive relationship that addresses issues of social sustainability.
Prof. Cris Benton has dedicated his accomplished career to the improvement of the energy and environmental performance of buildings, and truly "practices what he preaches." Cris teaches a course that has inspired the work of many students called the Secret Life of Buildings, served as a faculty advisor on the TGIF grant-making committee, and has been a leader in Wurster Hall - helping students and staff to bring real and innovative sustainability projects to the building, including a recent building energy dashboard. Cris' combination of technical knowledge and efforts to teach and produce actual results is a model for faculty involvement.
Rebecca Anderson, an Environmental Specialist in EH&S (Environment, Health & Safety), takes it upon herself to go beyond compliance and strives to help Cal achieve sustainability in its operations and to be an example for other institutions to follow. She is a founding member of University Hall's Sustainability Committee, is active in the campus effort to bring LEED certification to existing buildings, works with Building Sustainability at Cal students, and founded the Green Building Working Group. Rebecca brings enthusiasm and expertise to whatever she does and energizes others to take action.
The "I Heart Tap Water" Campaign is a partnership between Cal Dining, Recreational Sports, Environment, Health & Safety (EH&S), and University Health Services to promote the drinking of tap water as the preferred beverage of choice - for the environment and for health reasons. The Campaign educates the campus through a website, Facebook, posters, and an on-line pledge to make a difference. Key to the success of I Heart Tap Water was the testing of over 450 water fountains to allay concerns about water quality. The group's efforts have so far reduced campus usage of plastic water bottles by at least 25%.
2009 Award Winners
Kameron Kitajima (student) has been a role model of the student sustainability effort. He started out as a Residential Sustainability Education Coordinator and expanded his influence ever since. He played a pivotal role in the success of the Green Campus Program, was a facilitator for the ERG 98/198 DeCal class, and was a participant in the Building Sustainability at Cal project. Kameron has contributed to the mission of the university by integrating sustainability efforts in education, in operations, and in public service.
Professor Dan Kammen (faculty) is a tireless advocate of sustainability, renewable energy, and progressive solutions at the local, state, national, and international levels. His research makes him a nationally-recognized expert, yet he maintains an active role as a teacher and an advocate for a more sustainable campus. Dan is the founding director of The Renewable and Appropriate Energy Laboratory. He is a coordinating lead author for the Intergovernmental Panel on Climate Change, which won the Nobel Peace Prize in 2007. Professor Kammen teaches multiple classes with a sustainability focus and advises a large number of graduate students, who work on projects ranging from municipal financing for clean energy to biofuels in Brazil to national climate policy. Dan is also an active member of the CalCAP Steering Committee and actively engaged in increasing campus sustainability.
Theron Klos (staff) is the Grounds Operation Manager and has implemented a successful sheet mulching program as a sustainable method for weed suppression on the UC Berkeley campus. He also volunteers on weekends to introduce this practice to various interested community groups. He has been instrumental in making the Strawberry Creek Restoration Project a success by helping with volunteer events and providing gloves, tools, and green waste bins - often responding to last minute requests. Theron has also been very responsive to conservation efforts to reduce the use of water and fuel use in his operations. Theron is an advocate for sustainability efforts across both workplace and personal spectrums.
Building Sustainability at Cal ( Group Award) The Building Sustainability at Cal Program – a student initiated and run program - trains students to help reduce the environmental footprint of campus buildings by educating building inhabitants and identifying structural and operational changes that can be made to buildings and campus operations. The program started in May 2007 with one student in one building and has expanded to 40 students working in 23 buildings and 4 campus-wide projects. A pilot program has also taken the campus activities out into the community by working in the Berkeley Civic Center building. In addition to greening the campus, this program is training a generation of people who have the knowledge and expertise to be able to evaluate the environmental impact of existing buildings, whether they use it in their personal or professional life.
Judy Chess (Special Recognition Award) Judy Chess, a campus staff member, served as CACS co-chair for over a year and helped to institutionalize CACS activities into on-going practices of campus operations. Her leadership helped CACS conceive, design and develop the Cal Climate Action Partnership that led to the campus setting its first greenhouse gas reduction goal. She continues to act as CACS budget coordinator and regularly volunteers for subcommittee work. Judy also lends her support and guidance to the Building Sustainability at Cal program and regularly guest teaches classes on green building and sustainability efforts on campus and beyond. Judy works to incorporate sustainability into the fabric of university, from policy - by incorporating green aspects into many facets of the campus design standards, to practice - choosing to ride her bike to work. This award is in acknowledgement of her extensive and ongoing contributions to making this campus a more sustainable place.
Check out photos of the award winners.
2008 Award Winners
Laura Moreno (student) has taken an active role in sustainability on campus from the very beginning as a freshman when she volunteered as a Residential Sustainability Education Coordinator and has expanded her influence ever since. She was a founding member of the Green Room Committee and the Building Sustainability at Cal Program. Laura has served as the Green Classroom Intern and the first Sustainability Coordinator of Stanley Hall, CACS intern and now CACS co-chair. Several of the projects Laura initiated spread to other areas of campus, further perpetuating all the associated benefits. Laura has had a deep and extensive impact on sustainability on campus and greatly deserves this recognition.
Ashok Gadgil (faculty) is a Senior Research Scientist at Lawrence Berkeley Laboratory and also an Adjunct Faculty member with the UC Berkeley Energy & Resources Group (ERG). His approach and devotion to mentoring students and fostering a forward-thinking and collaborative mindset when tackling sustainability and equity issues is exemplary. Professor Gadgil teaches from his own personal experiences working on sustainability-related projects in developing nations and brings the lessons he learned directly into the classroom. He advocates a mindset that long-term planning requires an understanding of the community that is being served and encourages his students to adapt their technological research to this concept.
Tim Pine (staff) is an Environmental Specialist at the Office of Environment, Health & Tim has made significant contributions to campus sustainability in a number of different areas. He was instrumental in bringing biodiesel to the campus garbage trucks, he initiated a pilot program for bicycle use in the EH&S department to reduce gas vehicle use, he was the lead organizer for the first campus Alternative Transportation Fair, and he has dedicated significant time and expertise to restoring natural areas on campus by working with student volunteer groups. The range of Tim's contributions in meshing sustainability and public service goals within the framework of existing programs, making him a well deserving recipient of this award.
TGIF Grant Making Committee (group): The eight-person Grant Making Committee of the Green Initiative Fund (TGIF) is comprised of students, faculty, and staff. It was created to administer the grants made possible by the $175,000 of annual funds generated by the $5 student fee referendum. This committee strengthens the sustainability dialogue across different constituencies on campus and each member of the team contributes a unique perspective and expertise as the team works to select the most promising grant proposals. In this critical first year, the committee did an amazing job of publicizing the grant opportunity, making classroom announcements, building e-mail lists, hosting info sessions, and spreading the word via their peers. Their work paid off as 28 grant proposals totaling over $1.2 million were received. In parallel with managing the grant-making process this year, TGIF's team also had to develop all other processes and necessary parts of its organizational infrastructure. This energetic group has have paved the way for TGIF to make great contributions to campus greening for years to come.
2007 Award Winners
Edward Arens, Professor of Architecture, for "his leadership in sustainable design and development." Arens, who directs the Center for Environmental Design Research and the Center for the Built Environment, was recognized for integrating the topic of environmental sustainability in all of his building-design teachings.
Paul Black, a utility-engineering manager in Physical Plant - Campus Services, for his long-term dedication to energy conservation and his role as a leader in the Energy Intern program. Black has played a key role in many of the campus's energy-conservation projects: lighting retrofits, steam-trap replacement, and testing building efficiency.
Rebecca Jones, a graduate student in materials science and engineering, for her efforts in solar-cell research and The Green Initiative Fund (TGIF), as well as her work with the United Nations Industrial Development Organization (UNIDO) in China. At Berkeley, Jones researches new materials for solar-cell production. She has also co-founded the campaign to create The Green Initiative Fund here. Pending approval from the chancellor and the Regents, this modest student fee will generate $200,000 annually for sustainability projects over 10 years. As a 2004 fellow in China, Jones worked on a project to make solar-powered flashlights available to rural communities that would otherwise rely on highly polluting, unhealthy diesel torches.
The students behind Berkeley Green Campus -- Desirae Early, Vi Do, Jessica Huang, and Kameron Kitajima -- for their dedication to campus education and leadership in energy-conservation projects. Berkeley Green Campus's energy-education efforts include outreach to residence-hall staff as well as a DeCal course, Energy 101 (award winning), which provides students the opportunity to participate in a variety of campus projects. The group has also worked in the dorms to replace light bulbs with the compact-fluorescent variety and to create excitement about resource conservation through energy competitions.
Chancellor Birgeneau received a special recognition for his leadership in sustainability, and for making the commitment not only to act locally but to work globally as well.
Check out photos of the 2007 award winners!
2006 Award Winners
Sustainability awards were given to the following five groups:
Check out photos of the 2006 award winners!
2005 Award Winners
Lisa Bauer, manager of Campus Recycling and Refuse Services, called the "driving force behind sustainability at UC Berkeley".  Lisa has worked relentlessly over the years," the citation read, "to bring UCB to the forefront on all sustainable issues ... going way above and beyond ... to rally everyone's abilities and enthusiasm to make significant, positive, and lasting changes."
Cal Dining staff team, for its work to gain Green Business certification at Crossroads and Clark Kerr dining facilities. The facilities compost food waste (60 tons a year), recycle food packaging (350 tons a year), offer discounts for use of reusable mugs, and use biodegradable containers and unbleached napkins. (Update: The Crossroads facility since became the first Organic Certified dining hall in the country. CCOF - California Certified Organic Farmers)
Bill Berry, Professor of Earth and Planetary Science, for "exploring environmental issues with generations of Berkeley students." Berry was honored for "giving students the tools and inspiration to think about problems from a sustainability standpoint and fostering a culture of sustainability and forward-thinking design."
Mezies Chen, a December 2004 graduate of the College of Engineering, who worked with Parking and Transportation to implement a system to provide real-time information on the location of campus shuttle buses.
The ASUC Sustainability Team, for its work to advance the student government's work on such issues as energy use and food and paper waste.
Check out photos of the 2005 award winners.