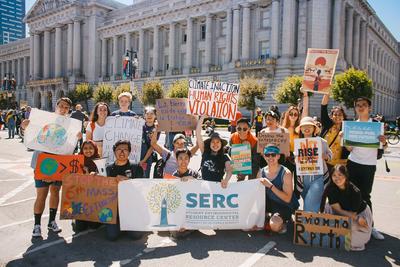 Sylvia Targ started her UC Berkeley sustainability career when she first asked herself where all the seafood served in her dining hall came from. Sage Lenier began her journey by imagining an environmental science course that focused on real-world sustainability action. Bridget Gustafson wondered why the grounds crews on the volleyball court where she practiced were spraying what she knew were dangerous herbicides.
For those three UC Berkeley graduating seniors and three others being recognized by the Chancellor's Advisory Committee on Sustainability (CACS) this month, what promise to be long environmental careers started with the help of such simple but thought-provoking questions. What followed for the honorees were long hours working with students, administration officials, campus employees and people from the greater community to bring about change.
The work of the honorees, who also include Ella Griffith, Nicole Haynes and Dante Gonzales, touched on fields such as food waste, sustainable food sourcing, herbicide use, eliminating single-use plastics and environmental education and justice. The results of their work include replacing meat dishes with vegetarian and vegan selections on dining hall menus, stopping herbicide spraying on swaths of the UC Berkeley campus and launching a popular sustainability DeCal course.
Without a doubt, these are perilous times to be graduating. The coronavirus crisis has claimed thousands of lives, overwhelmed the country's health system and seriously weakened the U.S. economy. And while global greenhouse gas emissions have plummeted due to population lockdowns, climate change remains a growing danger that dwarfs even the current health crisis. These UC Berkeley seniors are playing the long game, ready to tackle the climate challenge whether it's now or after the coronavirus pandemic fades. They've already gained valuable climate policy experience reforming sprawling institutions such as the campus' dining services and maintenance and operations departments. They've also learned how to convince a range of audiences about the urgency of sustainability action. Their legacy at UC Berkeley includes instituting new, lasting policies on plastics waste, dining hall food procurement and herbicide use. 
Into this tumultuous present and future, this year's CACS awardees bring both the energy of travelers just starting their journeys and the confidence of professionals who have already known success. For the last 17 years, CACS has honored sustainability champions at its annual Earth Day summit. This year, in celebration of the 50thanniversary of Earth Day, CACS is recognizing this group of forward-looking changemakers. Here are their stories.
Sylvia Targ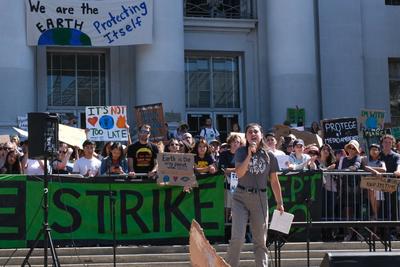 Sylvia Targ has pushed for environmental change from both inside and outside organizations, and learned from both experiences.
She began advocating for sustainable seafood to be served by UC Berkeley's dining services while working as a student organizer alongside her peers. That campaign eventually convinced the university to adopt the Monterey Bay Aquarium's Seafood Watch guide in all its dining hall food purchases. 
Cal Dining not only listened to Targ, it even hired her as a sustainability education coordinator and later as a food literacy coordinator talking to chefs, menu planners and students about how to adopt healthier and more sustainable dishes in dining halls. Her portfolio quickly grew, with the conservation and resource studies major serving as the elected environmental community senator for the Associated Students for the University of California and a City of Berkeley parks and waterfront commissioner. 
She said taking on those responsibilities has meant asking herself new questions. 
"Now that you have a seat at the table and now that you're a person who has more decision-making power than the average person on this campus, how are you going to use that and how are you going to listen to people?" Targ said.
Targ said a highlight of her time at UC Berkeley was teaching an Oceans C82 class as an undergraduate student instructor where she incorporated elements of environmental justice into an ocean science curriculum.
She also continued pushing for environmental policy change, including by helping to organize September 2019's Climate Strike.
"The value of careful research and preparation before launching into action cannot be understated," Targ said. "Reflecting upon how your own objectives fit into the larger picture of what an organization or institution's mission statement is, and offering what you have to move both forward, even if that's just your own passion, will to learn and hard work, can open doors."
Targ plans to continue pushing for environmental change in some capacity after she graduates, hopefully in the Bay Area and possibly in graduate school. Whatever her path, Targ said she plans to use the organizing and consensus building skills she's learned helping to transform UC Berkeley. 
Sage Lenier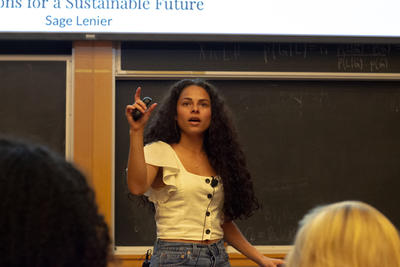 Sage Lenier, a conservation and resource studies major, was searching for the truth about "everything" - she wanted to know what exactly were the largest environmental problems humanity is facing and what can be done to solve them. Such a class didn't exist, she concluded, so she started her own – a DeCal offering called Zero Waste: Solutions for a Sustainable Future. The course has quickly become one of the most popular on campus, with more than 300 students enrolled this spring 2020 semester, and even drew the attention of The New York Times in January.
"I had to go around to so many different disciplines on campus and do so much independent research to get a good understanding of what a green economy would look like and what sustainable cities would look like and what sustainable food systems are," Lenier said.
"The barrier to entry needs to be lower. Someone needed to put these things together and explain it to regular people. This course does exactly that."
Regarding the coronavirus pandemic, she says that this has further proven that we have both the desperate need and the ability to adapt our social systems for restoring the natural systems that keep us alive. The pandemic has, unfortunately, stalled Lenier's plans to expand the course to other campuses, but she still hopes to eventually launch it elsewhere.
The power of her course, she said, has been its clear urgent message delivered simply. Lenier has also served as a Carbon Neutrality Initiative fellow, working on UC Berkeley's Cool Campus Challenge and other initiatives for the Office of Sustainability.
Nicole Haynes
It seemed like no one wanted to talk about trash in Nicole Haynes' classes. As a sustainable environmental design major, with a minor in city planning, she was hearing a lot about energy and water, but waste would usually take up just half a lecture. Haynes, however, wanted to talk trash.
She was already working with the California Public Interest Research Group's Plastic-Free Seas Campaign. On top of that, Haynes founded the UC Berkeley Zero Waste Coalition pushing the campus to eliminate all non-essential single-use plastics by 2030. The university signed on to that goal during the spring 2020 semester. 
Haynes said she was inspired to take on the zero-waste cause after noticing all the plastics being thrown away at the dining hall where she worked. 
"Every shift, I saw people throw away the same things," Haynes said. "They always threw away the same yogurt container, for example, and it made me ask myself how much of an impact could we make by finding an alternative to this one product that we are always using? I think that led me to wanting to learn more."
Haynes has taken her passion statewide, working to convince Assemblymember Buffy Wicks and State Senator Nancy Skinner to co-author legislation that requires California reduce the amount of single-use waste it generates and to ensure those products are recyclable or compostable.
With graduation approaching, Haynes said she is looking to build a career in green building, waste reduction or environmental education work, or some combination of the three.
"We need an environmentally conscious generation so badly," Haynes said. "If students go to green schools and have that as part of their education, K-12, the world will look very different in a couple decades."
Bridget Gustafson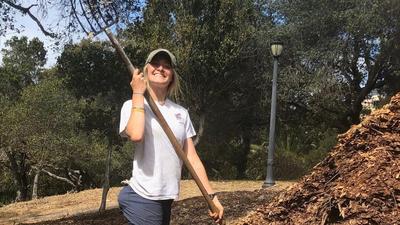 The grounds crews that maintain Clark Kerr Campus' volleyball courts were all but invisible to Bridget Gustafson and others practicing there for months. Gustafson, however, learned from her coaches that the crews were using herbicides such as glyphosate and other toxic chemicals to control weed growth. Gustafson, a molecular and environmental biology major, knew safer alternatives were available.
Her pesticide inquiries eventually connected her with those secret groundskeepers, some of whom are made to start work on campus at 3:30 a.m. just to stay out of students' and other people's ways. Gustafson learned that the groundskeepers used herbicides because they didn't have the time or staff to control weeds any other way.
"We were able to say, 'We're students, we're young and have energy and have able bodies and want to support the grounds crew, might we take off some of the burden and not spray these herbicides?'" Gustafson said. "We would have weeding days, where we would organize some students to come out and manually weed as opposed to spraying the actual chemicals."
That bridge-building expanded across campus, with Gustafson helping to found the Herbicide Free Cal campaign that pushed through policies stopping herbicide use across much of the university. After catching the attention of UC President Janet Napolitano, the campaign has expanded the herbicide ban to other UC schools as well as to campuses in Iowa, Texas and Hawaii.
Instead of chemicals, Gustafson said, campuses can use aeration, compost tea applications and soil microbes that naturally fight weeds. Banning herbicides, however, was just one of the highlights of Gustafson's work. When asked about her proudest accomplishments, Gustafson described the relationships she had build between students and unseen groundskeepers.
"There's the importance of wanting to support our grounds crew and make their work seen and appreciated and get student engagement with people who make our campus run," she said. "They're my heroes."
Dante Gonzales
From advising peers at the College of Natural Resources to bringing environmental education to Bay Area schools, Dante Gonzales advanced environmental sustainability in diverse ways at UC Berkeley. Gonzales also helped promote sustainable student behavior as part of the Cool Campus Challenge and created vegetarian and vegan options on Cal Dining menus as part of the Carbon Crew. 
In all his work, Gonzales said he has made sure to include marginalized voices and people who are typically not included in environmental campaigns.
"I'm fighting for the empowerment of what we can do and what this means for our movement as a whole," Gonzales said. "The majority of my work is finding connections and intersections and connecting the right people."
 A Carbon Neutrality Initiative engagement fellow, Gonzales said he expanded his role beyond what he saw as its original parameters of energy conservation and electric vehicle use. He and his fellow Carbon Crew members focused on community and campus engagement, food justice and environmental education. Gonzales helped organize a Climate Strike rally in September 2019 attended by about 2,000 people. The rally brought together 20 community and campus organizations and launched six climate action teach-ins. 
A double major in society and environment as well as conservation and resource studies, Gonzales said he hopes to not only continue working in climate resilience and organizing, possibly in graduate school, but also to stay focused on community building.
"I try to connect people with others and get them involved in work that matches their passion and skills," he said. "I've fought for greater inclusion of marginalized voices in every project I've been involved in."
Ella Griffith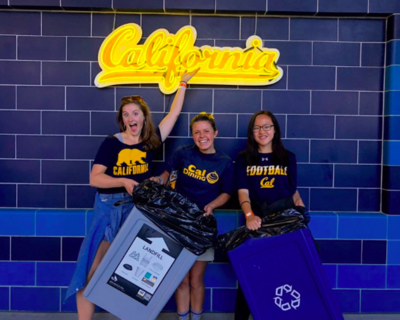 Move-out days at UC Berkeley are unforgettable times, with students exhausted from the school year saying goodbye to friends and eager to start summer vacations or internships. The event also produces tons of trash as students dump furniture, household goods and packaging that spill out of garbage bins.
Ella Griffith, a conservation and resource studies major, worked to unite student groups including sororities, fraternities, student cooperative housing and campus residence halls to help educate students about how they could better dispose of their end-of-the-year refuse. The result was a more centralized move-out process that better coordinated trash disposal.
"What was going on with move-out day, we didn't have mechanisms in place," Griffith said. "We didn't have students who were flyering or a group who would meet with different stakeholders. With City support it really was easy as being the one sending out an email sometimes, and that was a big part of connecting different groups."
Griffith also pushed for less waste in campus dining services as a food reduction coordinator, including helping to institutionalize the Weight Your Waste events at dining halls that showed students how much uneaten food they were leaving on their plates. Griffith also created and managed the Housing and Dining Sustainability Team's first internship program, which brought in nearly 50 students over three semesters.
She remembered how her food waste activism started, when she struck up a conversation with a dining services staff member about the consequences of throwing away mountains of food everyday.
"It came full circle when I was talking about how much it frustrates me when I see people really disconnected with what's on their plate to how much they're disconnected with all the food they're throwing away," Griffith said. "My interest only exponentially grew when I saw the connection between food waste and basic needs and basic rights."