Mission
The Zero Waste Coalition aims to bring together waste-related organizations at UC Berkeley to improve communication between them, collaborate on initiatives, be a resource for zero waste on campus, and foster a zero waste community.
History
In 2017, the ASUC Zero Waste Student Advisory Committee was established in an effort to connect organizations working on waste-related projects at UC Berkeley. In Spring of 2019, the committee was re-established and rebranded as the Zero Waste Coalition by Nicole Haynes. With a renewed interest in connecting waste-related organizations on campus, collaboration and communication within the community greatly improved, leading to successful initiatives such as:
Compost Week
In March 2020, the ZWC engaged over 5,000 students and faculty members in a weeklong push for compost education.
Non-Essential Single-Use Plastic Elimination Policy
In April 2020, UC Berkeley committed to the strongest plastic ban in the country. This comprehensive target will eliminate all non-essential single-use plastic with viable alternatives by 2030.
Zero Waste October
A month of educational programming aimed at engaging individuals at UC Berkeley in waste sorting and reduction efforts. In 2019, students pledged to participate in Zero Waste events and complete weekly challenges. Zero Waste Coalition Member organizations hosted events throughout the month, providing students and staff opportunities to become more involved. *Zero Waste October was initially started by a middle school teacher and her students in Marin, CA.
Building connections with campus administration and increasing communication about zero waste initiatives
Since May 2019, ZWC leaders have built connections across campus allowing their efforts to be better promoted and supported by the university and increasing communication about the work of waste-related organizations.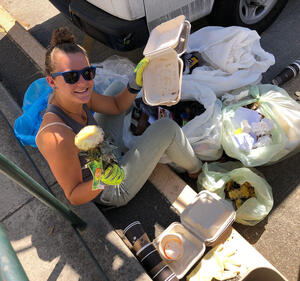 Julia Sherman
Zero Waste Coalition Chair
Julia is a 4th year studying Genetics and Plant Biology with a minor in Energy & Resources. She works as a Zero Waste Fellow in the Office of Sustainability and is passionate about improving sustainability at Cal. She also serves as President of the Cal Triathlon Team - if she isn't sorting through trash you'll find her swimming, biking, or running.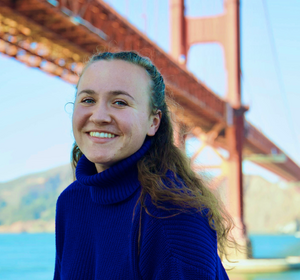 Kathryn Wilson
Zero Waste Coalition Vice Chair
Kathryn is a 3rd year studying Society and Environment with minors in Energy & Resources and Education. She previously worked as an Energy and Water Conservation Coordinator for the Housing and Dining Sustainability Advocates (HADSA) and now facilitates the Energy & Sustainability Decal on campus. Outside of academics and work, she competes on Cal Club Tennis and enjoys hiking the fire trails on weekends!