Transportation Goals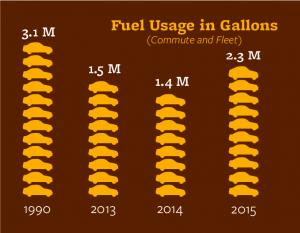 GOAL: By 2014, reduce fuel use by commuters and campus fleet to 25% below 1990 levels.
STATUS: Achieved
Overview
Fewer Vehicles, Fewer Miles, and Less Fuel
UC Berkeley offers a comprehensive package of programs to encourage moves to more sustainable forms of transportation – all with the goal of reducing traffic and parking demands. The program offers a suite of alternative commute benefits to UC Berkeley faculty, staff, and students. The program offers bus pass programs, transit subsidies, discounted carpool parking pricing, pre-tax purchases, regional ride-matching services, and a host of other benefits and incentives.  Parking & Transportation will be launching revised rideshare and carpool programs as well as a green commuter club with fun incentives in the fall of 2016.
Transportation by the Numbers
During their regular commute, faculty, staff, and students walk around 9.6 million miles per year and bike 10.1 million miles per year.
Campus fuel use – from fleet and commute –remains over 25% below 1990 levels. The most recent triennial transportation survey of faculty, staff, and students showed a continued decline in drive alone rates, with more people opting to use public transit for their commutes. 
There are now over 5,500 people commuting by bicycle to campus on a typical school day. The campus transportation survey found that over 12% of all campus commuters ride a bike to campus – nearly 21% of faculty, 9% of staff, 27% of graduate students, and 7% of undergraduates commute by bike.  Since 2012, bicycle commuting has increased by about 1.4%.
The Bay Area Bike Share is expanding into Berkeley over the next two years, with a target of adding 400 bicycles.
Miles flown on business air travel are up 11% since 2013.
The percentage of green vehicles in the fleet has risen to 34.5%.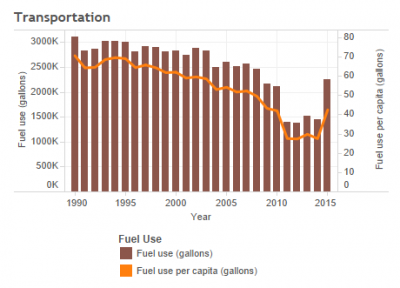 Spotlight: Continuous Improvement
The drive alone rate for campus faculty and staff is well below the average of Bay area workers (56%), according to a recent survey from the Public Policy Institute of California. 
UCB provided matching funds to support the City of Berkeley's successful grant application ($12.7 million) for construction of a new protected bicycle lane on Hearst & Shattuck avenues; pedestrian enhancements in Downtown Berkeley are expected no later than 2017.
Campus Initiatives
Transportation Highlights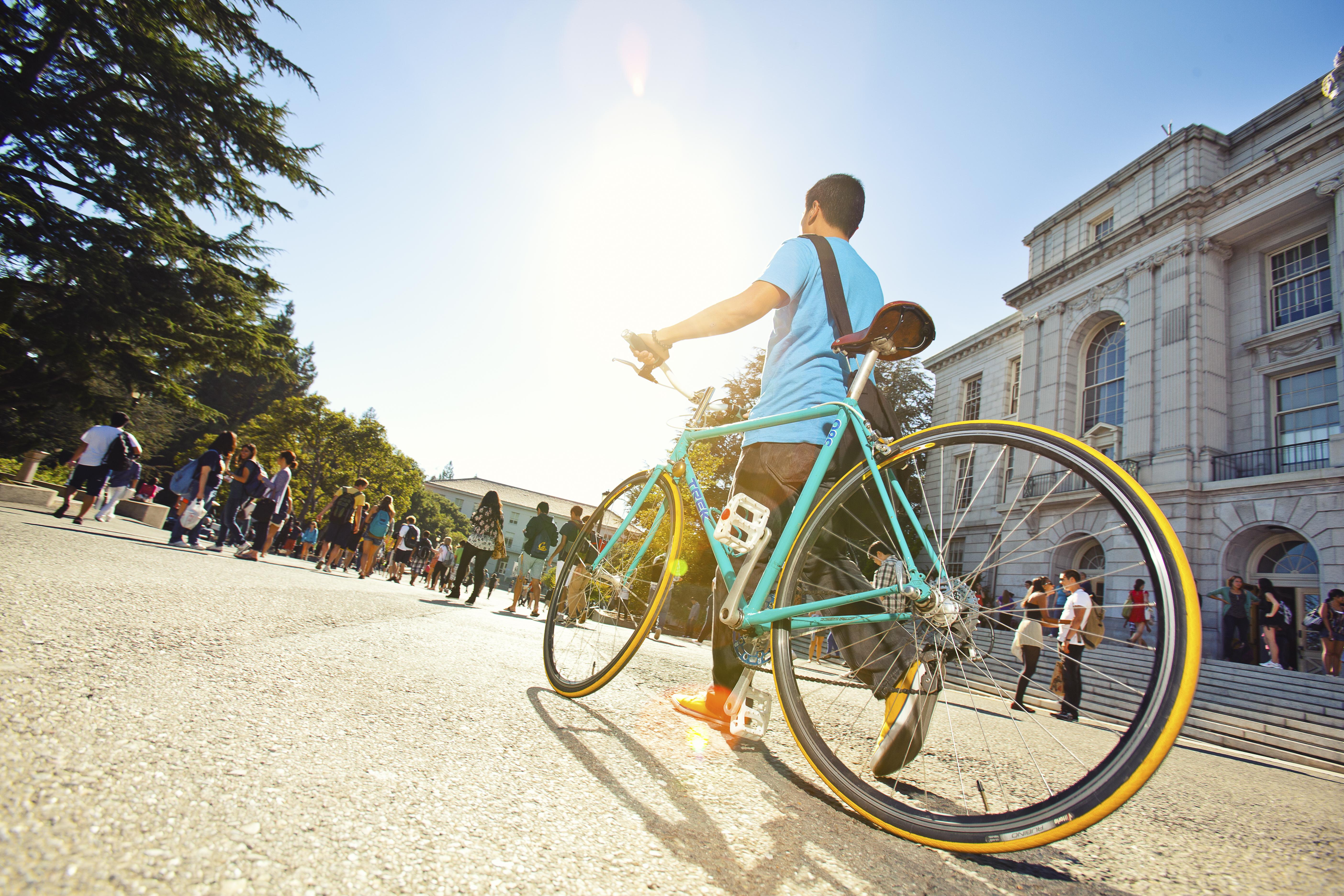 BicyCal is a student-founded organization that aims to empower UCB students, faculty and staff to successfully integrate the bicycle into their daily lives. Even learn how to maintain your bike! 
Bicycle Fix-It Stations are ready for use outside Moffitt Library and near the Energy Biosciences Building the corner of Oxford and Hearst.  
Campus League of American Bicyclists has recognized UC Berkeley as one of the nation's top Bicycle Friendly Universities (BFU).  UC Berkeley was one of only eight universities in California recognized for providing a bicycle friendly campus for students, staff and visitors.
Car sharing services on/adjacent to campus include City CarShare, Zipcar, and Enterprise Rent-a-Car.