Procurement Goals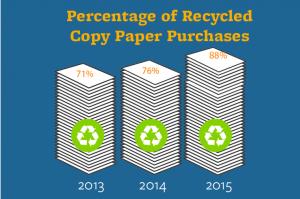 GOAL: Comply with the University of California environmentally-preferable purchasing policies and procedures.
STATUS: On track
Overview
Data Challenges Continue

UC Berkeley operates under a decentralized procurement model, with purchases made via multiple avenues.  The Supply Chain Management team has worked to offer efficient procurement services through programs like BearBuy and Strategic Sourcing, delivering savings and providing better overall service.  They also strive to comply with UC Sustainability Practices policy by incorporating environmentally friendly products and services.  The University of California also provides resources for suppliers on the University code of conduct for licensees and sustainable and ethical supply chain practices.
However, collecting complete and accurate data on the purchases of sustainable products remains problematic.  Often, purchasing data must be compiled by vendor or product type, and sometimes the spend on identified green products has to be calculated manually.
Other initiatives of Supply Chain Management:
Continued the printer exchange program, replacing 54 older inefficient ones with only 50 Energy Star rated alternative
Participation in MilliporeSigma's styrofoam and packaging reuse program
Implementation of Sigma's "Sustainability Opportunity Dashboard," which provides green sustainability statistics on solvent usage and packaging waste
Feasibility research on a water-saving autoclave that can reduce water consumption by 90% 
Making Sustainable Purchasing Easier
Campus Recycling and Refuse Services' Zero Waste Research Center partnered with UC Berkeley Procurement and OfficeMax to create a simplified list of environmentally-preferred products (EPP) offered in the Bear Buy purchasing system. The Zero Waste Research Center suggested products that would be sustainable alternatives to common office supplies. This list of products includes common office supplies such as pens, whiteboard markers, and post-its.
A contract with America To Go (which will include sustainability information for participating caterers) has been implemented as a punch-out catalog in BearBuy for purchasing food for business meetings and other campus events from contracted local catering companies and restaurants. 
Steelcase launched its office furniture SMART catalog in BearBuy to help buyers with their purchase selection of seating, storage and work tools. The majority of the SMART catalog items are third-party certified as sustainable.
Campus Initiatives
Purchasing Highlights
Procurement Services now substitutes 100% recycled copy paper  for virgin paper using the search function in BearBuy. Recycled copy paper purchases increased to 88% in 2015.
Physical Plant-Campus Services developed a Green Cleaning Policy  for cleaning products, supplies, tools, equipment, and practices at UC Berkeley.
Procurement Services' annual printer exchange program removed over 60 printers from campus in exchange for Energy Star certified models.