Climate Goals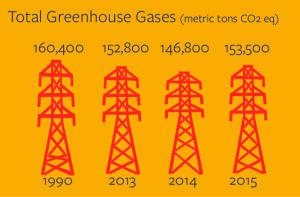 GOAL: By 2014, reduce greenhouse gas emissions to 1990 levels.
STATUS: Achieved
GOAL: Achieve climate neutrality from building and fleet use by 2025.
STATUS: On track
Eight years ago the campus set out to reduce its carbon footprint by one-third – to bring Berkeley's greenhouse gas emissions from campus operations back to the levels they were in 1990. Our most recent emissions inventory reveals that Berkeley has met this target, two years ahead of schedule.
Ambitious at the outset, this voluntary target to reduce greenhouse gas emissions (GHG) to 1990 levels by 2014 puts Berkeley ahead of UC Policy and State of California guidelines which call for this level of reduction by the year 2020.
Overview
UC to be Carbon Neutral by 2025
UC has a goal to be carbon neutral by 2025. To achieve carbon neutrality from scope 1 and 2 carbon emissions by 2025, Berkeley is  striving to get emissions to net-zero for building energy use and fleet vehicles use.  For Berkeley to meet this target campus emissionsneed to be reduced about 80% below 1990 levels. A neutrality date for scope 3 emissions is currently 2050.
UC Berkeley has taken the first steps toward neutrality by reducing emissions to 1990 levels, faster than required by California guidelines. The campus is working to progressively lower emissions until carbon neutrality is achieved.  
Download an information flyer about Berkeley and Carbon Neutrality Initiative.
Berkeley Has Reduced Emissions Below 1990 Levels and Met UC's First Reduction Target Eight Years Ahead of Schedule
Investing in energy efficiency and sustainable transportation practices. Since 2006, the campus has saved over 20 million kWh of electricity through building retrofits and by more than 1 million gallons of fuel use reduction. 
Buying Greener Power. Through purchases from Pacific Gas & Electricity, UC Berkeley is using more solar and wind energy, less coal.  
Improving Data and Methods. UC Berkeley is now using the best data available about campus energy use.
This accomplishment has been guided by the Cal Climate Action Partnership (CalCAP) and its steering committee – a broad collaboration of faculty, staff, students, and leadership. On-going climate action facilitation and reporting is managed by the Office of Sustainability.
Tracking and Evaluating Emissions
The campus analyzes emissions, energy use, and transportation scaled to campus population and square footage over time: 
Since 2012, electricity use has decreased by 2.6%, steam use has decreased by 4.7%, and natural gas use has increased by 7.4%
Total energy use dropped by 2.6% last year
Total greenhouse gas emissions are below 1990 levels, and emissions per research dollar are down over 40% since that same time.
Primary energy sources are varied and include:
utility-provided electricity
purchased steam from an on-campus natural gas fired, co-generation plant
natural gas used for heating and hot water in a limited number of buildings
Embedded Emissions
The campus has calculated the greenhouse gas emissions of its supply chain using the Comprehensive Environmental Data Archive (CEDA) emission factor database. This analysis considers all indirect emissions of greenhouse gases (GHG) of products and services from cradle to grave.  

CalCAP Background
Cal Climate Action Partnership (CalCAP) guides UC Berkeley's efforts to reduce the climate change impacts.   Berkeley's Vice Provost chairs the steering committee. A student-created initiative in 2005, CalCAP is now a collaboration of faculty, administration, staff, and students working together.
For deailed information on Carbon Neutrality, please see that section of our website. 
Campus Initiatives
Climate Highlights
CLIMATE ACTION FUND
The Climate Action Fund accepts donations to the campus effort to reduce greenhouse gas emissions.
RESEARCH AND STUDENT INVOLVEMENT
UC Berkeley Researchers Aim For Comfort And Energy Efficiency:  Armed with a $1.6 million grant from the California Energy Commission, UC Berkeley's Center for the Built Environment researchers are creating a new webbased and user-responsive set of tools to enable more efficient temperature control in buildings. 
Students Tackle Climate Change In Neighboring Richmond: Public Health and Environmental Design students and researchers at UC Berkeley are helping residents of Richmond, CA, plan for the major challenges the city will face– from rising sea levels to higher temperatures, flood risks and increased energy and water consumption – in coming years.