Built Environment Goals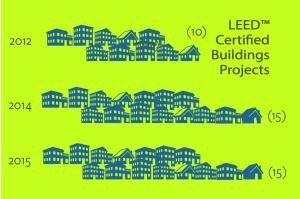 GOAL: Design future projects to minimize energy and water consumption and wastewater production; incorporate sustainable design principles into capital investment decisions; base capital investment decisions on lifecycle cost, including the cost of known future expenditures.
STATUS: On Track
Overview
The campus currently has fifteen LEED™ certified building projects, representing over 10% of total square footage.
Campus construction projects follow the U.S. Green Building Council Leadership in Energy and Environmental Design (LEED™) system for green building performance. Major projects are designed to achieve LEED™ Gold, and required to achieve Silver certification at a minimum.
New building and major renovation projects are required to outperform local energy codes by at least 30%
Though not mandated, the campus encourages innovation in specific projects around the use of low-flow plumbing fixtures. Irrigation standards now incorporate the use of weather sensitive irrigation systems. 
A new Energy Use Policy outlines energy conservation schedules for heating, cooling, and ventilation; lighting; equipment, including computers; construction and renovation projects.
The Policy also establishes an aspirational "No Net Increase" energy goal, meaning the proposed project would not result in an increase in the building's metered energy use. 
Building Sustainability @ Cal offers a student-supported certification program for smaller projects that fall below the threshold for LEEDTM certification.
Spotlight: Buildings
Eshleman Hall and the Martin Luther King Jr Student Union
Eshleman Hall and the Martin Luther King Jr Student Union opened in fall 2015 as the campus' newest green buildings  The new Lower Sproul Plaza is likely the most sustainable area of the UC Berkeley campus. From green building design to innovative stormwater management practices, the Lower Sproul redevelopment project worked to minimize its environmental impact across a variety of spectra.  Completed in the fall of 2015, the buildings in lower Sproul have been designed with innovative sustainability features. The Student Union is on track for LEED™ Silver certification, and Eshleman Hall is on track for LEED™ Gold certification - going above and beyond the campus-wide requirement that major construction projects achieve LEED™ Silver certification at a minimum.  High performance building exteriors are one of the attributes that have made this possible. These sustainable exteriors are designed to reduce energy use, reduce artificial lighting demand, and provide passive ventilation.  Read more.
Jacobs Hall Wins Two Awards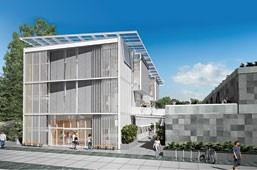 Jacobs Hall, which opened in August 2015, received the Energy Efficiency In New Construction Or Major Renovation award at the 2016 California Higher Education Sustainability Conference and the 2016 Top Ten award from the American Institute of Architects in tandem with the Committee on the Environment. 
 Founded on the conviction that design can help address some of society's most pressing challenges, the Jacobs Institute for Design Innovation at UC Berkeley, is devoted to introducing sustainable design innovation at the center of engineering education and university life. It is designed as both a collaborative, project-based educational space and a symbol to the region of the University's commitment to sustainable innovation.   The building is designed to exceed the AIA 2030 Commitment target, using 90% less energy than the national median for university buildings.  It also features a cantilevered 74kW photovoltaic array, which provides 58% of the building's energy requirements. 
Campbell Hall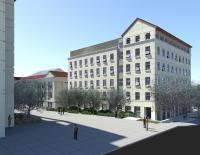 This new seven story, 89,000 square foot facility is designed to meet sustainability and energy efficiency goals and to achieve LEED™ Gold (New Construction) certification. The upper levels will house low-intensity laboratories, academic offices, instructional spaces, and a rooftop telescope observatory. The lower level will incorporate low-vibration physics research laboratories and associated support functions. 
The building's structural system has unique sustainable properties based on the use of a mixture of fly ash and slag in concrete (15% slag and 40% fly ash), and incorporates post-tensioned concrete walls that return to plumb after a significant earthquake, achieving a cost savings of more than $400,000 ($4.50/square foot) and improved performance.
In addition to being Berkeley's 15th LEED™ certified building project, the new Campbell Hall building received the Overall Sustainable Design award at the 2015 California Higher Education Sustainability Conference.   The design lexicon for the new building is at once respectful of the neighboring historic structures and also reflective of the university's mission for student-faculty interaction and sustainable design. The building process showcased best practices with respect to user engagement during design and move-in, including a commitment to conduct a user survey six months post occupancy.
Campus Initiatives
Energy Dashboards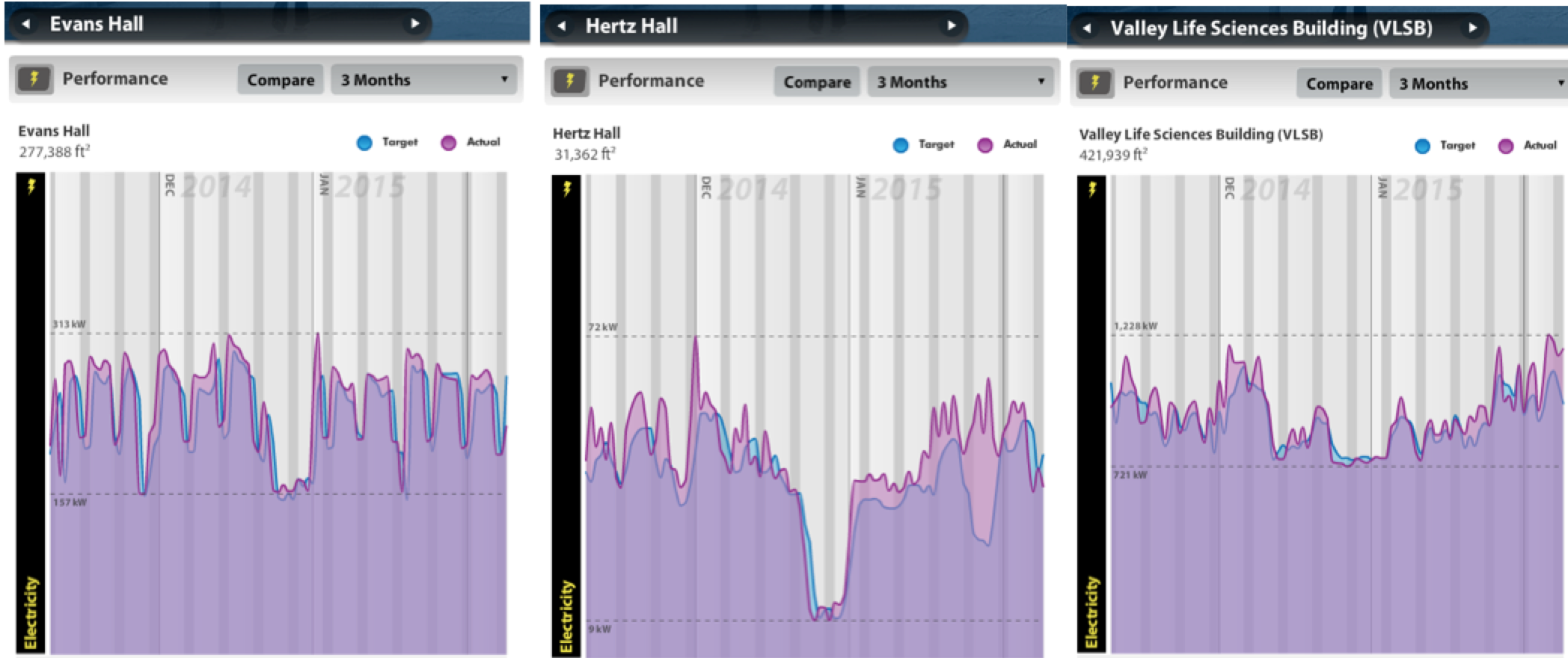 The energy use of all buildings on the UC Berkeley campus is monitored via real-time energy dashboards. The dashboards track the effects of your electricity saving efforts like turning off the lights at night, using energy saving features on your computer, or other similar actions. 
Buildings Highlights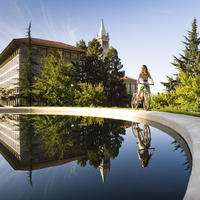 UC Berkeley has one Platinum LEED™ building project, 11 Gold certified LEED™ building projects (five Commercial Interiors renovations and four New Construction), five Silver (all New Construction) and one certified building project (New Construction).  See list of all LEED™ certified buildings on campus. 
Building Sustainability @ Cal and the Office of Sustainability offer a Small Green Renovations Checklist for to campus projects that would not normally pursue green building certification due to expense and other reasons.

The campus routinely achieves almost all of the available LEED credits for Indoor Environmental Quality.
The Maximino Martinez Commons building is powered in part by about 10,000 therms of solar water heating.