Become a Power Agent!
WHAT IS A POWER AGENT (PA)?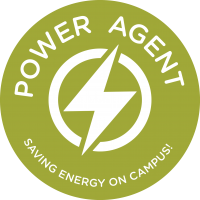 Power Agents are UC Berkeley volunteers committed to engaging thecampus community in actions that reduce energy usage in buildings.
PA's are trained and empowered to support individuals in their buildings to take simple energy savings measures that will contribute to the campus strategy to reduce energy use by 10% in the next two years.
A POWER AGENT WILL:
Work within their area to encourage behavior change and decrease energy use.
Collaborate with others in their building and unit, so teams of PAs can do joint projects.
Identify potential energy-saving projects and share those findings with the Energy Office.
Share information and tips on how to save energy and help others implement change.
Volunteer 1-5 hours per month.
THE BENEFITS OF VOLUNTEERING
Power Agents will receive training, resources, and a toolkit to better assist energy reduction on campus.
BY BEING A POWER AGENT, YOU WILL:
Be part of a vibrant community that fosters growth and education.
Work alongside sustainability professionals and administration to create change, driving visible results.
Gain new skills and techniques in energy management and problem solving.
Make a POWERFUL difference on this campus and apply today! 
Send your name, contact information, the building you work in, and your department to myPower@berkeley.edu.
HOW DO I BECOME A POWER AGENT?
If you're interested in becoming, please contact us at myPower@berkeley.edu.
Also see the Power Agents website for upcoming trainings and other useful information: http://mypower.berkeley.edu/about/power-agents
Campus Initiatives
Free Stickers!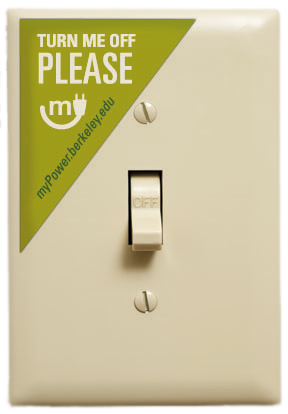 Visit the Resource Center in 192 Barrows Hall to pick up light switch reminder stickers and posters or check out a kill-a-watt meter.
Email us for more info!