Getting to Zero Waste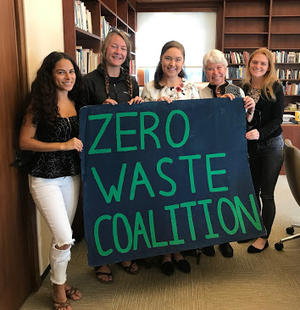 UC Berkeley is currently working toward our Zero Waste by 2020 goal to greatly reduce the amount of campus waste sent to landfill. Today we are diverting about 54% of our municipal solid waste stream to recycling, composting, or reuse. Our goal is to divert 90% or more of our everyday waste by the end of 2020!
To help us achieve this goal:
put compostable and recyclable materials into the right bins,

reduce usage of packaging, plastics, and single-use products,

and use more reusables!
For more ways to get involved in the Zero Waste Movement on campus, check out the Zero Waste Coalition.
See the November 2019 call to action, all campus email "countdown to zero waste by 2020" from campus leadership.
The UC Berkeley Guide to Zero Waste
Bring on the Bins
Cal Zero Waste and Facilities Services have installed over 85 solar compacting multi-stream (recycling, compost, landfill) exterior bins on campus. In addition, they are standardizing all campus operated buildings with interior multi-stream bin systems, including campus dining and residence halls. Education and behavior change are the keys to success in this process - our whole community must recycle, compost, and continue to find better ways to reduce and reuse.