Waste Goals

GOAL: Achieve a 75% diverison rate by June 2012 and zero waste by 2020.
STATUS: On track
Campus Performance Overview
The campus diversion rate is about 50%, with the amount of municipal solid waste being sent to landfill dropping annually.  More impressively, the landfill tonnage is down by a third since 1995.  The data also reveals the success of campus efforts to expand the composting program, as the campus now diverts almost 40% more than just two years ago.  Even with these improvements, the campus has not yet reached its diversion goals.
The campus currently recycles  mixed paper, newspaper, magazines and books, cardboard, beverage containers, toner and ink jet cartridges, electronic waste, plastic film, plastic pipette containers, metal, motor oil, tires, and batteries.
The campus currently composts a portion of food waste, compostable kitchenware, green and wood waste, and pallets.
The campus has a hazardous waste and waste minimization plan that includes e-waste.
The student-managed ReUSE  program operates around 18 on-campus reuse stations for office supplies and the annual Second Chance clothing sales and reader giveaways. ReUSE projects reduce waste by 2-5 tons annually. The campus also works to reuse office supplies, equipment, and vehicles through the Overstock and Surplus Den.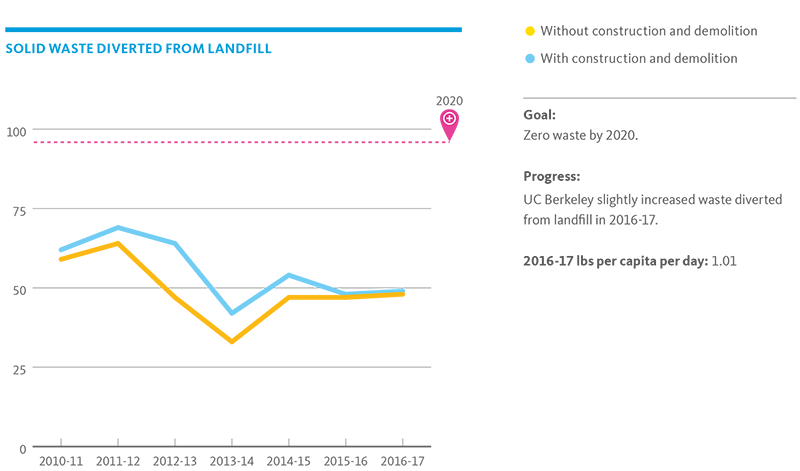 Spotlight: Special Projects
Chou Hall - Berkeley's first Zero Waste Building
Chou Hall Opens: green, healthy & zero waste. This new campus building features efficient heating, cooling, and lighting systems, rainwater cisterns and 24,300 square feet of exterior windows. All of that make it the first academic building in the U.S. designed for LEED Platinum certification and WELL certification. The goal is to divert 90 percent of waste and achieve zero waste certification by summer 2018, becoming the first business school in the country to do so.
UC Berkeley wins Pac-12 Challenge 3x
Berkeley won for the third year in a row the Pac-12 Zero Waste Challenge held by the Green Sports Alliance. The GSA is committed to promoting sustainability through the platform of sports. See Berkeley accepting the first year award in 2015 award at the Green Sports Summit in Chicago.  Read more.
Plastic Disclosure Project Results 
The Zero Waste Research Center conducted analysis through the Plastic Disclosure Project in order to increase transparency.  Through waste audits in multiple buildings, the Center found that 28% of the waste stream is non-recyclable plastic.
Bears are No. 1 (again) in national game-day recycling contest
"The Berkeley campus has successfully defended its title in Recyclemania, the national collegiate basketball game waste-diversion competition. In its [fourth] consecutive win of the game-day challenge, Berkeley achieved its best showing yet, with 96 percent of waste being diverted from landfill."  Read more.
Photo credit: Cal Dance Team members Katie Russell, left, and Anne Flannigan promote the recycling message on game day.
STARS Performance Overview
Waste Category
According to STARS, "This subcategory seeks to recognize institutions that are moving toward zero waste by reducing, reusing, recycling, and composting. These actions mitigate the need to extract virgin materials, such as trees and metals. It generally takes less energy and water to make a product with recycled material than with virgin resources. Reducing waste generation also reduces the flow of waste to incinerators and landfills which produce greenhouse gas emissions, can contaminate air and groundwater supplies, and tend to have disproportionate negative impacts on low-income communities. Waste reduction and diversion also save institutions costly landfill and hauling service fees. In addition, waste reduction campaigns can engage the entire campus community in contributing to a tangible sustainability goal."
Berkeley's STAR Performance
Total Points Available: 10.00
Waster Points Claimed: 7.02
Breakdown--
| | |
| --- | --- |
| | |
| Waste Minimization and Diversion | |
| Construction and Demolition Waste Diversion | |
| Hazardous Waste Management | |
UC Berkeley is working to transform its recycling and waste systems so that the campus sends zero waste to landfills by 2020.
The results of that ambitious project are already reflected in the campus' STARS Waste score, with UC Berkeley capturing 7 out of 10 available points in the field.
That places the campus well in the top quartile among all universities and colleges in the category.
By comparison, research and doctoral institutions as a whole captured less than half of available points in the Waste category.
More than half of all waste generated by UC Berkeley is diverted from landfills or incinerators through recycling, composting, donating or re-selling.
From 2001 to 2017, the amount of materials composted by the campus has more than doubled, while the tonnage of waste disposed of in a landfill or incinerator has fallen to nearly half of what it was.
The campus also already diverts all of its construction and demolition waste away from landfills.
UC Berkeley's Zero Waste philosophy helped inform the design and operation of the new Connie & Kevin Chou Hall at the Haas School of Business.
The four-story classroom and office building is on track to becoming the first business school facility in the U.S. to divert all of its waste away from landfills.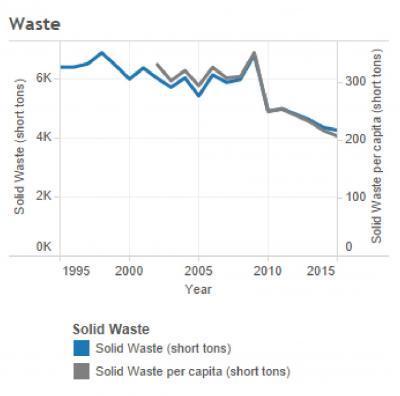 Waste Highlights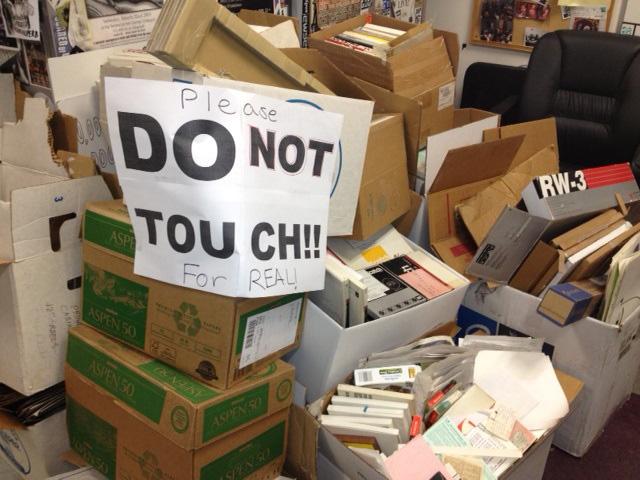 A recycling effort at the Barrow's Hall radio station
Hazardous waste generation and disposal dropped from 341 tons in 2000 to 226 tons in 2015 (including asbestos and lead construction waste).
Mail Services and others work with vendors such as Ecological Mail and Intra Mail network to reduce unwanted mail.
The College of Chemistry Chemical ReUse program dispensed 2927 chemical reagents in 2012.
UC Berkeley's local government and community relations team now helps coordinate  the Cal Move-Out and Move-In Programs in partnership with several campus and community groups.  The program combines outreach to students and property owners about responsible disposal and reuse strategies as well as the deployment of large debris bins in the student-dense neighborhoods near campus.