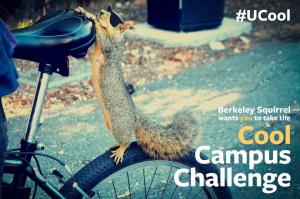 Climate disruption and fun — two words you have probably never heard together - until the Cool Campus Challenge launched earlier this month.
The Cool Campus Challenge is a friendly, educational competition between the 10 campuses over 10 weeks - Oct 6 to Dec 10 - to help the UC achieve its goal of carbon neutrality by 2025. In the first two weeks of the challenge, 2% or about 9,000 faculty, staff and students across UC have joined in the action. 
Turning off lights. getting rid of a space heater, learning more about our goal to become the first university to be carbon neutral are just some of the actions you can take to get you and Berkeley carbon reducing points.  The overall campus with the most points at the end will be crowned "The Coolest UC Campus."

Ways You Help Can Make Berkeley the Coolest UC
After signing up yourself for the challenge:
Ask colleagues and campus friends to do the same. In the "Earn More Points" box, accumulate more points by inviting someone to take the challenge or by recognizing an unsung Berkeley climate solutions hero.
Create a team to accumulate points together. Then start a rivalry with other offices, departments or buildings on campus to see who can earn the most points.
Share your signup on your social media channels. "I just signed up for the UC Cool Campus Challenge. Want to be #UCool like me? Take 2 minutes to join now!"
Get free Cool Campus Challenge marketing tools — including posters, stickers and door hangers — on the website and spread the word far and wide to your networks.
Have your students take the Challenge as extra credit.
Follow the hashtag #UCool to stay current on challenge news and to keep the momentum going.
Become a Cool Campus Ambassador - work with a supportive, dedicated group of climate leaders to engage the campus in participating in the challenge.

While the competition is all in good fun, the end result is a win/win for all of us: fewer greenhouse gas emissions mean a healthier planet.
Learn more, join, and track our progress at http://coolcampuschallenge.org
Read UC Berkeley NewsCenter's article about the Cool Campus Challenge for more information.