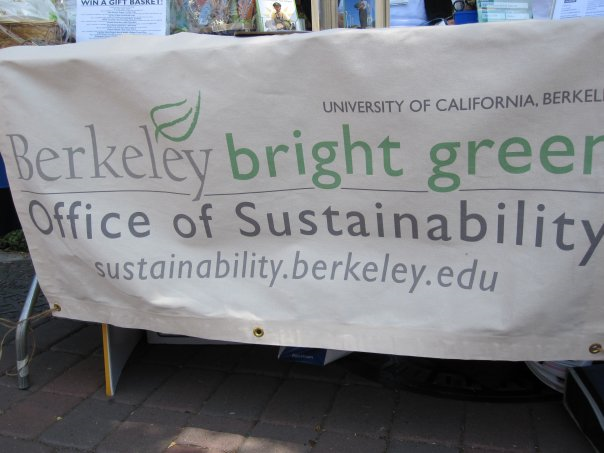 Article by: Amy Craik
Passionate and eager student sustainability leaders gathered on September 17 for UC Berkeley's Office of Sustainability and Energy Annual Fall Forum. This year's forum was revamped to connect environmental student leaders to sustainability resources in hopes of facilitating collaboration, communication, and awareness on upcoming projects and events.
UC Berkeley's Director of Sustainability Lisa McNeilly and Sustainability Manager Kira Stoll kicked off the event with information on campus sustainability initiatives, goals, and current progresses made. This gave leaders an opportunity to see how their own student group plays a role in the goals of the campus community as a whole. The presentation continued with a resource guide provided by the Office student communications associates that organization can utilize. These include the Campus Sustainability Tours (you can request a guided tour from the Office), support with Green Event Certification and finding campus staff sustainability experts to help with initiatives. To promote accessibility, a tutorial on navigating the Office's webpage was included to highlight all of these resources available to student groups.
The forum invited key representatives from campus services like Sharon Daraphonhdeth, from The Green Initiative Fund (TGIF), a grant program that funds sustainability projects, and Katherine Walsh for the SERC, the student environmental resource center. Other keynote speakers included the ASUC Sustainability Team, Campus Recycling and Refuse Services, and Kendra Wrightson from Green Event Certification.
After sharing resources, networking began amongst the student leaders and speakers. Leaders were able to recruit for upcoming events, coordinate inter-club collaboration, and schedule services from the speakers, all while munching on yummy local and organic snacks provided by the Berkeley Student Food Collective.
The Office of Sustainability and Energy recognizes that the 30+ attendees of the forum are the movers and shakers of the vibrant sustainability community at UC Berkeley. The Student Sustainability Leaders Forum helped support and share resources for the campus community, in order to facilitate collaboration towards a more sustainable world.