Article by Lindsey Agnew
Have you noticed brighter, better quality light in buildings throughout campus, or lights that turn on once you enter a room?  These are all due to projects undertaken to reduce energy usage on campus as part of the Strategic Energy Plan, which saves the campus millions in energy costs. The Office of Sustainability met with Raul Abesamis and Jeffrey Kessel, energy engineering and conservation specialists in Facilities Services, to learn more about efforts to save energy by improving campus lighting.
History and Past Projects
Energy conservation efforts first began on campus during the 1973-1974 OPEC oil embargo against the US.  Campus engineers began looking for ways to improve lighting efficiency, and have continued to do so as technology has improved over the years.
Facilities Services has surveyed each lighting fixture in every building to look for ways to reduce energy use.  Past projects have spanned nearly every area of campus. Here is a snapshot of some of the projects that have taken place during the past several years: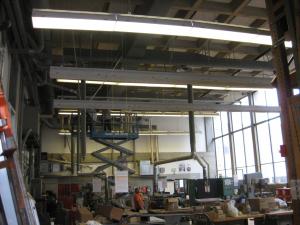 Lower wattage, motion sensor-controlled lighting has been installed in various gyms in the Recreational Sports Facility (RSF) and Hearst Gymnasiums.
Motion-sensing wireless lighting has been added to the design studio tower of Wurster Hall.
A large laboratory in the basement of Etcheverry Hall had its 1,000 watt lighting replaced with high-efficiency induction lighting that has a longer lifetime, produces more light, and reduces energy consumption.
New 230 watt fluorescent lights in the structural testing laboratory in Davis Hall have replaced the old 400 watt metal halide fixtures. 
Energy-saving work lights were installed behind the stage area in Zellerbach Hall to improve lighting quality in the previously under lit area. 
Wireless lighting control systems using occupancy sensors were installed in Doe Library and Moffitt Library in 2008 to automatically turn lights on and off with the libraries' opening and closing, versus the previous 24-hour illumination. This project needed a way to control the lights without impacting the architecture and aesthetics of the buildings, and the wireless system provided for this. The installation in Moffitt Library won the Lighting Design Retrofit Best Practice Award at the 2008 UC/CSU Sustainability Conference.
In 2010, the 1,000 exterior light posts on campus were converted from metal halide lighting to LED lighting, which consumes 75 percent less energy and has a longer lifetime, all while preserving the historic look. Because the new LED lighting reduced overall energy usage, this allowed for the addition of new lighting fixtures on the same circuits. These new fixtures were placed in areas to increase campus nighttime safety.
Working with Architecture Students to Improve Lighting in Wurster Hall
Staff and students worked together to complete a lighting retrofit project in Wurster Hall in 2010. "It was unique as we worked with a building science class to do lighting analysis and make recommendations for reducing lighting load. We also had a follow up project last year in the Fabrication Shop, which was greatly assisted by the student report and analysis," said Eliahu Perszyk, Facilities Manager for the College of Environmental Design. These projects save the campus over $50,000 in electricity costs and 626,000 kilowatt-hours in energy usage annually.
These renovations were also designed to engage students in taking an active role in energy conservation. "The lighting in the design studios, which receive lots of daylight, was set up so that the occupants must press the light switch twice to turn on all of the lights, as they go on half at a time. There are also occupancy sensors. So the students are more engaged with operating the lighting efficiently," said Perszyk.
Other improvements in Wurster Hall include transitioning building corridor lighting to daylight controls, and increasing the efficiency of display lighting while maintaining good color rendition for showcasing design work.
Saving Energy, Saving Money
All of these projects are part of UC Berkeley's Strategic Energy Plan, an incentive-based partnership with Pacific Gas and Electric, the campus's utility provider. One component of the Strategic Energy Plan is that PG&E gives the campus rebates based on how much energy the campus saves each year, significantly lowering UC Berkeley's energy costs. 
And just how big are these savings? "Roughly speaking, the lighting projects implemented since 2006 under the SEP partnership program, resulted in about 10,000,000 kilowatt-hours savings per year or about 1 million dollars per year savings in energy cost," said Abesamis. 
The utility rebate from the Strategic Energy Plan also greatly reduces the payback times for lighting improvement projects. For example, the energy saved from converting a 60 watt, 2-foot fluorescent fixture to operate at 48 watts by installing high efficiency lamps and ballast would pay the campus back for installation costs in about six years with the utility rebate. Without the rebate, the payback times would be much longer, and it would be harder to finance these projects.
These updated fixtures also have a much longer lifetime than older, traditional lights – new fluorescent tubes can last 30,000 hours. This reduces both the amount of replacement bulbs that need to be bought and the maintenance needed to change them. 
What's next?
The Facilities Services department is always looking for new ways to help the campus save energy. Most fluorescent lighting on the central campus has been made as efficient as possible under current technology, and now Facilities Services is working with campus auxiliaries such as the Athletics Department and Albany Village to reduce their energy consumption as well.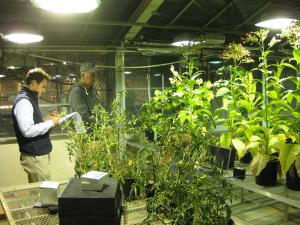 Upcoming projects include updating the lighting in the Oxford Tract Greenhouses.  Currently, the Oxford Tract Greenhouses use energy-intensive 1,000 watt metal halide light fixtures. Facilities Services is working with researchers in the greenhouses to test plant growth under new, energy-efficient 300 watt fixtures – and so far the results have been encouraging.  They are also considering using a photocell control system to modulate the lighting with the amount of sunlight, which could lead to 20 percent energy savings.
Smaller projects that can be expected in the future include new corridor lighting in Haviland Hall which saves energy by being triggered by wireless motion sensors and compact fluorescent lighting retrofit conversion to LEDs at the VLSB and Haas School of Business hallways.
Last year, Facilities Services surveyed campus stairwells having continuous lighting throughout the day and night. They began a pilot program with LED lights with occupancy sensors which dimmed the lights by 90 percent when there were no passersby. There are plans to expand this project to the rest of campus in the future.
 As of July 1, 2014, all new projects on campus need to meet updated Title 24 Building Efficiency Standards set by the state. Facilities Services is now working on identifying campus lighting updates to implement under the new standards, which promote integrating LED lighting with automated control systems.
"Lighting in the future will most likely focus on making lighting more granular, providing proper levels of lighting  in areas where it is needed, when it is needed," Abesamis said. "This can be achieved by expanding lighting controls technology in our buildings and grounds, as mandated by the state."
Importance of Energy Conservation
In the past ten years, about 100 lighting retrofit projects have been completed on campus. While some of these individual projects may seem small, the cumulative effect is grand and the benefits are far-reaching and sustainable over the long-term.
Replacing old fixtures with more energy-efficient lighting saves the campus money, which can be redirected towards other areas. It also enhances the work environment for students and staff by improving the quality of lighting, and the new control systems help engage them in conserving energy. Using less electricity overall reduces the pollution caused by energy production, and saves valuable energy resources for the future. 
"Energy conservation is important due to our limited energy sources," said Abesamis. "We should be focused on reducing our energy use resulting in lower emissions and help sustain our environment."