Water levels in California are currently at the lowest point since records began 100 years ago, and are not expected to recover soon. In response to this severe drought, Governor Jerry Brown officially declared a statewide drought emergency, and created mandatory reductions of urban water use by 25 percent. 
How has the campus responded to the drought?
Of the 605 million gallons of water per year of the water the campus uses, roughly 50 percent is used for domestic purposes, 30 percent is used by lab buildings, 25 percent is used by the steam plant, and 8 percent is used for landscaping. In response to the drought, the campus is striving to reduce water use across all areas of consumption, and efforts are working. Total potable water use decreased by 1.8% in 2013, and is down 7.7% since 2008. Since the start of the drought, UC Berkeley has further reduced main campus water use by 6-8%. More information about UC Berkeley's water usage can be found on the Water Initiatives Page.
"The campus response to the drought has been very proactive, from fixing leaks to changing behaviors to finding long-term reduction solutions. Since drought will always be a part of life in this area, we need to develop new habits about our water consumption," said Lisa McNeilly, Director of Sustainability and Energy.
Inexpensive retrofits that reduce the flow per flush have been installed in bathrooms in University Hall, McCone Hall, Life Sciences Addition, Haas School of Business, Davis Hall, and part of Evans Hallm and are planned to be installed in all possible buildings. The new flushometers reduce water use from 3.6 to 1.6 Gallons Per Flush (GPF) for toilets and from 3.6 to 1.2 GPF for urinals. Bathrooms in high traffic areas with pre-existing plumbing for flushometers have the greatest return on investment for such a retrofit. Work will soon be underway in buildings including Koshland Hall and Dwinelle Hall.
The installation of additional water meters will improve water consumption monitoring at UC Berkeley.  The campus recently installed and upgraded meters in 21 buildings, bringing the total number of metered buildings to over 67. These digital meters allow Facilities Services to monitor usage online and respond to leaks more quickly. In addition to addressing leaks, Facilities Services also works to investigate whether there are other issues in some of the largest-consuming campus buildings. Starting with Life Sciences Addition, the team has been monitoring water meters, working with building managers to implement an Aquatics Lab Policy Change, improving the efficiency of the cooling tower, and investigating the sump and vacuum pumps. The results are highly positive: LSA's water consumption has decreased by 32% from fiscal year 13-14 to fiscal year 14-15. 
While landscaping accounts for less than 10% of campus water usage, it remains a very visible and important component. Facilities Services and others have worked to upgrade and automate the irrigation system over the last few years. One aspect of this was installing weather station-based controllers, funded through a TGIF Grant. The central control system records real time weather data and alters irrigation cycles according to wind, solar, humidity, evapotranspiration, and temperature.
Other projects have included high efficiency systems, drip and low precipitation sprinkler heads, increasing mulch, and water flow meters on all systems.  Upcoming work includes the installation of 19 new flow switches to ensure repairs happen more quickly. The flow switches contain an alarm that will go off when the flow exceeds a set parameter, which prevents the system from continually running in the event of a valve or sprinkler head break.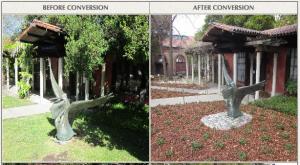 In addition to increasing the efficiency of the irrigation system, there have been many efforts to reduce the amount of irrigated lawn on campus. The campus is planning to convert various sites on campus to use less water. This lawn conversion program was originally funded through a TGIF Grant, but has now been expanded to convert unused lawns to native and drought tolerant species.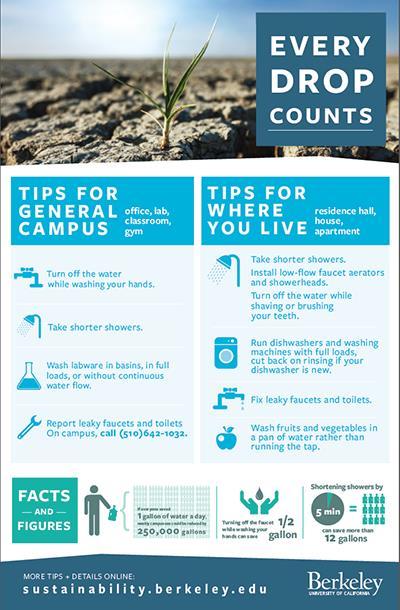 How has EBMUD responded to the drought?
East Bay Municipal Utility District (EBMUD) provides drinking water for Alameda and Contra Costa counties. Currently, reservoirs are about half full, and with no rain in sight reservoirs are expected to continue to lower. 
EBMUD is currently asking users to cut back their water use by 15 percent compared to their use in 2013. On April 14, the EBMUD Board will review the water supply status,  drought severity and potential actions, and water use restrictions may significantly change.
Currently, all EBMUD customers are required to:
-Limit watering of outdoor landscapes to two times per week maximum and prevent excess runoff.
-Use only hoses with shutoff nozzles to wash vehicles.
-Use a broom or air blower, not water, to clean hard surfaces such as driveways and sidewalks, except as needed for health and safety purposes.
-Turn off any fountain or decorative water feature unless the water is recirculated.
How can you help save water?
There are many easy ways you can reduce your water usage. These include:
-Taking shorter showers.
-Installing low-flow faucet aerators and showerheads.
-Turning off the water while washing your hands, shaving or brushing your teeth.
-Running dishwashers and washing machines with full loads, and cut back on rinsing if your dishwasher is new.
-Fixing leaky faucets and toilets.
-Washing fruits and vegetables in a pan of water rather than running the tap.
 For more tips on how you can help conserve water, visit the Office of Sustainability and Energy's Drought Response Page and read the Daily Californian's compilation of water saving tips for students.