Campus Initiatives

   Climate

   Built Environment


  Energy


   Food


   Land Use


   Procurement 


   Transportation 


   Waste


   Water


   Academics & Learning


   Research


   Engagement


   Metrics
Check out this PSA about the Drought from the "Splash Brothers"
"Splash Brothers" Stephen Curry & Klay Thompson created a public service announcement to promote water conservation. This is part of an effort by CSN Bay Area, the Golden State Warriors, and Save Our Water team up to raise awareness during California's historic drought.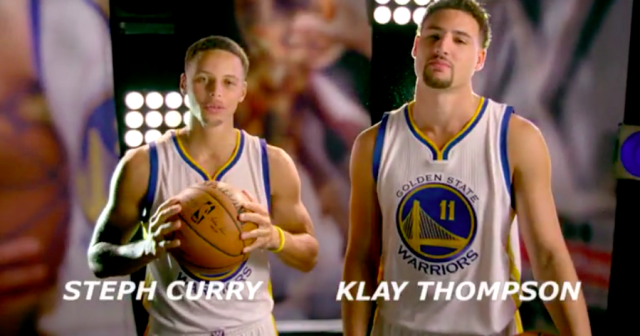 What is the Source of Our Water?
The campus purchases almost all of its water from the East Bay Municipal Water District.  EBMUD's water supply comes from the Mokelumne River watershed in the Sierra Nevada Mountains.  The water is stored seasonally in reservoirs, which are currently more than half full.  EBMUD recently decided to request 10% voluntary reductions from all users – to stretch the existing supply in these reservoirs – but may still implement mandatory restrictions depending on rainfall in the next couple of months.

How Much Water Does the Campus Use?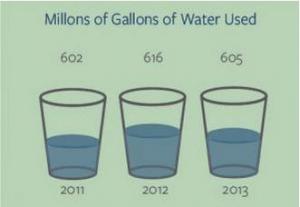 In 2011 – before the current drought – the campus set a goal to reduce potable water use to 10% below 2008 levels by 2020.  Through efforts to date, we are already past the halfway mark toward that goal, and campus use is down a total of 18% since 1990, even given the growth in campus facilities in that same timeframe.   
Campus uses approximately 605 million gallons of water per year:
50% of water goes to "domestic use": bathrooms, kitchens, showers, etc.
25% of all campus water use happens in the residence halls
Irrigation accounts for 8% of total water use
Lab buildings use around 30%, and the steam plant uses 12%
But How Much Water Can I Really Be Using in a Day?
It depends, but here are some examples of how much water is used in common daily activities:
Brushing Teeth=3 gallons/day
Shower=40 gallons every 10 minutes
Bath=20 gallons
Toilet=28 gallons per day per person
Cooking=5 gallons per day