Every Drop Counts: The California Drought and the Campus
California is no stranger to drought. In May of 2021, California Governor Gavin Newsom declared a drought emergency in 41 of California's 58 counties. Since then, drought conditions have continued to worsen across the state, exacerbated by the current climate crisis. The UC Berkeley campus community has responded to these ongoing conditions with changes to both infrastructure and behavior.
Learn more about our campus & the drought:
Report leaky faucets or misdirected sprinkler heads – on campus, call Facilities Services at (510) 642-1032.
Every Drop Counts: Water Saving Questions and Answers
Here's a list of some tips to get started.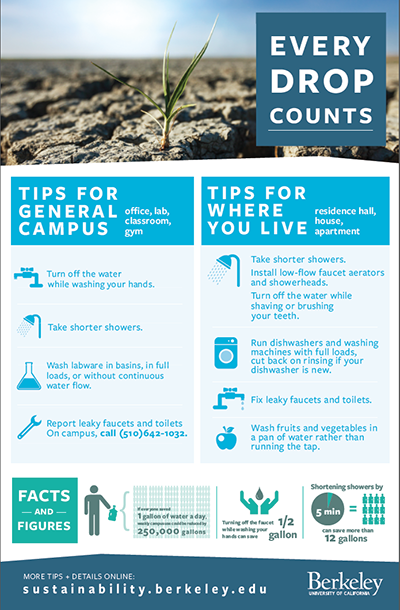 Download this poster to print and share.
Tips for campus (office, lab, classroom, gym)
Turn off the water while washing your hands.
Take shorter showers and consider turning off the water while soaping your hair.
Wash labware in basins, in full loads, or without continuous water flow.
Report leaky faucets and toilets – on campus, call 510-642-1032.
Tips for where you live (residence hall, house, apartment)
Take shorter showers.
Install low-flow faucet aerators and showerheads.
Turn off the water while washing your hands, shaving or brushing your teeth.
Run dishwashers and washing machines with full loads, and cut back on rinsing if your dishwasher is new.
Fix leaky faucets and toilets. 
Not sure if your toilet leaks?  Drop some food color in the tank -- if any of the color shows up in the bowl, you have a leak.
Water your garden when it's cool to minimize evaporation
Wash fruits and vegetables in a pan of water rather than running the tap.
Plant drought tolerant plants around your home and water less frequently but more deeply.
Install a drip irrigation system for your garden.
To aid in California's water conservation practices: 

Limit watering of outdoor landscapes to two times per week maximum and prevent excess runoff.
Use only hoses with shutoff nozzles to wash vehicles.
Use a broom or air blower, not water, to clean hard surfaces such as driveways and sidewalks, except as needed for health and safety purposes.
Turn off any fountain or decorative water feature unless the water is recirculated.
Where Can I Share My Ideas About Saving Water? I Have a Question That Wasn't Answered.
How Much Water Does the Campus Use?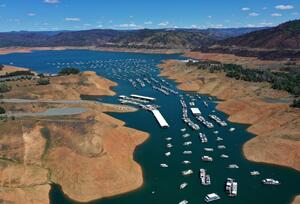 In 2019, the campus used 584 million gallons of water, which is a 24% decrease since 2008. In 2019, the campus met the UC 2025 reduction goal.
From 2007 to 2019, per person water usage decreased by 37%.
About half of the water consumed on campus is domestic (toilets,urinals, showers, and faucets), divided equally between residence halls and all other campus buildings.
About one-quarter of usage is in lab buildings (excluding their domestic usage), with irrigation and the steam plant each using about 10% of the total.
Over 90% of irrigation systems are automated and connected to a weather station. Approximately 24,000 gallons of rainwater are reused each year for irrigation at the Boalt Law School, and there is a stormwater capture and reuse system at Eshleman Hall and Chou Hall.
But How Much Water Can I Really Be Using in a Day?
It depends, but here are some examples of how much water is used in common daily activities:
Brushing Teeth = 3 gallons/day
Shower = 40 gallons every 10 minutes
Bath = 20 gallons
Toilet = 28 gallons per day per person
Cooking = 5 gallons per day
Calculate your water footprint here!
Where Can I Look for More Information?