Every Drop Counts: The California Drought and the Campus
Too Good To Waste: Drought in Berkeley as a Catalyst for Innovation
Every Drop Counts: Water Saving Questions and Answers
Concerned about the drought, but don't know what to do first?
Here's a list of some tips to get started.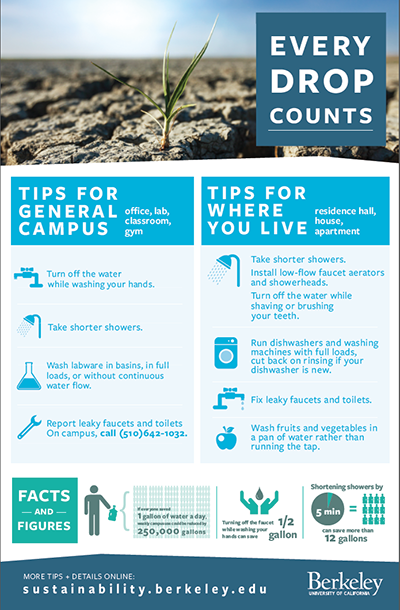 Download this poster to print and share, 
or email sustainability@berkeley.edu to pick up a copy!
Tips for campus (office, lab, classroom, gym)
Turn off the water while washing your hands.
Take shorter showers and consider turning off the water while soaping your hair.
Wash labware in basins, in full loads, or without continuous water flow.
Report leaky faucets and toilets – on campus, call 510-642-1032.
Tips for where you live: residence hall, house, apartment
Take shorter showers.
Install low-flow faucet aerators and showerheads.
Turn off the water while washing your hands, shaving or brushing your teeth.
Run dishwashers and washing machines with full loads, and cut back on rinsing if your dishwasher is new.
Fix leaky faucets and toilets. 
Not sure if your toilet leaks?  Drop some food color in the tank -- if any of the color shows up in the bowl, you have a leak.
Water your garden when it's cool to minimize evaporation
Wash fruits and vegetables in a pan of water rather than running the tap.
Plant drought tolerant plants around your home and water less frequently but more deeply.
Install a drip irrigation system for your garden.
To follow California's emergency water conservation restrictions: 

Limit watering of outdoor landscapes to two times per week maximum and prevent excess runoff.
Use only hoses with shutoff nozzles to wash vehicles.
Use a broom or air blower, not water, to clean hard surfaces such as driveways and sidewalks, except as needed for health and safety purposes.
Turn off any fountain or decorative water feature unless the water is recirculated.
What is the Campus Doing?
UC Berkeley has already made significant water use reductions – water use per person is down over 20% in the last 10 years. The current drought emergency has the campus redoubling its efforts to look for new ways to save water.  In addition to complying with community-wide restrictions set by the East Bay Municipal Utility District (EBMUD), the campus has sought the following areas:
Irrigation: 

Irrigation on the central campus has been reduced to no more than two days per week. Some lawns will be watered no more than one day per week and are expected to go mostly dormant.

Lawn Conversions:

 

A number of campus lawns have been identified for conversion from grass to lower water landscapes or mulch areas only.  Many lawn conversations have already taken place and implementation of conversion projects continues.

Fountains: 

Four of the campus' five fountains will be emptied and maintained to minimize possible damage as they remain without water. The campus' two decorative pools are scheduled to be filled with reclaimed water.

Washdows: Pressure washing sidewalks, stairs, patios, and courtyards is only done as needed for health and safety reasons. When outdoor areas are cleaned, non-potable well water is used.

Construction: 

Use of water on construction sites is carefully monitored. Opportunities to capture non-potable water for use with dust control are being explored.

Playing Fields: 

Irrigation of grass turf has been reduced to no more than two days per week. Water is applied to artificial turf as needed for safety and cleaning. 

Opportunities for conversion of grass to synthetic turf are being considered.

Labs: 

Facilities Services staff has identified a number of water-saving projects for existing labs and is pursuing funding to carry out these infrastructure/system improvements. 

UC Botanical Garden:

The UC 

Botanical Garden has been repairing, replacing and upgrading its irrigation system for the last few years and has recognized significant water saving. 

The garden is also a resource for the community on waterwise gardening.

People's Park: 

Irrigation of lawns at People's Park has been reduced to no more than one time per week. No new trees will be planted in the park until water restrictions are lifted.

Green Roofs: 

The campus has a few buildings with green (living) roofs. Water for these has been limited to no more than two days per week.

Campus Housing: Cal Housing has installed 1.5 gallon per minute showerheads in residence halls, and replaced bathroom fixtures in the Channing Bowditch and Ida Jackson halls.  Maximino Martinez Commons is an extremely water-efficient building, and has 1.23 gallons per flush as well as dual flush fixtures.

Conference Services: 

Conference Services is working on information about the drought and water conservation for summer guests that will be included in welcome packets.
This information was taken from UC Berkeley Real Estate's Drought Response Page. Visit their website for more information.
Where Can I Look for More Information?
Where Can I Share My Ideas About Saving Water? I Have a Question That Wasn't Answered.
Campus Initiatives

   Climate

   Built Environment


  Energy


   Food


   Land Use


   Procurement 


   Transportation 


   Waste


   Water


   Academics & Learning


   Research


   Engagement


   Metrics
Check out this PSA about the Drought from the "Splash Brothers"
"Splash Brothers" Stephen Curry & Klay Thompson created a public service announcement to promote water conservation. This is part of an effort by CSN Bay Area, the Golden State Warriors, and Save Our Water team up to raise awareness during California's historic drought.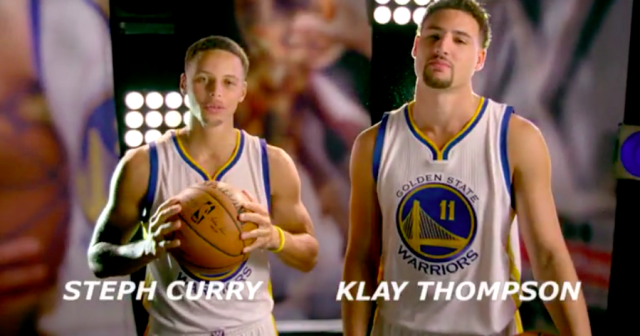 What is the Source of Our Water?
The campus purchases almost all of its water from the East Bay Municipal Water District.  EBMUD's water supply comes from the Mokelumne River watershed in the Sierra Nevada Mountains.  The water is stored seasonally in reservoirs, which are currently more than half full.  EBMUD recently decided to request 10% voluntary reductions from all users – to stretch the existing supply in these reservoirs – but may still implement mandatory restrictions depending on rainfall in the next couple of months.

How Much Water Does the Campus Use?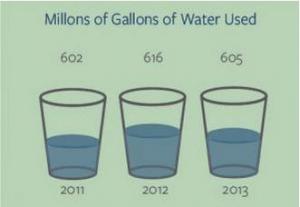 In 2011 – before the current drought – the campus set a goal to reduce potable water use to 10% below 2008 levels by 2020.  Through efforts to date, we are already past the halfway mark toward that goal, and campus use is down a total of 18% since 1990, even given the growth in campus facilities in that same timeframe.   
Campus uses approximately 605 million gallons of water per year:
50% of water goes to "domestic use": bathrooms, kitchens, showers, etc.
25% of all campus water use happens in the residence halls
Irrigation accounts for 8% of total water use
Lab buildings use around 30%, and the steam plant uses 12%
But How Much Water Can I Really Be Using in a Day?
It depends, but here are some examples of how much water is used in common daily activities:
Brushing Teeth=3 gallons/day
Shower=40 gallons every 10 minutes
Bath=20 gallons
Toilet=28 gallons per day per person
Cooking=5 gallons per day