Expanding the culture of sustainability at University of California, Berkeley requires improving access to information, educating a broad range of campus members, and empowering people to take positive action. Following a series of staff sustainability trainings at UC Berkeley the question arose – how do we keep these staff engaged in taking more action to green the operations of the campus and how do we foster continual learning?
Looking to a growing model for institutional learning and training, the Office of Sustainability and Energy launched the Berkeley Sustainability Community of Practice.   "Communities of Practice are groups of people who share a concern, a set of problems, or a passion about a topic, and who deepen their knowledge and expertise in this area by interacting on an ongoing basis" (Wenger, McDermontt, Snyder).  Through these social based networks the groups create their own continuous learning experiences.
The community is now meeting about four time a year and has 25 to 30 regular participants.  The community has identified priority topic areas - currently they are energy/climate, stakeholder engagement, and waste reduction.
To learn more about the Berkeley Sustainability Community of practice, click here to join the email list serve.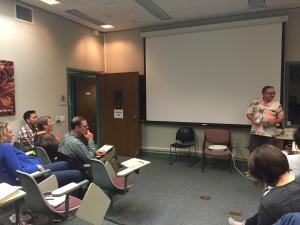 Meeting Times for Spring 2016 TBA