TGIF Grants

The Green Initiative Fund (TGIF) is UC Berkeley's Campus Green Fund. TGIF provides grants for student, faculty, and staff-initiated sustainability projects at UC Berkeley. TGIF allocates funds to projects that promote sustainable modes of transportation, increase energy and water efficiency, restore habitat, promote environmental and food justice, and reduce waste. Portions of the fund also support education and behavior change initiatives, student aid, and student internships. TGIF is funded by student fees.
Since its inaugural grant cycle in spring 2008, TGIF has awarded more than $3.4 million in grants to 251 grant projects. These projects have included the funding of 464 student sustainability internships.
As of Spring 2020, 182 TGIF projects have successfully concluded and 63 are currently in-progress. 
You can find further information about TGIF, including information about how to obtain grants, by going directly to their website.
Have an idea for a project that involves campus facilities?
Part of UC Berkeley's research mission is to ensure that the campus environment serves as a learning laboratory for students and researchers. Recognizing that the campus environment is a shared resource managed by professional staff, the campus has a review process is in place to ensure that facility-related teaching and class and research projects respect and protect this common good. Examples of projects that require this review are community gardens, art installations, etc.
Do you know of other funding opportunities?
If you find other grants that might be of interest to the UC Berkeley sustainability community, please let us know by emailing sustainability@berkeley.edu.
TGIF's Legacy
The first campus bicycle initiative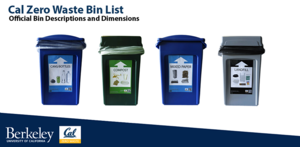 The first campus standardized recycling system