TGIF Grants
The Green Initiative Fund (TGIF)is UC Berkeley's Campus Green Fund. TGIF provides grants for student, faculty, and staff-initiated sustainability projects at UC Berkeley. TGIF allocates funds to projects that promote sustainable modes of transportation, increase energy and water efficiency, restore habitat, promote environmental and food justice, and reduce waste. Portions of the fund also support education and behavior change initiatives, student aid, and student internships.  TGIF is funded by student fees.
You can find further information about TGIF, including information about how to obtain grants, by going directly to their website.
Do you know of other funding opportunities?
If you find other grants that might be of interest to the UC Berkeley sustainability community, please let us know. You can write to us at sustainability@berkeley.edu.
TGIF's Legacy
TGIF funded the first campus bicycle initiative (2009).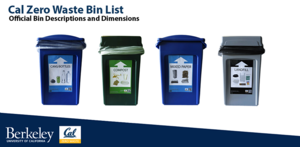 TGIF funded first campus standardized recycling system (2009).