Student Contributions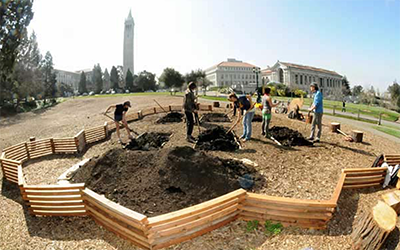 Undergraduate and graduate students' creative initiatives contribute to campus carbon-cutting solutions. Student CalCAP research has helped us better understand the full scope of our emissions – from evaluation of the carbon associated with our purchasing to projecting how much carbon we would be responsible for 40 years from now if we don't curb it. Student work has also made recommendations on a renewable energy mix for the campus and explored deeper energy efficiency measures.
"Being at the world's top public research university is one thing, but doing research as a student to help it reduce its carbon footprint is really an honor. Berkeley is becoming a model for carbon reductions, and not just in higher education," said Autumn Petros Good, a Ph.D. student in the UC Berkeley Energy and Resources Group and a member of the CalCAP steering committee.
Student Carbon Neutrality Fellows
Student fellowships have been created to fund student-generated projects supporting the UC Carbon Neutrality Initiative - achieving zero-net greenhouse gas emissions by 2025. The program began in spring 2015, with fellows participating in a July 20 symposium in San Francisco. The program is open to both undergraduate and graduate students. The next round of CNI fellows will be selected in fall 2015. 
To contact the current Student Carbon Neutrality fellows, email sustainability.berkeley.edu.
Student Contributing Reports
CalCAP Class Reports