2018 Sustainability Summit
The 15th Annual CACS Sustainability Summit was an inspiring event!
Our guest speakers, including Chancellor Christ and CEO Vien Truong of Dream Corp, #GreenForAll, explored this year's theme: Celebrating the Sesquicentennial - Berkeley Sustainability 150+: Founding to Future. We also proudly honored our six sustainability awardees.
See our highlights from the summit:
Berkeley's sustainability timeline.
Campus project posters.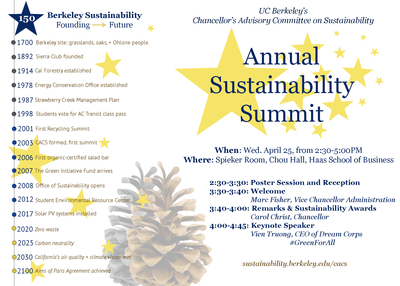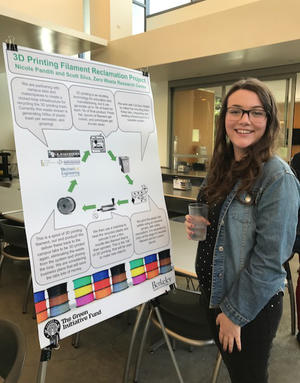 History of the Sustainability Summit
CACS first met in October 2003, and within a year hosted the first annual UC Berkeley Sustainability Summit.  Since then, CACS has hosted a UC Berkeley Sustainability Summit every April during Earth Week. These events serve to gather the campus sustainability community - to honor achievements with Sustainability Awards, to give general community members the chance to green their campus with Green Fund Grants, to highlight major initiatives, and above all to reconnect and share.
Campus Initiatives
2014 Sustainability Awards