Berkeley excels in many higher education rankings and can now add another high score:  Sierra magaz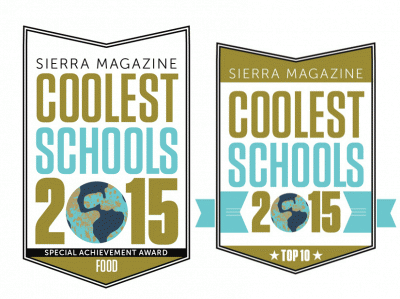 ine, the official publication of the Sierra Club, ranked UC Berkeley in the Top 10 of its recently released ninth annual "Cool Schools" ranking of America's greenest colleges and universities.
Each of the schools ranked in the top 20 have displayed a deep and thorough commitment to protecting the environment, addressing climate issues, and encouraging environmental responsibility.  Berkeley excels across the board on these commitments.
According to Sustainability Manager Kira Stoll, Berkeley's ranking is due to the broad range of activities on campus.   "Thousands of people in the Berkeley community are taking action every day to be great stewards of the environment - it is really cool to be recognized for this passion and commitment."  Each day over 40,000 people choose to commute to campus by walking, ridesharing, bicycling and taking transit, efficiency efforts are saving lots of energy and millions of dollars, and the Student Environmental Resource center is supporting a wide variety of student initiated co-curricular activities.  
Earning an extra distinction of being in the Top 3 Cool Schools for food, Berkeley's Director of Dining Shawn LaPean offered that "Cal Dining is grateful to be on a campus that is so forward thinking in terms of sustainable programs and feel honored that we help in a small way UC Berkeley be a 'cool school'. We pledge to continue our efforts towards more healthy, sustainable and plant forward menus and services in the years to come."
Sierra magazine took special notice as well to Berkeley's contributions to global sustainability in its write up: "Over the past year, Berkeley research has predicted the ocean's future extinction hot spots, shown that California's forests are losing large trees, and proved that the state's solar boom created more than 15,000 new jobs."  On the academic front, while Berkeley does not have a course requirement, over 500 sustainability courses are offered and 29% of students graduate having taken at least one these class.
More than 150 schools filled out Sierra's extensive survey about sustainability practices on campus. Using a customized scoring system, Sierra's researchers ranked the universities based on their commitment to upholding high environmental standards.  The full ranking of 153 colleges, including each school's completed questionnaire, is online at www.sierraclub.org/coolschools.
What's next according to Stoll – "we will continue to deepen our efforts in sustainability and pay particular attention to engaging everyone in strategies that reduce our footprint as we strive to meet UC's commitment to carbon neutrality by the year 2025."