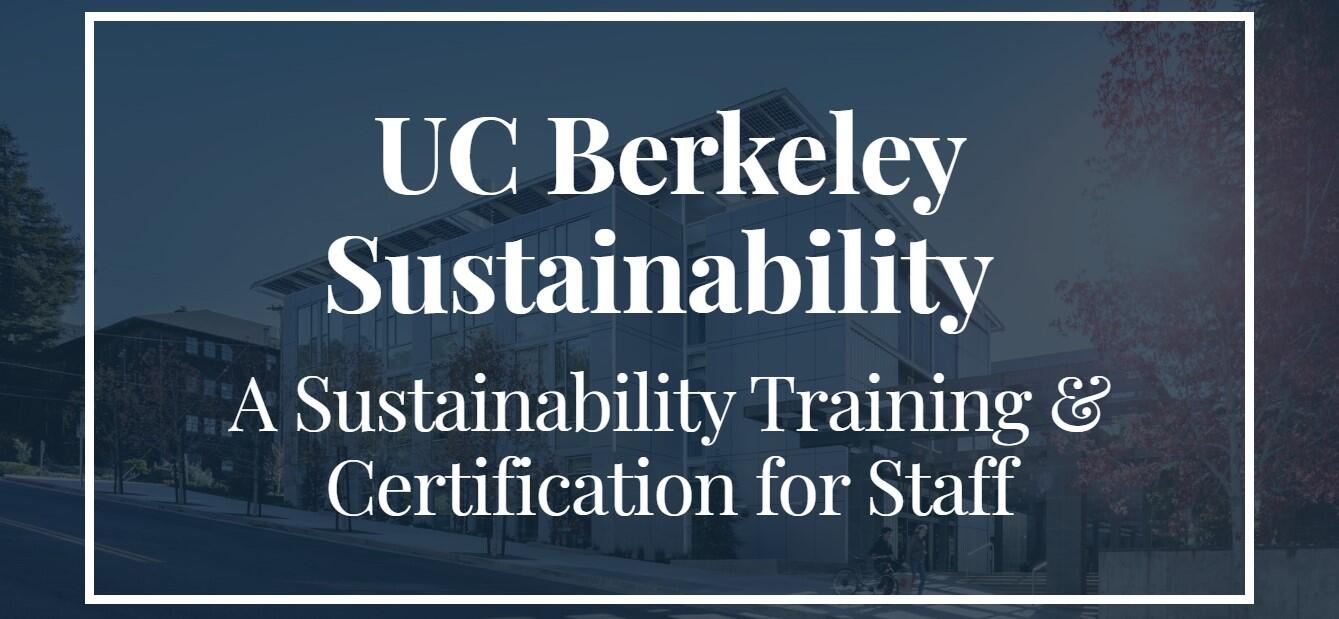 Now unveiled, the Office of Sustainability has released its newly created Sustainability Training and Certification for UC Berkeley Staff. This certification program is composed of ten comprehensive modules, designed to allow you to work and complete at your own pace. Upon successful completion of the 10 modules, UC Berkeley Staff can earn a Staff Sustainability Training Certification of Completion showing your gained knowledge in sustainability. To record your staff development achievement it is recommended that staff enroll through the UC Learning Center. Becoming certified through this program also situates you to become a peer to peer campus sustainability advisor, helping us build a widespread culture and community of sustainability at Berkeley. 
The Modules
The modules are designed to be a resource on important topics in environmental, social, and economic sustainability while offering a snapshot of UC and UC Berkeley's unique culture and progress in these fields. The modules are a mix of topic and concept introductions supported with videos, articles, and more. The modules include carbon neutrality, zero waste, resiliency and environmental justice, sustainable eating, ecosystems and biodiversity, built environment, transportation, sustainable spending, water, and engagement. Each module will take 20 to 30 minutes to complete.
Staff: Begin Your Sustainability Certification
Certification is offered in two ways: (1) self-paced or (2) group-paced with discussions. 
(1) To begin your certification process: click this link here to be directed to the UC Learning Center. After logging in, press start in the upper right corner of the screen to be directed to your self-paced staff training. 
(2) The Office of Sustainability is also offering a chance to follow the training with others as a group. Together the groups would run through the modules at a group pace, followed up discussions mid-way and at the end of completing the training. The first class of this would receive their certification by the end of January. If you would like to be a part of the first inaugural class of trained staff, please email @rohithmoolakatt@berkeley.edu to notify us of your interest. The first discussion will be on Monday, December 7th from 12-1 PM. The second discussion will be on Wednesday, January 27th from 12-1 PM. 
As a Sustainability Resource
This staff training website also functions as a wholistic introduction to Sustainability at UC Berkeley with the intention of being used as a resource to students, faculty, and the greater Berkeley community. To access this website as a sustainability resource rather than a training, click this link here