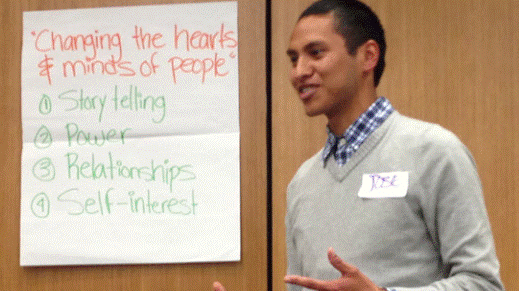 Article by:  Ben Rushakoff
On October 1st, the Berkeley Climate Action Coalition (BCAC) met at Ed Roberts Campus to hear host their quarterly meeting and dinner. Established in 2012, the Berkeley Climate Action Coalition is convened by the Ecology Center and supported by the San Francisco Foundation to help implement the City of Berkeley's Climate Action Plan. The coalition is made up of activists, professionals, and Berkeley community members of all ages and domains that are passionate about making Berkeley as sustainable as possible. Together, they are primarily focused on community-based climate initiatives via a variety of working groups and committees. Such working groups include Community Choice Energy, Water, Land Use, and Transportation. More specifically, Community Choice Energy is working toward an Alameda County Community Choice Aggregation in which Berkeley, amongst other cities, would be able to purchase clean energy from renewable, local sources.  Land Use aims to replace vacant lots with community gardens. Together, these working groups make up most of the BCAC's activities. 
At the most recent meeting held at the beginning of October, the coalition invited Alliance for Climate Education (ACE) to share their impressive multi-media presentation with the coalition. The presentation is targeted at Bay Area high school students and utilizes animation, music, video, and storytelling to educate students about resource usage, carbon emissions, climate science, and most importantly, how to participate climate activism. As current high school students are inheriting the responsibility of climate action, it is important that they are introduced to the issue in a palatable and actionable way. ACE provides newly climate-educated students with a community through which they can connect with other students to initiate and continue their activism.
After the presentation, a student panel of ACE activists shared their activist experiences and perspective on climate education. When asked whether students really care about climate change, they all agreed that once educated, it is impossible not to care. Thus, education is the key to the climate movement. The youth panel called on adult attendees for support and mentorship within the climate action movement, as the exchange of knowledge across generations is imperative to progress.
To get involved with the Berkeley Climate Action Coalition, check out their website http://ecologycenter.org/climatecoalition/, with helpful links to all of their working groups and upcoming meetings. The UC Berkeley Office of Sustainability and Energy is a member of the Steering Committee of the BCAC, so share your ideas with us too.  If you are interested in a presentation from the Alliance for Climate Education, check out http://www.acespace.org.