UC Berkeley won two 2016 Higher Education Energy Efficiency and Sustainability Best Practice Awards: Jacobs Hall for Energy Efficiency in Construction/Renovation, and Brown's for Sustainable Food Systems The Best Practice Awards are selected from campuses in the University of California and California State University systems by the CA Higher Education Sustainability Conference. More information about the Best Practice Awards program can be viewed here.
Jacobs Hall was designed as both a collaborative, project-based educational space and a symbol to the region of the University's commitment to sustainable innovation. It includes features such as:
ADVANCED ENERGY-EFFICIENCY: The project is designed to exceed the AIA 2030 Commitment target, using 90% less energy than the national median for university buildings (per CBECS).

ENERGY PIGGYBACK:  The building utilizes surplus hot and chilled water for space conditioning from adjacent Soda Hall, saving both the embodied energy and space required to generate these resources onsite.
RENEWABLE ENERGY: A 74kW photovoltaic array provides over half of the building's energy requirement. 
HIGH-PERFORMANCE ENVELOPE: A highly insulated envelope, with exterior insulation, rain screen cladding and integrated sun-shading on three exposures, manages external building loads.  Energy Star-rated cool roofing and high-albedo paving help to further reduce cooling loads in warm weather.
AIR: The building opens to the prevailing winds, allowing all instructional spaces above the basement level  to be naturally ventilated.
SITE ECOLOGY:  Landscape around the building has been planted with drought-tolerant plants and Incense Cedars, which preserves habitat for native species as well as serves as a bio-swale / rain garden that filters all roof drainage before it enters the storm drainage system. 
WATER CONSERVATION: The project reduces total potable water use by 50% and treats 100% of roof drainage.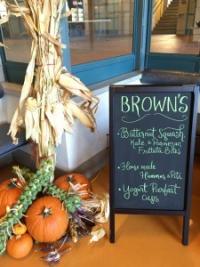 Brown's - A California Cafe, a restaurant on the northwest part of campus run by Cal Dining, is committed to serving local foods grown, milled, preserved, and processed within 250 miles of the UC Berkeley campus whenever possible. Brown's kitchen uses scratch-cooking techniques to produce delicious vegetable-forward menu items as well as "better meat" options such as grassfed burgers and rotisserie organic chicken. Located in the Genetics and Plant Biology Building, Brown's strives to provide a meal that bridges nutrition, sustainability, and taste. Cal Dining Director Shawn LaPean says Brown's is an example of Cal Dining's efforts to "stay in tune with the current changes in the marketplace and with priorities of the UC Global Food Initiative and the Berkeley Food Institute. And to always try to push the envelope."
In addition to the sustainable sourcing and cooking techniques, the restaurant underwent a recent renovation with improved lighting with automatic daylight dimming and updated kitchen equipment. The project exceeded Title 24 standards by 25 percent and received LEED Gold certification.