Today, UC Berkeley received five best practice awards at the annual California Higher Education Sustainability Conference in Santa Barbara. Berkeley's efforts on zero waste, environmental Justice, toxin reduction, and climate action took the honors. The awards highlight the breadth, depth and leadership in sustainability the campus both values and excels in.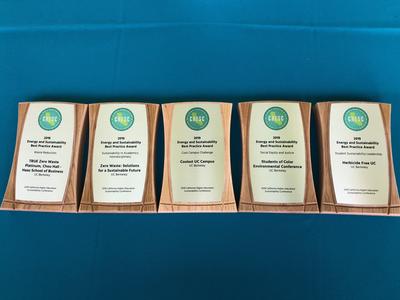 Campus community members from left to right accepting the awards: Danner Doud-Martin, Jessica Heiges, Teresa Yu, Andrea Luna, Dante Gonzalez, Sage Lenier, Izzy Parnell-Wolfe, Lin King (not pictured: Michelle La, Mackenzie Phillips, Kira Stoll)
UC Berkeley: Zero Waste: Solutions for a Sustainable Future
In an effort to educate the general population about what they can do and what needs to be done to address impending resource limitations and our changing climate, Sage Lenier, a UC Berkeley student wrote a curriculum called Zero Waste: Solutions for a Sustainable Future. This curriculum covers a multitude of topics: the science of modern landfills, the history of "trash", personal waste reduction, the circular economy, cradle-to-cradle design, industrialized food, climate change & politics, sustainable cities & landscapes, and more.
UC Berkeley: Students of Color Environmental Convergence
Environmental spaces have historically centered white narratives and ignored the voices of frontline communities that experience the direct effects of environmental justice. The Students of Color Environmental Conference created a space for students of color to learn about environmental justice from professionals and peers, foster community, and discuss their personal experiences with environmental science and justice. The first environmental conference run by and for students of color, this conference rejected the typical white narrative prevalent in most environmental justice conferences.
UC Berkeley: Herbicide Free UC
Herbicide-Free UC's mission is to stop the use of toxic herbicides across all University of California campuses. This campaign has three major components: Groundskeeper Support & Engagement, Student Education, and Research. Herbicide-Free UC teaches students how to cultivate the necessary relationships with groundskeepers and learn the landscape needs of the campus, as well as what specific information and resources groundskeepers need in order to reduce herbicide usage. The campaign also provides resources in the form of data, student support and financial support, as well as training and instruction for groundskeepers in alternative maintenance methods. In order to institutionalize these efforts across the UC system, the campaign offers support to develop consensus-based language for university policy as well as a system-wide best practices guide for campus units implementing this policy.
UC Berkeley: TRUE Zero Waste Platinum, Chou Hall-Haas School of Business
Connie and Kevin Chou Hall is the first academic building to achieve US Green Building Council's TRUE Zero Waste Platinum Certification. The project increased awareness at UC Berkeley about how zero waste can be successfully achieved, helped develop best practices, and facilitated verification by a third party. The certification process included community and campus engagement and communication, operational coordination, metrics and reporting, and leadership support. It serves as our campus' beacon for zero waste buildings moving forward.
UC Berkeley: Coolest UC, Cool Campus Challenge
In the 2019 Cool Campus Challenge, Berkeley took the overall honor as the Coolest UC, achieving the most carbon saving points of any UC campus and medical center. Engaging more than 4,200 participants, or 7.5 percent of the campus, Berkeley is saving 2,026 metric tons of carbon dioxide from participants' actions, which is equivalent to taking 500 cars off the road for an entire year.