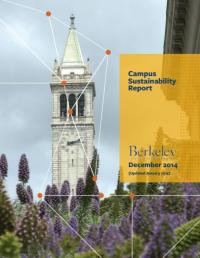 Berkeley recently finalized the latest Sustainability Report, showing our progress towards our goals and becoming a more sustainable campus.   
The 2014 Sustainability Report shares the transformations and successes of the previous 12 months.  The past year has brought several changes to the campus, with the expanded mission of the Office of Sustainability and Energy, new opportunities to craft energy policy for the campus, and new and additional staff working on important projects. 
A couple of these changes are especially impactful. The carbon neutrality goal set by UC President Napolitano is one of these, as the thought of getting emissions to essentially zero is both empowering and daunting.  Many on campus are already rethinking and retooling, with an eye toward meeting this challenge. A second item of note relates to the percentage of recent graduates (FY13-14) who took at least one sustainability course.  That figure is now 29%, up from 26% just the year before.  As more classes and related majors are developed, the campus may see even higher proportions in the coming years.   
After compiling annual sustainability reports for the past six years, this year we are sharing a condensed version, which focuses on key highlights and updated metrics for the preceding year.  We will reach out to stakeholders to gauge whether this approach of a limited annual report in alternate years offered enough value and transparency.