Sustainability Awards
About CACS Sustainability Awards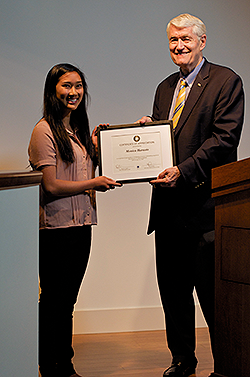 To formally recognize the contributions of those helping the campus meet its sustainability goals, the Committee annually provides awards to faculty, staff, and students that have done outstanding work. The campus community is indebted to the hard work of students, staff, and faculty making Berkeley a more sustainable place to work, live, and play. Nominations can be made for groups or individuals and are open to the entire Cal community.
2015 Award Winners
Student Environmental Resource Center-The Student Environmental Resource Center cultivates a collaborative space to strengthen the collective effectiveness of the sustainability community, and provides resources for students to actualize their visions of a more equitable, socially just, and resilient future. SERC's vision is "Sustainability education for every UC Berkeley student". Since 2012, SERC has provided over 35 paid internships; offered ten DeCals; hosted, co-sponsored, and attended over 100 sustainability focused workshops, trainings, career events, summits, and film screenings; provided sponsorship for UC Berkeley students to attend at national and regional events; publishes the SERC blog and Words of the Watershed Journal; coordinates the Environmental Coalition (ECO) and has coordinated UC Berkeley's Annual Earth week. SERC also provides advising and support for the 40 environmental and sustainability registered student organizations and is the home of The Green Initiative Fund, UC Berkeley's campus green fund program, which also includes the Zero Waste Research Center and Nature Village. SERC strives to grow and enhance relationships with campus sustainability leadership and has also helped institutionalize sustainability within the Division of Student Affairs. 
Megan Maurino- Megan Maurino has helped build a community around water advocacy and conservation at UC Berkeley. She has been a student leader in helping the campus reach its sustainability goal of reducing potable water use to 10% below 2008 levels by 2020. Maurino has helped gather campus departments and student organizations to strategize conservation efforts for the drought; is the current Director of the current Berkeley Water Group Idea Lab, and has facilitated the DeCal "Thirst: Global Discourses on Water and Human Rights", where she taught over 40 students in the course of a year. During the past two years as a Water Conservation Intern for Facilities Services, she has played a leadership role in creating infrastructural and system wide adaptations to water-scarcity. Maurino is the current Project Leader, of the TGIF funded project, "Low Water Irrigation", where she helped modernize irrigation controllers and helped install 5 weather stations on campus that manipulate irrigation cycles according to climate parameters. Maurino's work has localized water savings and  provided the campus with water efficient technology that will be sustained long after her time at UC Berkeley.
Supply Chain Management -The Supply Chain Management group at UC Berkeley has been working for several years to provide more tools to the campus to make better decisions about green purchasing.  Their efforts have ranged from researching new products to highlighting green products for buyers to focusing on waste reduction efforts. Where applicable, Supply Chain Management leverages the University's purchasing power to target environmentally preferable products and services for volume-discounted pricing to make them cost-competitive with conventional products and services. This approach helps to encourage preferential purchases of such products including Energy Star equipment, recycled content products, and other third-party certified green items, along with providing some guidance to suppliers on minimizing packaging waste and developing take-back programs.