CACS Sustainability Awards
About CACS Sustainability Awards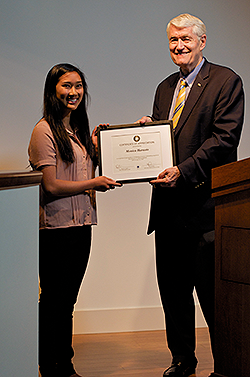 To formally recognize the contributions of those helping the campus meet its sustainability goals, the Committee annually provides awards to faculty, staff, and students that have done outstanding work. The campus community is indebted to the hard work of students, staff, and faculty making Berkeley a more sustainable place to work, live, and play. Nominations can be made for groups or individuals and are open to the entire Cal community.
The deadline for this year's nomination has been extended to March 20, 2015.  Complete the nomination form.
2014 Award Winners
Residential Sustainability Program – Their mission is to provide resources and introduce on-campus residents to the importance of cultivating sustainable lifestyles. Created approximately seven years ago to assist residential managers in developing sustainable environments within the residence halls, RSP uses paid and volunteer students to educate students on how to contribute to the creation of a sustainable environment on campus.  They also collaborate with various campus and departmental partners – for example, working with Cal Dining to experiment with a "Meatless Mondays" concept to raise awareness about factory farming and to promote a meatless diet for residents.  They are among the first to introduce new students to our sustainability programs and take that responsibility seriously.
UC Berkeley Public Affairs – As a group, Public Affairs has been a long time champion of sustainability. In fact, before there was a campus composting program, they had their own worm composting for food waste. However, in the past year, their commitment to increase the volume and quality of campus sustainability communications has been evident.  They have written numerous stories – including extensive coverage of the 10thanniversary of CACS – about operations and sustainability research being done on campus. They regularly include stories in the Berkeleyan, have sustainability and zero waste tags in the NewsCenter, and host the Berkeley Blog, which includes regular entries in the Energy & Environment category. 
Eli Perszyk – Eli is a model sustainability champion in his role as Facilities Manager for the College of Environmental Design and has proven to also be a mentor and educator for the student environmental leaders at UC Berkeley. If you search Eli's name on the campus website, the results show exactly how involved he is in the full range of campus activities. He's been a part of at least three Green Initiative Fund projects; he's worked on hydration stations, energy competitions, and water meters; he works with student groups and advises classes; and he brought composting to Wurster Hall and piloted new indoor waste bins. Eli's efforts -- which go far above and beyond his job description -- have promoted a culture of sustainability within Wurster Hall.
2013 Sustainability Award Winners
Arpad Horvath, UC Berkeley Professor in the Engineering and Project Management Program and in the Energy, Civil Infrastructure and Climate Program in the Department of Civil and Environmental Engineering. Not only is Professor Horvath's research advancing the understanding of climate impacts and engineering and teaching students about cutting edge methods, he has also been a contributor to campus sustainability efforts for the last ten years. Arpad was a founding faculty member on CACS and the Cal Climate Action Partnership (CalCAP). He continues to be a faculty leader in campus sustainability, engaging his students in campus efforts and providing expertise as the campus set its next greenhouse gas emissions target.
Kira Stoll, Sustainability Manager. Kira has been a sustainability champion her entire career at Berkeley, first as the campus Transportation Planner and now in the Office of Sustainability and Energy. Kira has been an active member of CACS since the beginning and Co-Chaired the committee in 2011. She is both a big-picture thinker and detail-oriented, contributing to campus-wide initiatives while also producing results and accomplishments day-to-day. Some successes this award is recognizing her for include co-authoring Berkeley's first bicycle plan and zero waste plan, managing Berkeley's annual greenhouse gas inventory, producing the monthly Bright Green News, and mentoring countless students.
Monica Harnoto, UC Berkeley B.S. Environmental Sciences, spring 2013. Monica is never merely content with the status quo and constantly inspires and motivates colleagues to think of new and innovative ways to improve sustainability in Cal Dining. One of Monica's most notable projects has been Chews to Reuse -- a reusable to-go container program in dining halls. Before Monica created this program, the residential dining halls provided patrons with compostable to-go containers made from sugarcane plant fibers. Starting out as a pilot, the program has now been expanded to all dining commons, in large part due to Monica's strategic implementation ensuring the program was simple for students to use.
Nature Village, a multidisciplinary and multicultural group of University Village residents, students, staff, and campus sustainability groups that work together to promote sustainable living practices at the University Village. In its inaugural year Nature Village launched three programs including the Green Family Program –with 50 families participating in pilots for energy and water saving tools like low flow shower heads and racks for air drying clothes. In the long term, Nature Village seeks to create a replicable model for institutionalizing sustainability in student family residential units, particularly for the UC system and more broadly for universities in the U.S.