About CACS Sustainability Awards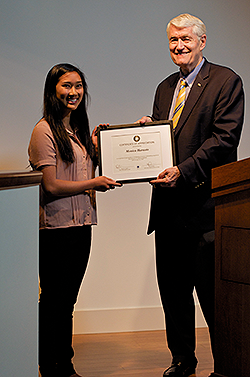 To formally recognize contributions of those helping the campus to meet its sustainability goals, the Chancellor's Advisory Committee on Sustainability (CACS) annually provides awards to faculty, staff, and students in recognition of their hard work making Berkeley a more sustainable place to work, live, and play.  Nominations can be made for groups, projects, or individuals.
Applications are now being accepted.  Deadline for submittal is 5pm on Friday, March 17, 2017 – email completed submittals to sustainability@berkeley.edu  Please send any questions to the same email address.  Awardees will be announced at the annual CACS Sustainability Summit in April.
2016 Award Winners
Sunil Chacko (Purchasing/ Commodity Coordinator at Cal Dining) -- Sunil is a dedicated staff member of Cal Dining who is eager to improve their sourcing practices. He always looks for and prioritizes products that are humanely raised, organic, local, and socially responsible. He is also eager to bring in healthier products and ingredients for our guests and students.  He maintains close relationships with all the suppliers and often will be flexible enough with our smaller suppliers to allow their businesses to grow.
Sunil was critical to the success of Browns. Browns reopened this summer with the goal of an all local, plant-forward menu. Upon opening, he worked with the menu design team at Browns to source ingredients as local as possible.  He is the behind-the-scenes muscle that makes an ambitious goal like Browns possible.   Sunil always asks new suppliers to provide sustainability information and criteria. He looks out for everything from packaging to animal welfare and actively promotes better practices from our suppliers. His work has certainly made this campus's food better for our students, faculty, staff, and visitors. 

Susanne Wiesman (Grounds Operations, Clark Kerr Campus) -- Susanne has been critical to improving the Clark Kerr Campus Garden.  The garden was revamped this summer when Cal Dining hired the first team of students to regularly maintain the garden. The food at the garden is harvested regularly and used by the chefs in the CKC dining hall. To provide the dining hall with ingredients in volume, the garden mainly focuses on growing herbs and lettuces, along with some fruits and now, California pink pepper. 
Susanne works closely with a team of students and coaches them on how to make the garden successful and bountiful. Because the students can only dedicate a couple of hours a week at the garden, she regularly maintains the garden ensuring it is getting watered properly and is free of weeds and pests.  Susanne has held several workshops with the students to teach them techniques to improve their yields, like installing drip irrigation or how to add nitrogen back into the soil by growing legumes in the orchard's soil. 

ASUC Sustainability Team (STeam) -- Established in Fall 2005, STeam is an ASUC-sponsored organization at UC Berkeley aimed at making the campus more sustainable.  They accomplish this through the creation of and participation in project groups – with an aim of "Making UC Berkeley Greener – One Project at a Time."
There are many examples of STeam projects that well-known and impactful.  In Spring 2007 STeam launched The Local, UC Berkeley's first-ever student-run, nonprofit, cooperative produce stand that sells only locally grown, pesticide free, fresh fruits and vegetables. They're especially affordable since the stand is run completely by volunteers.  Their current list of project groups includes: STeam Energy Group, One-Side Clean (OSC), Students Toward Zero Plastic (STOP),  Berkeley FLOW, and Fossil Free Cal.  Congratulations to STeam for over 10 years of success! 
(Team members:  Jean Ji, Elena Leander, Serena Tam, Dennis Uyat, Ryan Lynch, Kielan Rathjen, Kevin Wang, Hayley Davis, Tyler Jacobson, Sydney Higa, Natalia Mushegian)
Solar Powering Cal team ("It Takes a Village to Harness the Power of the Sun") -- Thanks to the efforts of the team over three years, four solar PV arrays are now operational, and helping the campus achieve sustainable energy use and carbon neutrality.  The rooftop solar panels on MLK Student Union replace (and expand) an older less productive system. The solar array on new the Eshleman Hall will add even more green power to the Lower Sproul complex.  Together these two systems will produce 150,000 kWh solar electricity for the buildings.  Recreation Sports large field house roof offers space for an array that will produce 340,000 kWh of solar power, providing close to one-third of the buildings electricity needs.  The University Village carport solar system will produce 700,000 kWh of carbon-free solar electricity each year, providing 20% of the power needs of the village.
Each team member has played a critical role in the projects.  The Office of Sustainability and Energy worked in a collaborative, competitive procurement strategy with 19 other public agencies in the region, led by the Alameda County General Services division, helping the campus to secure very favorable pricing – 25-40% below market rate.  The solar installations were supported early on by a grant from the student Green Initiative Fund in 2013. This grant helped provide initial investment and campus support for UC Berkeley to enter the R-REP program, allowing the campus to pursue solar installations.
(Team members: Lindsey Agnew, Jim Wert, Jonathan Winters, Marianne Metallo, Gilbert Escobar, Katherine Walsh, Kira Stoll, Michael Neuwald, David Robinson, Jerry Jimenez)