California is experiencing a drought of historic severity. CHECK THE Drought Alert page for latest updates & tips.
2013 Energy Management Initiative Report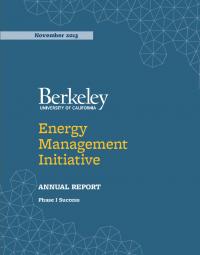 Since the launch of EMI in April 2012, the project has achieved savings of $2 million – surpassing our planning estimates – and have done so while remaining 12% under budget. Hundreds of students, faculty and staff have been involved in EMI program efforts and the program has been presented at 16 state, national, or international higher education conferences.
Campus Initiatives
Get Green Certified!
CACS Hightlights

The Chancellor's Advisory Committee on Sustainability (CACS) promotes environmental management & sustainable development on campus.  Membership is drawn from faculty, staff, students, & alumni. Meetings are open to everyone.
CalCAP

Two years early, UC Berkeley meets its carbon reduction target
Two years ahead of schedule, a pledge made by the University of California, Berkeley, to reduce its carbon footprint to 1990 levels has been met.
myPower

myPower is working with the campus community to make informed decisions about energy use that are reducing energy costs and returning funds to teaching & research. myPower, part of the Energy Management program, also includes the Energy Office, an Incentive Program, & a strong campus energy policy.