Progressing towards Carbon Neutrality
The UC system has a goal to be carbon neutral by 2025. This calls for net-zero g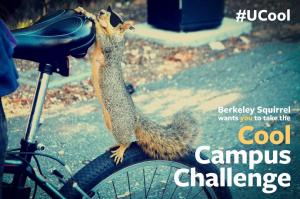 reenhouse gas emissions from our building energy and fleet vehicle use.  For Berkeley to meet this target campus emissions will need to be reduced by about 80%. Berkeley has taken the first steps toward neutrality by reducing emissions to 1990 levels, faster than required by California guidelines. The campus is working to progressively lower emissions until carbon neutrality is achieved. Learn more about our ongoing efforts to reduce carbon emissions.
COOL CAMPUS CHALLENGE Results
Last fall students, staff, and faculty across the UC system took action in the Cool Campus Challenge (CCC) to reduce their carbon footprint in response to the pressing global issues of climate disruption and to help UC meet its commitment to be carbon neutral by 2025.
At Berkeley 1,750 faculty, staff and students joined the challenge!  Our collective actions will reduce 1,021,720 million of pounds of carbon emissions each year.  That is equivalent to 310 California homes installing solar or reducing the all the electricity related carbon emissions from Berkeley's Boalt Hall. Read more about the CCC results here.
Meet UC Berkeley's Climate Action Faculty Champion
ESPM Professor Whendee Silver's research focuses on increasing the carbon storage capacity of soils. Read more about how she translates her scientific findings into climate action.
get the latest on the UC carbon neutrality initiative

CALIFORNIA IS EXPERIENCING A DROUGHT OF HISTORIC SEVERITY.
CHECK THE DROUGHT RESPONSE PAGE FOR LATEST UPDATES & TIPS.

Precipitation in our watershed has been more than 100 percent of normal in 2016, but we need to continue to conserve so that reservoirs can reach normal levels. Source
Rainfall in 2013 was the lowest in almost 500 years -- since 1580, as reported by Professor Lynn Ingram (Earth & Planetary Science and Geography). Source
CACS Hightlights

The Chancellor's Advisory Committee on Sustainability (CACS) promotes environmental management & sustainable development on campus.  Membership is drawn from faculty, staff, students, & alumni. Meetings are open to everyone.
CalCAP

Two years early, UC Berkeley meets its carbon reduction target
Two years ahead of schedule, a pledge made by the University of California, Berkeley, to reduce its carbon footprint to 1990 levels has been met. The campus is now heading for carbon neutrality.

See energy consumption and conservation in action through the Pulse Dashboard of campus buildings. The dashboard tracks the effects of energy saving efforts in real time. Here you can see the cumulative impact of your behavior and of others in your building, since everyone has a role in the campus energy conservation effort.