UC Progress Towards Carbon Neutrality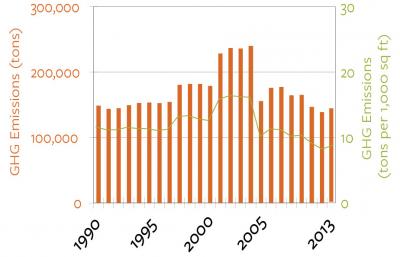 The University of California system is committed to being carbon neutral by 2025. With this groundbreaking pledge, UC will become the first major university to achieve this accomplishment.
In 2014, the Global Climate Leadership Council was created to provide guidance for achieving carbon neutrality and other long-term sustainability goals.
For UC Berkeley to meet this target, campus emissions will need to be reduced about 80% below 1990 levels. This is part of ongoing efforts by UC Berkeley to reduce carbon emissions from building energy use and fleet vehicles use.
Meet UC Berkeley's New Climate Action Faculty Champion
ESPM Professor Whendee Silver's research focuses on increasing the carbon storage capacity of soils. Read more about how she translates her scientific findings into climate action.
CALIFORNIA IS EXPERIENCING A DROUGHT OF HISTORIC SEVERITY.
CHECK THE DROUGHT RESPONSE PAGE FOR LATEST UPDATES & TIPS.

CACS Hightlights

The Chancellor's Advisory Committee on Sustainability (CACS) promotes environmental management & sustainable development on campus.  Membership is drawn from faculty, staff, students, & alumni. Meetings are open to everyone.
CalCAP

Two years early, UC Berkeley meets its carbon reduction target
Two years ahead of schedule, a pledge made by the University of California, Berkeley, to reduce its carbon footprint to 1990 levels has been met.
Go Solar with Sungevity


With the new partnership between UC Berkeley and Sungevity, you can make solar panels a reality for your home. When you go solar, Sungevity will donate $750 to support the Office of Sustainability and Energy. Plus, when you request a quote in September you will be entered to win a $250 Cal Student Store gift card!