Waste
Waste Goals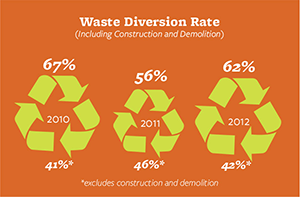 GOAL: Achieve a 75% diverison rate by June 2012 and zero waste by 2020.
STATUS: Making Progress
Overview
Partnerships Are key to action and progress
UC Berkeley has successfully worked to reduce the amount of waste sent to landfills over the last two decades. Despite these efforts the campus municipal solid waste diversion rates have remained below 50%, even though the campus is committed to reaching zero waste by 2020.  
The total diversion rate for campus is 62%, however, the diversion rate when construction waste is excluded dropped this year to 42% . The amount of solid waste sent to landfills by the campus went down by 4% last year, and has dropped by 28% since 1995
.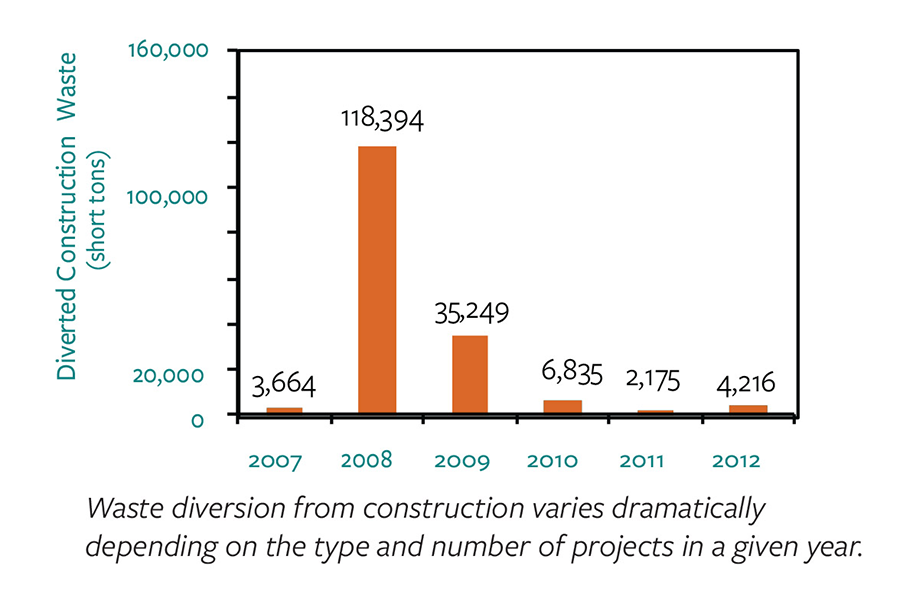 In 2011, the Chancellor's Advisory Committee on Sustainability (CACS) commissioned a study in partnership with Campus Recycling and Refuse Services (CRRS) and the Office of Sustainability to review current waste disposal practices and identify the challenges and opportunities available to the meet the campus zero waste target. This research found that the campus can likely reach a 75% diversion rate by expanding existing programs. The campus is currently developing a Zero Waste Plan that identifies current and future strategies, provides design guidelines, and outlines the steps needed to reach zero municipal solid waste.
The campus currently recycles  mixed paper, newspaper, magazines and books, cardboard, beverage containers, toner and ink jet cartridges, electronic waste, plastic film, plastic pipette containers, metal, motor oil, tires, and batteries.
The campus currently composts a portion of food waste, compostable kitchenware, green and wood waste, and pallets.
The campus has a hazardous waste and waste minimization plan that includes e-waste.
The student-managed ReUSE  program operates around 18 on-campus reuse stations for office supplies and the annual Second Chance clothing sales and reader giveaways. ReUSE projects reduce waste by 2-5 tons annually. The campus also works to reuse office supplies, equipment, and vehicles through the Overstock and Surplus Den.
Spotlight: Special Projects
UC Berkeley is involved in many fun, innovative projects aimed at reducing waste.  Here is a sampling, and see the 2013 Sustainability Report for a more complete list to inspire.
Recyclemania Victory for Basketball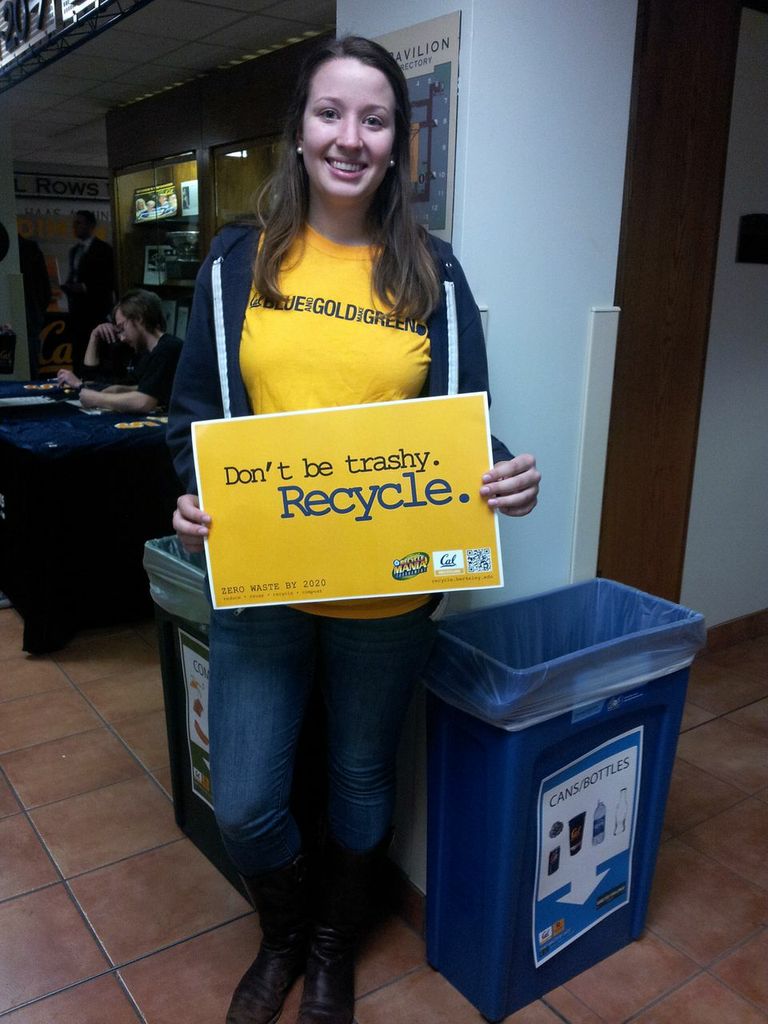 The campus received an award for the highest diversion rate for a basketball game from Recyclemania. The March 2013 game versus Stanford was designated Zero Waste and achieved an impressive 97% diversion rate. Volunteers and CRRS employees were "trash talking" at several sets of compost, recycling, and landfill bins placed around Haas Pavilion, advising patrons on how to dispose of their waste. The workers also had signs they held throughout the game promoting Zero Waste and Recyclemania. This was Berkeley's first Recyclemania win.
New Campus Trash & Recycling Cans Excel in Design & Safety
In 2009, the desire to improve waste collection sparked a unique approach to addressing campus needs. Outdated trash cans posed a mounting problem to Physical Plant-Campus Services crew, who incurred injuries from heavy lifting when collecting refuse. Theron Klos, grounds manager, lead the initiative to have Berkeley create its own solution. Seeking help from the sustainability community,  environmental design students designed a trash can that excelled in all categories: waterproof, vermin-resistant, safer, and durable. With the first installation of the new bins, the campus moved another step forward in achieving zero waste by 2020. Read more, or visit the TGIF website.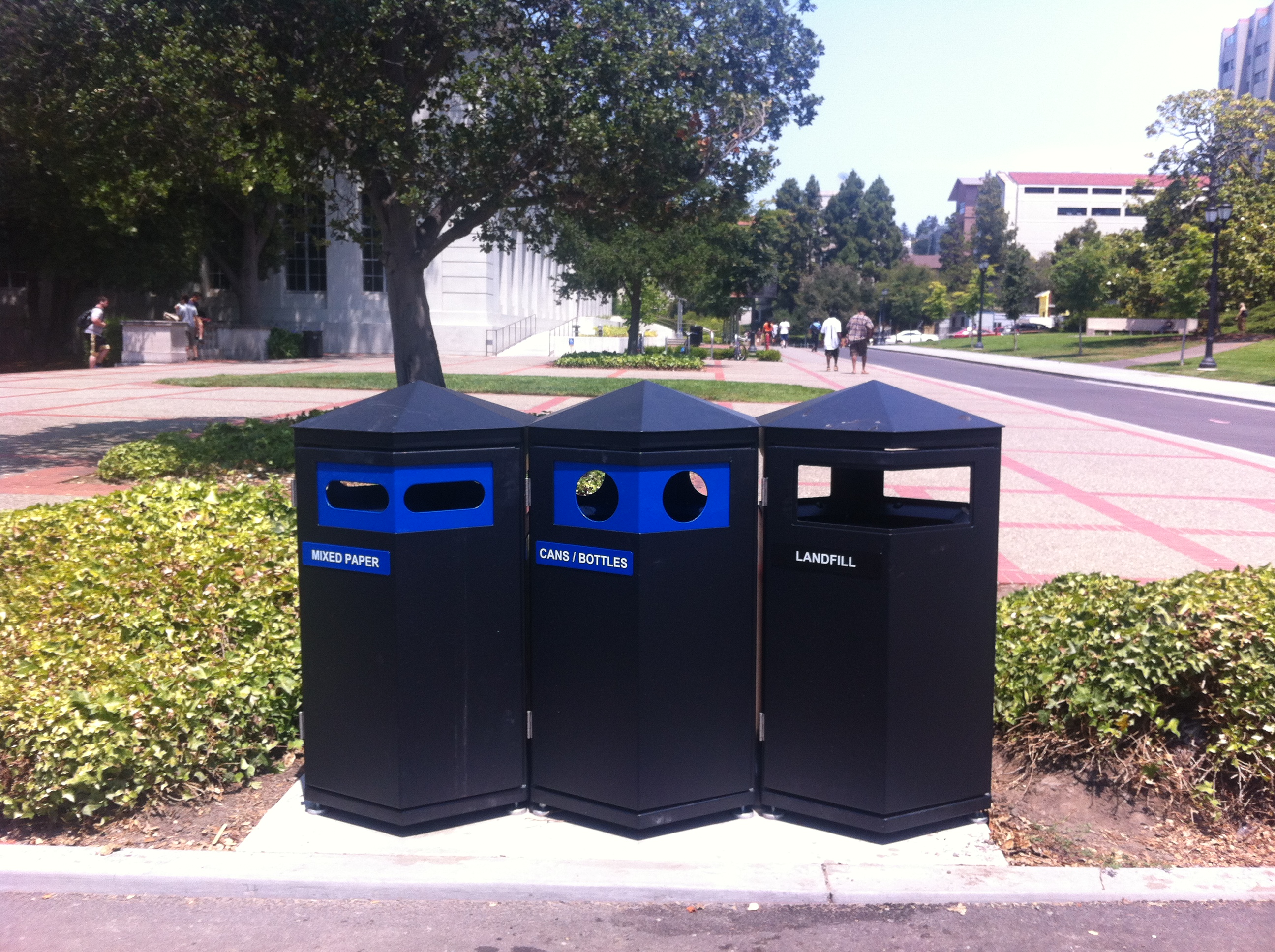 On America Recycles Day, EPA Recognizes Campus Food
Waste reduction "UC Berkeley is doing such a good job of recycling that on Thursday, November 15, 2012 – America Recycles Day – the regional administrator of the Environmental Protection Agency came to campus to praise Cal Dining's efforts to reduce the food waste stream. At a press conference, Jared Blumenfeld, who oversees the EPA's Pacific Southwest region...announced that UC Berkeley is one of 19 colleges and universities in the region to sign up for the Food Recovery Challenge. The voluntary program aims to limit wasted excess food nationwide through donations to charity, reducing consumption, and increasing composting14."
Campus Initiatives
Waste Highlights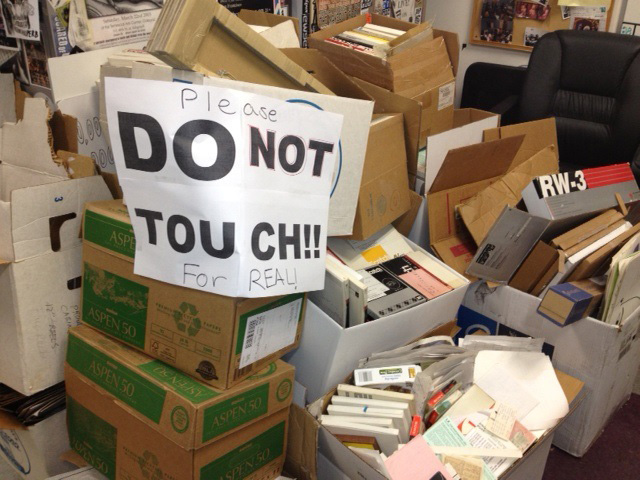 a recycling effort at the Barrow's Hall radio station
Hazardous waste generation and disposal dropped slightly in 2012 to 184 tons (including asbestos and lead construction waste).
Mail Services and others work with vendors such as Ecological Mail and Intra Mail network to reduce unwanted mail.
The College of Chemistry Chemical ReUse program dispensed 2927 chemical reagents in 2012.
Since 2006, the Residential Student Services Program  has offered the Cal Move-Out Program in partnership with several campus and community groups. The program includes reader and clothing drives.